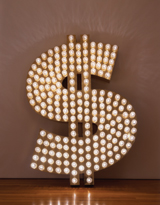 I wrote an article for the NY Times Arts & Leisure section about the reasons art made by women sells for lower prices than art made by men. Itís a tricky subject, partly because art is subjective and inherently difficult to compare side-by-side, and partly because the art world is not known for the transparency of its financial information and sales figures.
For the article, I narrowed the data sample used to the upcoming contemporary art sales in New York. Itís a snapshot, a limited and admittedly arbitrary choice, which is not to say itís not useful or thought-provoking. Another, more systematic but equally imperfect data set I analyzed didnít make it into the article: the Kunstkompass, which is an annual ranking of the 100 biggest living artists compiled by the German business magazine, Capital.
The results surprised me, although I donít think they, in themselves, constitute a smoking gun of art world sexism or anything. Still, theyíre illustrative and provocative. And after researching this topic intensively for several months, I think theyíre about as compelling as anything youíre going to find out there.