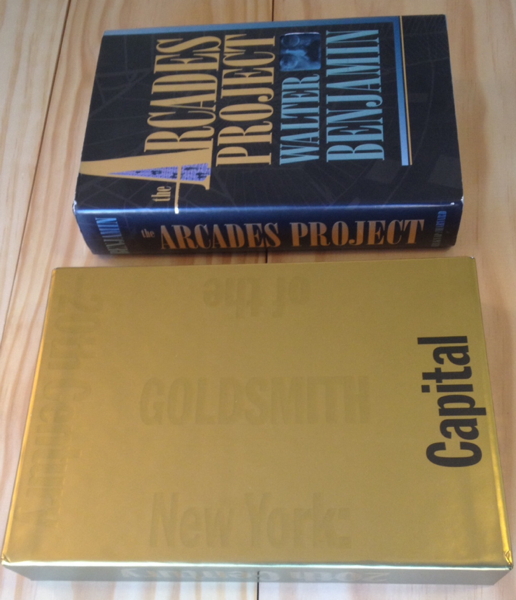 I was going to post an actual review of Kenneth Goldsmith's new book, Capital, then the attacks in Paris happened. And then I thought I would write about Benjamin's The Arcades Project, which served as inspiration for Goldsmith's compendium. But I found the texts about Paris that fascinated Benjamin to be completely unhelpful for the situation I was in. I lived and worked between New York and Paris for several years until 2000. I embraced the 1999 edition of The Arcades Project as a map into my adopted city. And now that map felt out of date.
This is all too much information, though, for what I have decided to do, since no one really needs my warm take on a book that is, by design, nearly unreviewable, about a city, New York, that is equally impervious to encapsulation.
So here is a mashup of Capital and The Arcades Project, excerpting texts from whatever page I turn to, in turn. Benjamin first, p. 306:
WB: Baudelaire
Baudelaire's fatalism: "At the time of the coup d'état in December, he felt a sense of outrage. 'What a disgrace!' he cried at first; then he came to see things 'from a providential perspective' and resigned himself like a monk." Desjardins, "Charles Baudelaire," Revue bleue (1887), p. 19.

Baudelaire-according to Desjardins-unites the sensibility of the Marquis de Sade with the doctrines of Jansenius.

...

KG: Food-Chinese
Americans looked on with wonder and asked him what the name of the food was that his chef was preparing. His answer was "Chop Suey" which meant that it was a combination of mixed foods. He explained that it was a meal consisting of bean sprouts, celery and Chinese greens, plus amy more vegetables, with a touch of meat, usually pork. The guests begged him to let them taste it. They did. Immediately they clamored for more. Overnight, Chop Suey won widespread popularity.
Chinese residents in New York soon found a new field of endeavor open to them. They opened restaurants and called them "Chop Suey Houses." Many of these original Chop Suey Houses still exist.