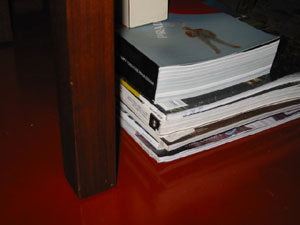 Rem Koolhaas's Projects for Prada, Part 1, underneath a table-like sculpture by Wade Guyton
From the NY Post:
Firefighters had to rescue shoppers from a stuck elevator in the super-trendy Prada store in SoHo the other day. A mother and her two young daughters were celebrating one of the girls' birthdays at the Rem Koolhas [sic]-designed boutique at around 4 p.m. when they entered the high-tech, round glass elevator. The thick double doors jammed, trapping them inside for an hour and a half with a mannequin dressed in a see-through plastic raincoat. Since Koolhas neglected to include an escape hatch, the FDNY used a power saw to cut a hole in the steel roof big enough for a ladder. The store was closed for 45 minutes while sparks flew and onlookers gawked from the sidewalk. The apologetic manager presented the liberated shoppers with free cosmetics.
Prada representatives have not responded to requests for confirmation/information, and store employees have been asked not to comment.
For more of Koolhaas's views on current trends in retail, check his two most recent publications: The Harvard Design School Guide to Shopping and Projects for Prada Part 1. stay tuned. [I particularly recommend the Prada book.]