First, a shoutout to all the advertisers, incluging WesAnderson's new joint, The Life Aquatic, Sharp's intriguingly opaque More To See (which contrasts with the crystal clarity of their flatscreens, I'm sure), and the ever-brilliant Daddy Types (ahem).
With that out of the way, we should hurry and put The Grey Automobile on our calendars for Sunday night. 7 PM. Queens Theatre. It sounds like a fascinating, not-to-be-missed film experience.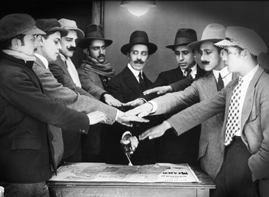 Enrique Rosas was the Mexican Feuillade, making wildly popular crime serial films in the Teens and Twenties. Made in 1919 with a style we think we discovered ourselves--of verite, documentary footage, staged scenes, and actual historical figures playing themselves alongside professional actors--The Grey Automobile was based on an actual gang of robbers who terrorized Mexico City in 1915.
It was the made-for-TV miniseries or the torn-from-today's-headlines Law & Order of its day, except that it starred the real investigator in the case and it features footage of the criminals' executions by firing squad, shot by Rosas (the footage, that is, not the criminals).
The Grey Automobile survives only as a disjointedly edited feature from the thirties; it's a remarkable-looking but hard-to-follow important artifact of Mexican cinema.
Turning these weaknesses into strengths, however, is director Claudio ValdÈs Kuri, who applies an ingenious solution from the Japanese silent film tradition.
Benshi were voiceover/storytellers who gave their own colorful narration to hard-to-follow imported films. For The Grey Automobile, Kuri directs benshi Irene Akiko Iida, accompanied with translation and an original score. It's a cinema-meets-theatre spectacle that's gotten bewildered-but-ecstatic reviews all along the festival circuit. You shouldn't miss it, but unless you get your butt to Queens Theatre tomorrow night, you will.
See El Automovil Gris/The Grey Automobile at Queens Theatre, 11/21/2004 at 7PM.
Either get baked or study up before you go: The official El Automovil Gris site.