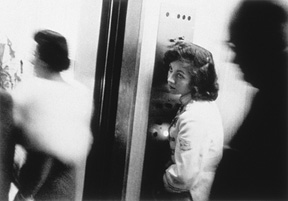 "But enough about me, let's talk about you. What do YOU think of me?"
I hate it that I have a line from Beaches burned into my brain, but once in a while, it comes in handy.
I know what you're saying: "the last thing I need to hear is what a bunch of tea-sippin' euros think of Americans right now." Mercifully, The Americans being thought about here are not Robert Novak's, but Robert Frank's.
On Friday, the Tate Modern is hosting a day-long symposium about Frank's 1958 work, The Americans, which has been called "quite simply and undeniably, the most important and influential book of photographs since World War II."
The 2-part program focuses on The Americans in its time, and on its legacy. Speakers include the book's original publisher, Robert Delpireis, and the awesome photographer Stephen Shore (no slouch in the crossing the country with a camera department).
The day will end with a rare screening of Franks' Rolling Stones concert doc, Cocksucker Blues, which Mick and the boys blocked from distribution after finding their own staged excesses a little too vÈritÈ.
Tickets are £15, or approximately $858 million [heh] at current exchange rates, plus the movie. Kultureflash got the word out in the UK; I'm just here to tell folks who don't have two ha'pennies to rub together that the whole thing'll be webcast [Duh, except the movie. Nice try, though.], so set your clocks to Big Ben.
What We Think Of The Americans,
Fri. Dec. 3, starting at, oh, 1030 GMT/0630 EST [Tate Modern, via Kultureflash]
The story behind Cocksucker Blues [Guardian]