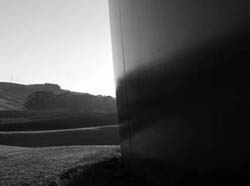 Director Alberta Chu's 2003 documentary, Seeing The Landscape: Richard Serra: Tuhirangi Contour follows the artist's production of a massive, 843-foot steel wall piece in New Zealand. Here's a line from the synopsis: "A dramatic five years in the making, the Tuhirangi Contour finds Serra's artistic vision at odds with his patron, his materials, his environment, and the harsh realities of physics."
While I'm sure there'll be a lot of conflict, I don't think there's much suspense about who prevails here. Serra's whole artistic practice is built around pushing and expanding his understanding of his materials and the "harsh realities of physics," and from what I understand of his commission agreements, a patron who stays at odds with the artist can very quickly find himself without an artist to be at odds with.
Still, this sounds like a great way to spend an evening: The film screens Wed. 5/18 at 7pm at MIT's List Visual Arts Center. Chu will be present to discuss the work.
Buy Te Tuhirangi Contour, a book of photos documenting the finished work by Serra and Dirk Reinartz