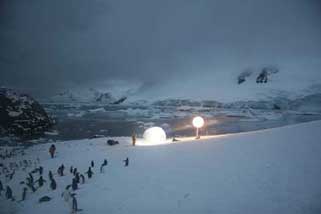 What is it with French people and penguin movies? Next Friday evening, French video artist Pierre Huyghe will be filming the second part of "A Journey That Wasnít," a musical based on a trip to Antarctica.
The first part was filmed in June by a crew setting out from Ushuaia, Tierra del Fuego to an Antarctic island.
The performance will be shot after dusk on Friday at Wollman Rink. The work will debut at the 2006 Whitney Biennial, presumably with a new voiceover by Morgan Freeman.
Pierre Huyghe's "A Journey That Wasn't" [publicartfund.org]
Previous Huyghe worship [greg.org]