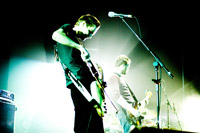 So there's a full Sigur Ros concert from Reykjavik available to stream online. Two-plus hours of maxed out visuals and...aurals? You know what I mean.
sigur rÛs live in reykjavÌk 2005 [sigur-ros.co.uk]

Also, Ari Alexander's documentary tracing the development of Icelandic music, Screaming Masterpiece, opens tomorrow in London at the Curzon Soho for a one-week run. [According to Kultureflash, one of the highlights is footage from a firework-equipped Bjork concert in Central Park, which'd be quite a get; the concert in question was actually at Coney Island. But then I don't know Shoreham from Nottingham, so it's all good.]
See the Screaming Masterpieces schedule at Curzon Cinemas, get more info at Kultureflash, and check out the official film site.