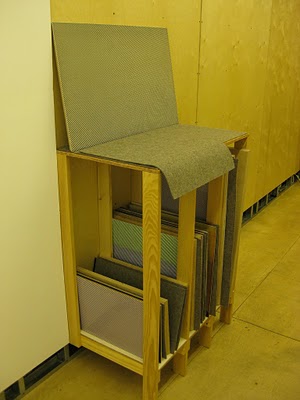 So jealous. MoMA bought R.H. Quaytman's awesome little storage rack of paintings, Iamb: Chapter 12, Excerpts and Exceptions, with Painting Rack, which the artist filled over the course of eight years, and showed in 2009 at Miguel Abreu. [Abreu, whose whole program is pretty much en fuego, had two of my favorite shows last year: Quaytman's and Liz Deschenes.]
Before that, she showed a storage rack full of paintings at Orchard [I miss them], in 2008, which is where Anaba got this photo. Then, it--or the show, anyway, was called Chapter 10, Ark, and it had more paintings in it, and you could pull them out like books. These racks are the most significant works of a blindingly smart artist whose paintings seem designed to actively thwart significance, at least individually.
P&S Curatorial Assistant Paulina Pobocha has a very nice writeup of it at Inside/Out, MoMA/PS1's forum-style blog.
Few people know it, unfortunately, but MoMA was the first museum anywhere to have a blog. Back in 2004, while I was co-chair of the Jr. Associates, we pushed hard for over a year to get permission to start a blog for our group's education and fundraising activities. There were even raging debates over whether we could call it a "blog." [No, it turned out.] It went well while we had a Museum employee dedicated to it, but when she went to grad school, it kind of fizzled.
It's good to see they've finally got some sweet blog momentum going.
R.H. Quaytman's Storage Rack: An Archive of Images and Associations [moma.org]