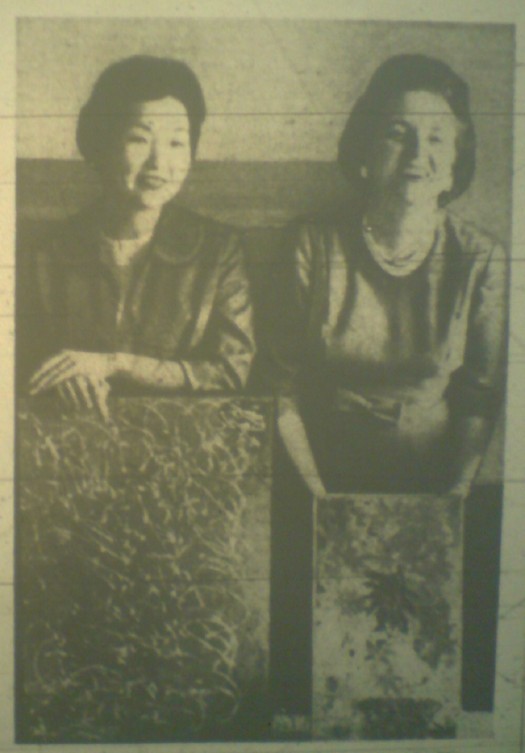 In 1961, Hazleton Laboratories, a pioneering biological sciences testing company based in Falls Church, Virginia, was growing rapidly. For one of their expansions, executives and scientists were given allocations to buy cutting edge abstract art for their offices.
Which was fortuitous because, as a group of forward-thinking Hazleton wives in McLean told their husbands, their bridge club was actually sponsoring a very promising young abstract painter named Bidwell. Perhaps after a bit of vetting by some galleries in the District who know this kind of art, the company might consider collecting Bidwell's work?
So the wives took Bidwell's paintings to three galleries in DC for evaluation. One canvas, "Snow in July," which was executed with housepaint and a stick in an action painting style reminiscent of Pollock, was said to exhibit a "tremendous sense of design and color," and might sell, the dealer said, for as much as $150. I believe that is "Snow In July" on the left in the photo above, being held by Mrs. Jiro Kodama. The painting Mrs. Lewis Van Hoose is holding is unidentified.
The bridge club arranged a private showing of Bidwell's work--and then revealed to their husbands that the whole thing was a scam. For six months, the women had taken turns painting the works themselves during their bridge games. Their original plan was not just to sell the work to Hazleton, though; according to the front page story in the Washington Evening Star, it was really to "show how modern art can be phony."
I first learned of the McLean bridge club's "artistic slam" from Nina Burleigh's 1998 book, A Very Private Woman: The Life and Unsolved Murder of Presidential Mistress Mary Meyer. She cited the Star article as an example of postwar Washington culture's derisive, even philistine view of modern art. The suburban wives' parodic production is almost a perfect mirror of the amateur-yet-serious pursuit of abstract painting by the Georgetown wives Burleigh cast as Meyer's peers.
Of course, there are many problems with this story, at least as it comes down. Conflating McLean and Georgetown makes as much sense as Greenwich and Greenwich Village. And the Bidwell exercise only came to light after the fact, and was only ever depicted as a generalized condemnation of modern art's scammy bankruptcy: the wives declined to name the actual galleries they claimed to have visited, and the reporter, Gilbert Gimble, didn't bother to check, or to question the wives' misrepresentations of the work. And no actual art experts were asked about the project; it was all just a sensible, amusing, suburban pin in the "high-brow" art world's balloon.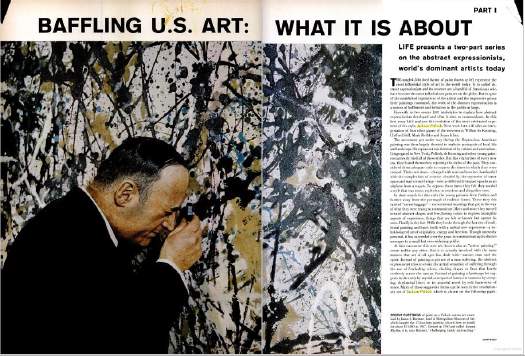 But as contemporary critique, the Bidwell incident was hardly novel, or even up to date. By 1961, Abstract Expressionism had been presented as America's official Dominant Art Form--or at least LIFE Magazine's--for over a decade. LIFE kicked off the "debate" over whether Pollock was "America's greatest living artist," way back in 1949. But even in 1959, they were still publishing multipart, pseudo-analytical service pieces for understanding "Baffling U.S. Art".
What if, instead, Bidwell were taken at face value--or at least at the face value afforded by decades of art critical hindsight? Are there feminist implications to the reality that parody was apparently the only means available for these women to engage the prevailing cultural discourse? [Their next collaboration, they said, would be "to write a sexy novel."] Or that the only way for women's art to make the front page of the paper is as farce?
Reading about the bridge club's actual process and project, I'm struck by how it resonates with the works of later artists and collectives, from Paul McCarthy to Matthew Barney to Karen Finley to Gelitin and Reena Spaulings and Bruce High Quality Foundation.
I've included the entire text from Gimble's article after the jump. It ran on page A1 of the March 14, 1961 edition of the now-defunct Washington Evening Star, and is available via microfilm at the DC Public Library. Make of it what you will.
AN ARTISTIC SLAM
Bridge Club Turns Abstract
By Gilbert Gimble, Star Staff Writer
Ten suburban bridge-club women have pulled a fast one on modern art.
They "painted" a dozen abstractions on a togetherness basis and then nearly succeeded in peddling one for $150.
All the paintings were done during brief pauses in their twice-monthly bridge games. Their aim was to show how modern art can be phony.
As part of their plot they carted the colorful abstractions to three well-known Washington art galleries to get expert opinions about the "artist" who they said was their discovery. What they heard was lavish praise.
One gallery wanted to hang a canvas titled "Swan" for which the women used old house paint and kitchen flour. This was the piece that they were told should bring $150.
The women, all of the McLean (Va.) area, are Mrs. Robert Weir, Mrs. Richard Henninger, Mrs. John Keller, Mrs. Jiro Kodama, Mrs. Lewis Van Hoose, Mrs. Kennedy Paynter, Mrs. O.E. Paynter, Mrs. Arthur Pallotta, Mrs. Roland Tibbetts, and Miss Maria Kundzin. All but one of the women are housewives whose husbands are scientists or executives at the Hazleton Laboratories in Falls Church, Va. Among them, they have 37 children ranging from 16 years to four months.
What they did was this: Each bridge night they would plunk a piece of canvas on newspapers scattered on the kitchen floor. Then the dummy players or the players at the faster of the two bridge tables would step into the kitchen to "paint." This way every canvas received a little bit of inspiration from every member.
Anything Goes
With brushes, sticks, spoons, knives, sponges and bare hands they painted, dribbled and slapped down oil paint, varnish, glue, coffee grounds, cigarette ashes, sesame seeds, egg shells, sea shells and anything else they found in the kitchen.
The idea took shape when they heard some of their husbands planned to buy a few abstractions for their newly redecorated offices. The women decided they could do just as well and sell them to the company. With the proceeds they planned to take the husbands out to dinner.
All the husbands were completely fooled. The wives told them their bridge club was sponsoring a young struggling artist whose name was "Bidwell."
"Our husbands were getting jealous, as a matter of fact," remarked one. "I've never received so much attention from him as I have lately."
Succes spurred them on. One husband purchased a canvas for his office at $10. It was a golden mountain scene sprinkled with caraway seeds and sand from a backyard sandbox.
Galleries Interested
Three Washington private art galleries--which the women prefer to leave nameless--expressed strong interest in the "artist," and the women were asked to bring more of his "work" to be examined.
Two of the three galleries were ready to accept separate paintings. But in one case the painting was still wet and in the other it had warped. (The latter was done on a piece of leftover wooden paneling found after a den was redecorated.)
Part of the women's interest grew out of the fact that some of the husbands appreciated modern abstractions and others loathed them. But to a man they were impressed when word got back that a gallery had rated one at $150.
In most cases the gallery experts said "the boy has tremendous sense of design and color."
That was the kind of praise they got at one gallery when the women showed their "Snow in July" canvas. This one was done in part by dipping a wooden stirring rod into a bucket of white housepaint and allowing the paint to drip while moving the stick in circles.
But this week-end the plot came to an end. They gathered their husbands at one of the homes and, with champagne flowing, told all.
Now they say they are finished with abstraction as bridge distraction.
"Now," said one, "we're going to write a sexy novel."