"Civilization is in an acute form of crisis. But the germs of a future culture are floating in the air. It is possible that one day the first flowers may spring up here on American soil."
- Gordon Onslow Ford, 29, opening his lecture on Surrealism at the New School, January, 1941.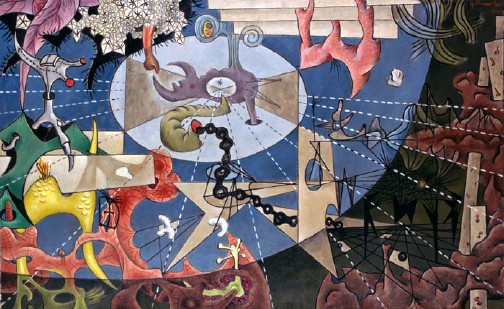 Gorky, Motherwell, Matta, Tanguy and Pollock were apparently in the audience.
Onslow Ford was sent to the US as part of the Committee to Preserve European Culture. Art historian Martica Sawin transcribed the lectures, which are published for the first time in the catalogue accompanying the artist's first NY show since 1946, at Francis Naumann.
The only online references to this Committee are in relation to this show, and Onslow Ford's bio. [google cache here, as the page is not currently visible from onslowford.com] He was an officer in the British navy, and given leave for the lectures. His 2003 obit says "an expatriate group" invited him, and he was certainly preceded to NY by many of his older surrealist colleagues.
But instead of returning to the war, "he decided to join other Surrealists in Mexico seeking greater isolation to travel his own artistic path." He camped out in a hacienda in a remote village for six years, then moved to San Francisco [where he co-founded that crazy hippie art barge, the Vallejo.] Which sounds an awful lot like ducking the war and hiding out in BF Mexico. Just sayin'.
"Gordon Onslow Ford: Paintings and Works on Paper 1939-1951," curated by Fariba Bogzaran, through Dec. 23 francisnaumann.com via
nyt]