Karen Meyerhoff, Managing Director of Business Development at the Guggenheim Museum, and my new hero:
People come to an art museum in part to be inspired by the works of art on view there. And we develop an emotional relationship with those works of art and with the artists that created them.

So much of that emotion is evoked from the imagery and the colors that the artist uses to create that imagery. Color can be...an unconscious communicator. And when we use that color in our living space, we share that emotion with anyone who enters the space.

In creating this second collection, we used our permanent collection at the Guggenheim as inspiration. The permanent collection at the Guggenheim spans from the late 19th century all the way to the present, and we decided to focus on the early part of the 20th century for this purpose.

We had an exhibition on view of--called, "Great Upheaval," of works from Cezanne all the way up to Kandinsky, and we spent hours and hours in the gallery, working with these paintings, drawing colors out of them.

One of the things that became interesting about that process was that certain colors kept repeating. Not just within canvases by a single artist, but from artist to artist. So it became clear that there was a commonality to this early 20th century palette.

We call the collection The Classical Colors from the Classical Modern period in a sense. And when we had the opportunity to lay these colors out, finally, on a table together, it was very clear that there was this very rich, soft, elegant, classic palette that represented the paintings on view at that time.

These are very complex colors. And we relied heavily on Fine Paints of Europe and their unique tinting system to accurately match those colors and recreate that classical modern palette.
I am nerding out on this so hard right now. The Guggenheim Museum, in
"an exclusive licensing arrangement
with Fine Paints of Europe, Inc. of Woodstock, Vermont, will introduce two paint collections suitable for residential and commercial use in October 2011." The "second collection" Meyerhoff refers to above, in a video intro which I transcribed from the website for
Guggenheim Color by Fine Paints of Europe
, is Classical Colors, "a set of 150 wall colors drawn from much-loved paintings in the Guggenheim's permanent collection."
Beyond the concept itself, which is obviously golden--no, wait, it's conceptually golden precisely because of the art that was chosen, why it was chosen, and how it is being packaged and presented.
Cezanne, van Gogh, Delaunay, de Chirico, Kandinsky, Modigiliani, Gaugin, Pissarro, Franz Marc, whose Stables provides the illustrative detail above. I suspect these artists' primary commonalities--besides their "very rich, soft, elegant, classic palette," are being in the Guggenheim's collection and being dead long enough for any copyright and trademark claims to evaporate.
What makes the Guggenheim Color Collections superior to run-of-the-mill museum merchandise is that it's actually paint, the stuff the art is made of. Or at least that's what it's meant to evoke. Great word, evoke. There's ample scholarship and conservation data, dissertations and grant-funded research projects galore, on what paints artists actually used. Technology exists to analyze the paint's spectral and chemical properties with great precision and match it to historical manufacturing information.
None of that seems to have been brought to bear here. In addition to Fine Paints of Europe's "unique tinting system," the Collection was "refined." "Refined in consultation with exhibition designers to ensure the colors are appropriate for a variety of architectural settings." and "further refined" and "fine-tuned" for a variety of "lighting situations, to precisely match each hue." These are not recreations, but evocations, and each color "relates to the painting from which it was derived and the artist who created it."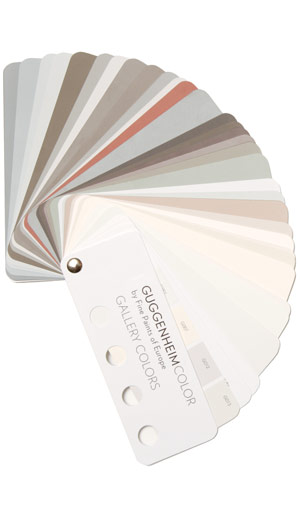 This is distinct from other collection, Gallery Colors, which is--students of The White Cube, rejoice!--actually based on the Guggenheim's archives of wall paints used in the galleries "by generations of Guggenheim Museum curators, artists, and designers-including Wright himself." And Jean Nouvel. Up in the middle of the fan there is the charcoal-black he used in the Rotunda for the Brazil exhibit. "These fifty hues," FPE's website says, "are intended to guide homeowners and designers in the presentation of art."
Guide on, Fine Paints of Europe, and art will follow.
Previous Fine Paints of Europe coverage on greg.org, because hello, it's an officially licensed manufacturer of Pantone Matching System paints: Rijksoverheid Rood