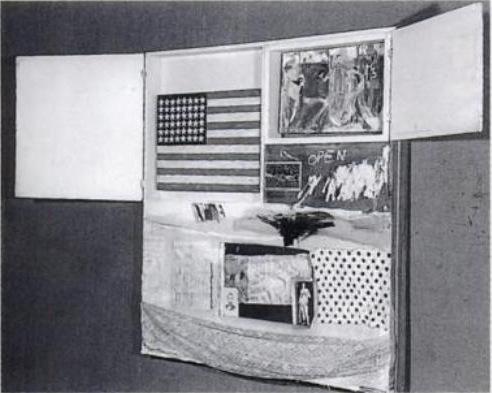 Construction with J.J. Flag, aka Short Circuit, 1955 photo by Rudy Burckhardt
You know what, it's way past time to wrap up this missing Jasper Johns Flag caper. I'm going to get right to it.
But first, a quick review of the work's history:
In 1955, three years before his debut solo show at Leo Castelli, Jasper Johns painted a small Flag which was incorporated into a Robert Rauschenberg combine, which was shown at the Stable Gallery annual Stable Show, which opened on April 26. The combine also included a painting by Rauschenberg's ex-wife, Sue Weil. [Stan VanDerBeek and Ray Johnson were also invited by Bob to contribute a work, and several historical sources say it includes a Johnson collage, but the Art Institute of Chicago, which bought the piece last year, officially only cites the two painters. Though it was Rauschenberg's stated intention to use the combine to get Johns' and Weil's works into the Stable Show, he was the only artist credited with participating.
Both paintings were enclosed behind cabinet doors, which could be opened, but which were originally exhibited closed. [In Paul Schimmel's Combines show and at Gagosian, the doors were opened and, obviously, untouchable by the public, but I have heard from multiple people now that when Johns saw the Gagosian show, he confirmed that the doors were to be closed.]
The combine is now known as Short Circuit, but in Rauschenberg's earliest works registry, it has the title, Construction with J.J. Flag. That entry referred to the work's next known public appearance, in a show at Cornell University's White Museum in April 1958, Collages and Constructions, curated by Alan Solomon. Johns was also included in the exhibition, which followed on the heels of both artists' successful solo shows at Castelli that year. Even though Solomon went on to curate both Rauschenberg's and Johns' first museum shows at the Jewish Museum, and their participation in the US entry to the Venice Biennale in 1964, which Rauschenberg won, Solomon did not mention this show in their bios. And it was not included in Johns' exhaustive chronology prepared for his MoMA retrospective.
In 1962, after Rauschenberg and Johns' particularly bitter breakup, they came to a "solution of differences of opinion" about Short Circuit, which involved not selling the work, or publishing or exhibiting it again.
In his awesome 1977 Johns catalogue, Michael Crichton quoted Leo Castelli as saying that the Johns Flag had been stolen from Short Circuit at some point "before June 8, 1965." [Crichton also wrote that Castelli acquired the painting, but the Rauschenberg Foundation told me that the artist never parted with the work.]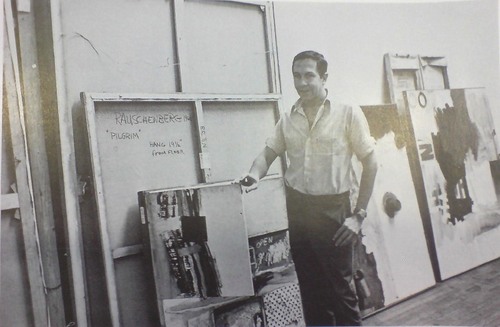 What's not behind Door #1? Rauschenberg & Short Circuit in the 1967 Finch College "Art in Process" catalogue
The removal of the Johns Flag apparently freed up Rauschenberg to begin showing Short Circuit again, because he put it on a national tour of collage works organized by the Finch Museum in 1967. He said in the Finch catalogue that Elaine Sturtevant "is painting" a replica of Flag, but the artist's photo blocks it from view. And the doors were nailed shut for the tour.
It's unclear when Sturtevant actually painted her Johns Flag, but I've narrowed it down to some time between 1968 and 1971, when Rauschenberg's one-time assistant Charles Yoder says he saw it in the studio. Short Circuit's next scheduled public appearance was in 1976, for Walter Hopps' big Rauschenberg retrospective at the Smithsonian. Upon review of Hopps' archive, it appears Short Circuit was originally included, then dropped from the show shortly before it opened. Burckhardt's 1955 image was used in the catalogue. Rauschenberg wrote that he might repaint the flag himself because he "need[s] the theropy [sic]."
[One other thing I found in the Smithsonian archive: a memo from Hopps agreeing to cover Rauschenberg's travel expenses to the DC opening, but refusing to pay for "his friend."]
In 1980, Calvin Tomkins told the story of Short Circuit's missing Flag in his Rauschenberg biography, Off The Wall. He appears to have based his account on Crichton's version, though he added a detail that could only have come from Castelli himself about an unnamed dealer bringing the Flag in for authentication. The notion that Castelli apparently let the painting walk back out of his gallery without a fuss is what triggered my interest in the first place. I mean, seriously, how could there be a Johns Flag painting on the loose, and no one does anything about it?
Anyway, Short Circuit was also not included in a 1985 show at the Hirshhorn on artist collaborations curated by Cynthia McCabe and David Shapiro. Shapiro later described the work as being in a sad state of repair and missing its Johns Flag. No mention of Sturtevant. According to the Rauschenberg Foundation, however, Short Circuit has never been damaged or repaired. It finally went on public view--the first time with the Sturtevant--in 2005 in Schimmel's show at MoCA.
And that's where we are.
So next week, I'll finally get around to talking about what I've found out about the disappearance of the Flag, the aftermath, and its fate. And there'll be a bit about how it alters Johns' history--or at least it should--and then what it means for Rauschenberg's, too. Stay tuned.
An admittedly imperfect way to see all the previous greg.org posts on the search for Johns' Short Circuit flag painting