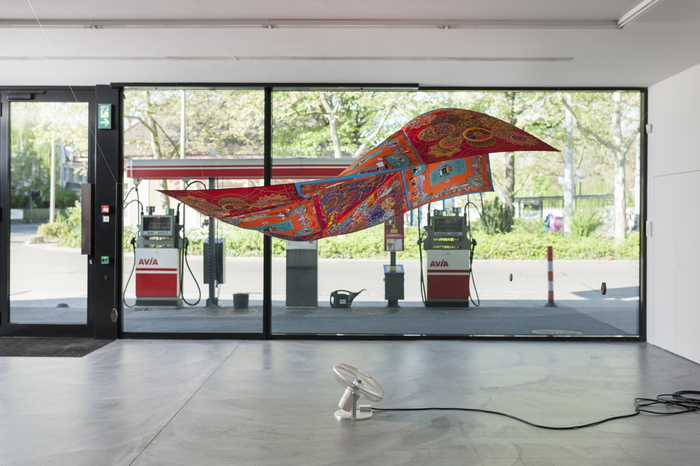 SUPERFLEX, Supercopy Haacke Hermes, 2015, installation shot at von Bartha, Basel, courtesy the artists
While William Pope L.'s Trinket keeps blowin' in LA, SUPERFLEX is showing this piece in Basel.
The Danish colabo is opening a show at von Bartha that includes Supercopy Haacke Hermes, a revision of Hans Haacke's classic Blue Sail (1968) made with fake Hermès and Gucci scarves from Thailand.
With this piece, we read, SUPERFLEX "continue to confront issues of copyright, intellectual property and trademark infringement."
A more mercenary SUPERFLEX might also confront issues of aspiration and capitalism by stitching together a collector's own collection of Hermès scarves and selling it back to her for 50x more.
Or they could start selling sponsorships. [YOUR LOGO HERE]. Doesn't being in Basel just get your transactional juices flowing? I am feeling it!
SUPERFLEX's Euphoria Now! is at von Bartha in Basel from 25 Apr through 11 Jul 2015 [vonbartha, thx publicists!]