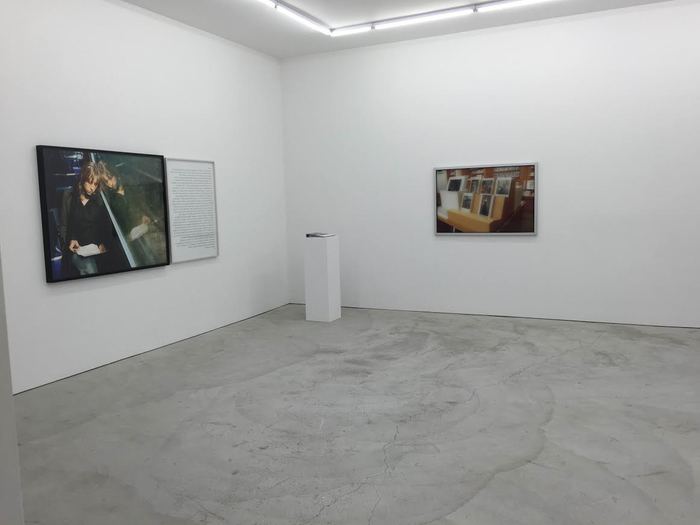 installation view, "Tell Me What I Mean," at To_____Bridges_____ 11 Sept - 23 Oct. 2016, image: John Garcia
I'm psyched to announce that The Madoff Provenance Project is included in a group show, "Tell Me What I Mean," at To_____Bridges_____ in NYC, which opened Sept 11 and runs through October 23rd, 2016. The show, curated by artist John Garcia, considers the way context and metadata affect the way an artwork is experienced and understood.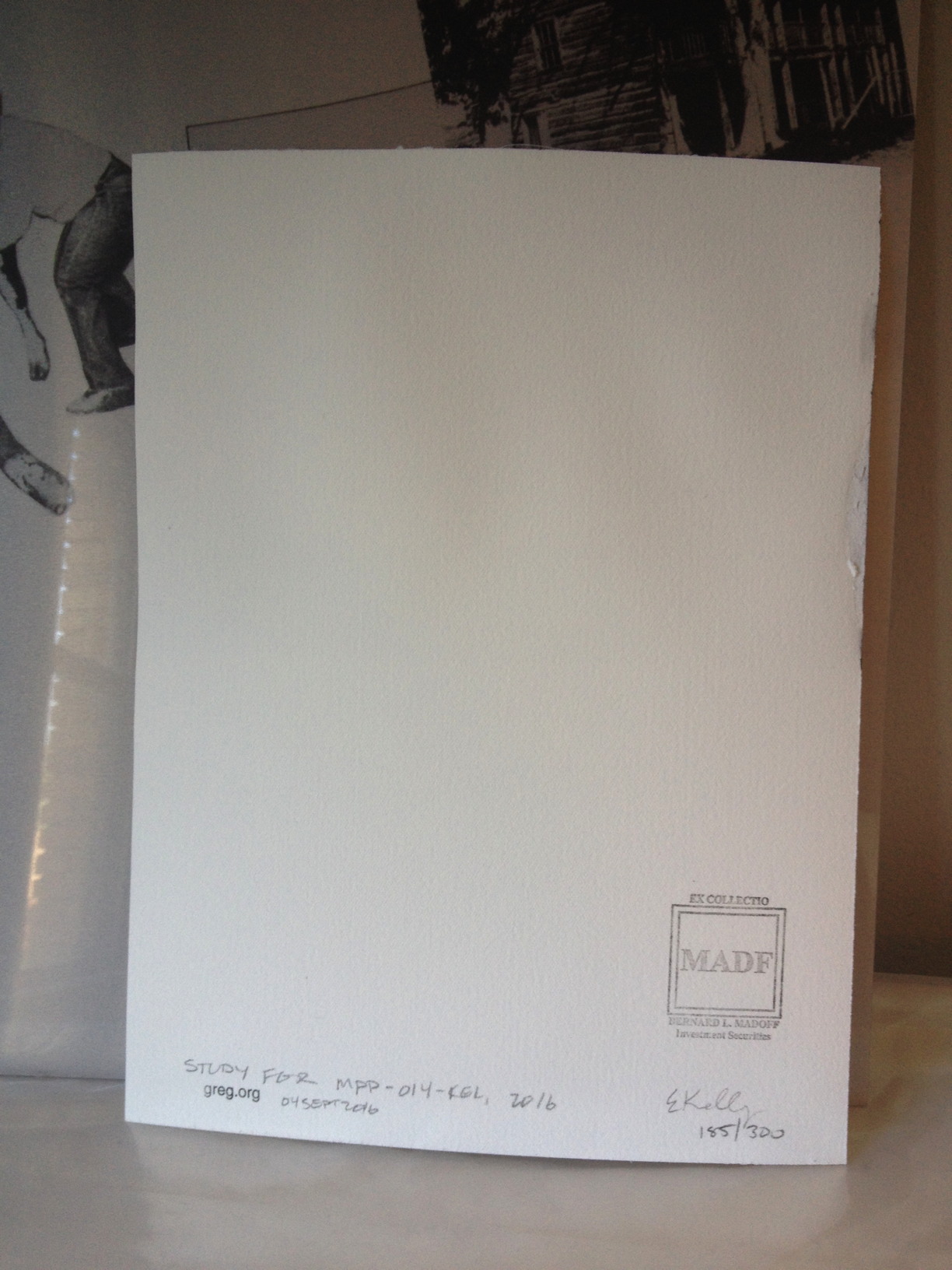 study for MPP-014-KEL, 2016, recto, 12x9 in., ink, pencil, and watercolor on Arches
John was thoughtful and intriguing in his invitation to include the Madoff project, which did not have any obvious physical manifestation. But meeting that challenge, and having the work seen among an interesting group of artists, made me say, "Hell, yeah" pretty quickly. Besides me, the show includes work by Sophie Calle, Sara Cwynar, Robert Heinecken, Rose Marcus, Alex Perweiler, Peter Piller, Michael Bell-Smith, and Colin Snap.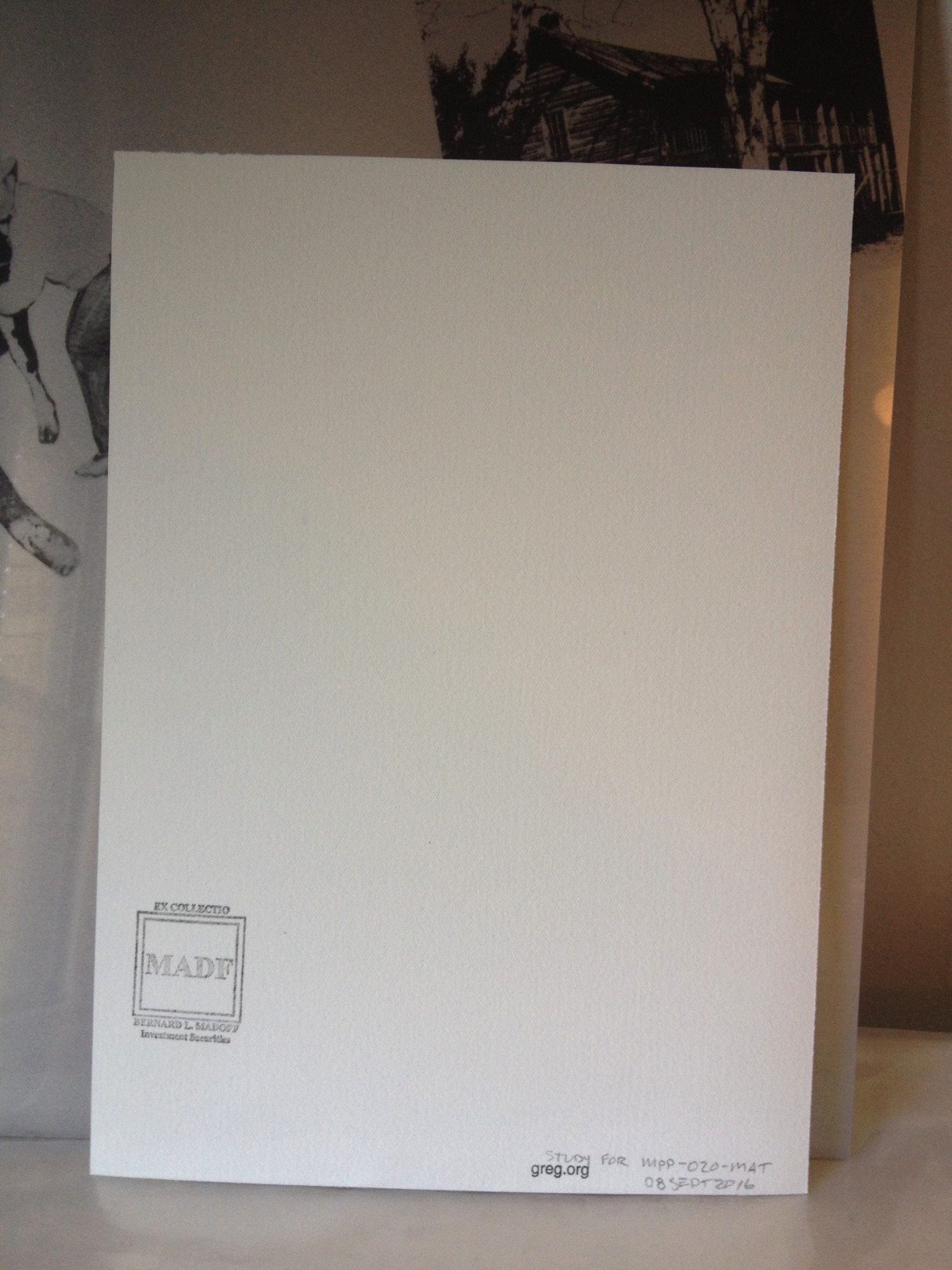 study for MPP-020-MAT, 2016, recto, 12.875 x 9.25 in., ink, pencil, and marker on Arches
Unsurprising to most, no owner of an authenticated Madoff-provenance artwork has yet agreed to have their work stamped with the "ex collectio MADF" stamp I created. So for this show I made "studies," 1:1 facsimiles of some Madoff works, properly stamped. In their stripped down nothingness, they definitely turned out more Stephen Prina's The Complete Paintings of Manet than Vik Muniz' Verso.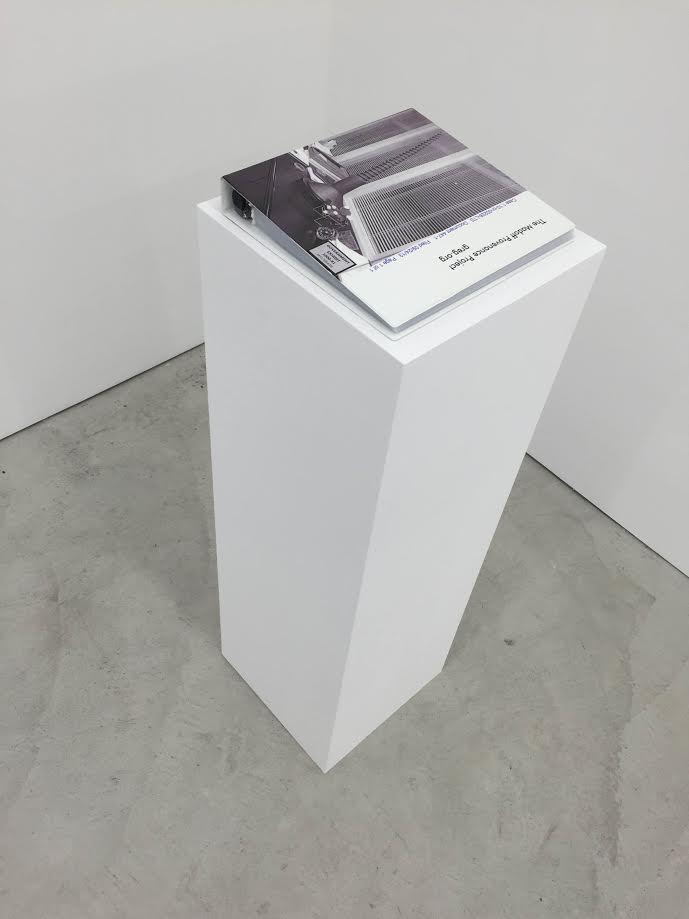 "Tell Me What I Mean," Installation view, The Madoff Provenance Project, 2014- , image: John Garcia
I also put together a few binders of court data and auction records, which serve as a comprehensive reference to all the artworks in the Madoff Provenance Project. I feel confident that if Mel Bochner could have had Zazzle custom print the binders for Working Drawings and Other Visible Things on Paper Not Necessarily Meant to be Viewed as Art, he totally would have.
To____Bridges_____ is a year-long project space in the Bronx run by The Still House Group. A second show of photographer Gary Perweiler's 70s and 80s advertising images, recontextualized by his son (and TSHG member) Alex Perweiler, runs concurrently. The space is open by appointment.
To_____Bridges_____ [to-bridges.info]
Ex Collectio: The Bernard Madoff Provenance Project