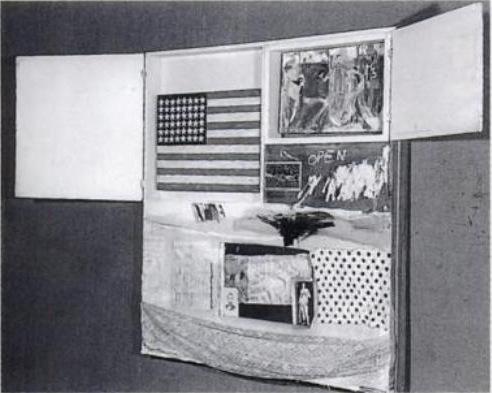 Short Circuit (aka Construction with J.J. Flag), c. 1958? photo: Rudy Burckhardt
Errol Morris's new film about Donald Rumsfeld has me thinking a lot lately in terms of the known unknown, and the unknown unknown. As I've tried to find the missing Jasper Johns flag painting that was in Robert Rauschenberg's 1955 combine Short Circuit I've kept running into another formulation which bridges the two: what we think we know.
It's not that the story of Short Circuit as it trickled down through history in footnotes and parentheticals and anecdotes was wrong, so much as incomplete. . And the elisions have shaped the widely accepted understanding of both artists' work. But it also prompts the question, "Who's 'we'?"
Because someone knows what happened to that flag painting. Someone's always known. It just wasn't me.