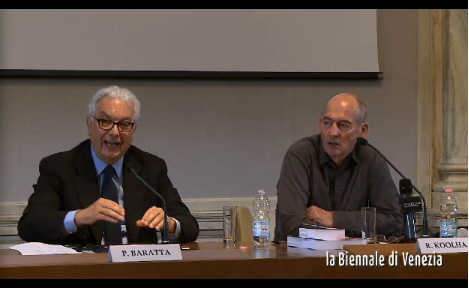 The Venice Architecture Biennale, which opens in June, held a press conference today with curator Rem Koolhaas and Paolo Baratta. The event was streamed live online. As @kieranlong pointed out on Twitter:
La Biennale making Koolhaas press conference accessible to max amount of people around world by live streaming it DUBBED IN ITALIAN.

— Kieran Long (@kieranlong) March 10, 2014
Intrigued, I quickly tuned in to the event, already in progress. The average age of the large crowd of press/reporters looked to be well over 60yo, and their questions were often longer than Koolhaas's answers, which were simultaneously translated by a rotating cast of female voices. It really was a mess.
The first words I heard set the tone:
"una, uhh como dire" Koolhaas gets the spaghetti western Italian dub dreatment @la_Biennale via @kieranlong http://t.co/mWvY1M2tY3

— gregorg (@gregorg) March 10, 2014
So I decided to livetweet it.
With a couple of brief exceptions the text comes only from Koolhaas. I don't type very fast, and I can't figure out the keyboard shortcuts for accents, but otherwise I think this transcript captures the experience of watching quite well:
simplicistica a nostro la esperanza che una grande prove identitate provisore diversa per che e cosi importanta lo cento anni como yugoslavi

— gregorg (@gregorg) March 10, 2014