God bless the Internet and all who surf upon her. A couple of weeks ago, I wrote about what I thought was an esoteric topic, even for greg.org: the fantastical lost machines from "Three Lessons of Architecture," Daniel Libeskind's exhibition at the 1986 Venice Architecture Biennale.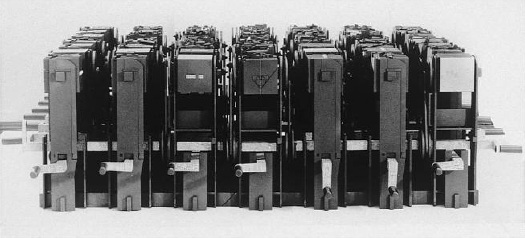 And yet, within hours of posting about them, I got an email from one of the guys who had been Libeskind's grad student at Cranbrook and who had built and installed the machines. Hal Laessig is now artist/architect/developer in Newark, and he was gracious enough to share his stories from the "Three Lessons" project, and from Libeskind-era Cranbrook. They range from insightful to hilarious to outrageous, and I'm working on putting our interview together right now.
In the mean time, here's a clarification about the references for the machine Laessig oversaw, the Writing Machine, which I had incorrectly described as being inspired by Raymond Roussel's Reading Machine.
As it's described here, at the very bottom of this ancient article on hypertext, the Reading Machine Roussel exhibited in 1937 was basically a book on a Rolodex. Color-coded tabs helped the reader navigate through multiple layers of cross-references and footnotes. Interesting, but nothing at all to do with the form of Libeskind's version, which took its inspiration from somewhere else entirely.