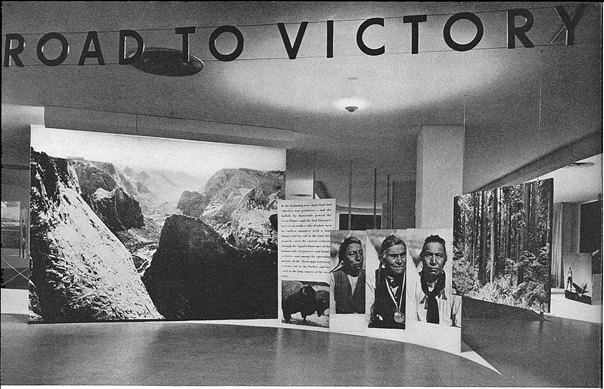 So in my ersatz zigzagging through the history of photomurals, I kind of skipped from Edward Steichen's landmark Family of Man exhibition in 1955, where Paul Rudolph deployed enlarged photo prints for content and experience, as well as architectural elements in his exhibition design; to Capt. Steichen's 1945 exhibition Power in the Pacific, which featured the work of the US Navy photography unit he commanded; to Steichen's participation in MoMA's first photography exhibition ever, a 1932 photomural invitational, which was intended to serve as a showroom for American artists, who faced stiff mural competition during the Depression from south of the border.
Sensing a trend here? Wondering what I missed? Wow. Michael from Stopping Off Place just forwarded me the link to MoMA's bulletin for Road To Victory, a stunning 1942 photo exhibition that rolls up so many greg.org interests, it is kind of freaking me out right now. And the man who is bringing it to me? Lt. Comm. Edward Steichen.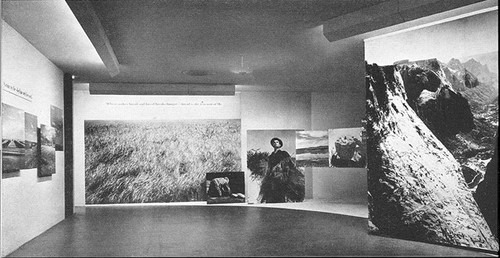 I mean, I kind of stumbled onto the photomural trail last October, when a vintage exhibition print of Mies' Barcelona Pavilion came up at auction. Its size, scale, and iconic modernist subject suddenly made the photomural seem like a missing link in the contemporary development of both photography and painting. And yet it's also seeming like not many of these pictures survived, because they were merely exhibition collateral, functional propaganda material, no more an artwork than the brochure or the press release.
And yet these things existed. Is it possible at all that any of these prints still exist in some art handler's garage?
Anyway, it'll take me time to process this Road To Victory show, so I'm just going to skip across the most stunning parts: the show's awesome, explicit propagandistic objectives; the utterly fresh painterly abstraction of these giant prints; the spatial, experiential design of Herber Bayer's installation; the texts surrounding the exhibit, which traveled around the country in 1942 to apparently wild, patriotic acclaim; and the ironic, complicating aspects of authorship of the show and the work in it.
[Hint: they barely identify, much less mention the actual photographers at all. I, meanwhile, am happy and grateful to credit PhotoEphemera for these small versions of much larger scans of MoMA's 1942 documentation of the show. Definitely worth diving into.]