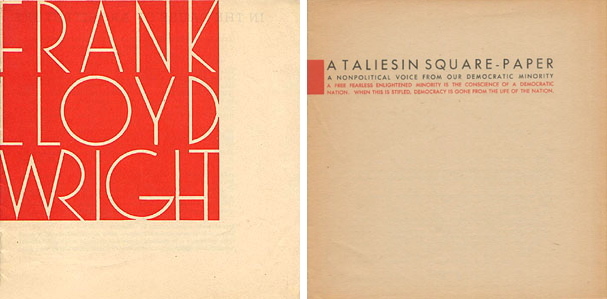 examples of Taliesin Square Papers from the Frank Lloyd Wright Library at Steinerag
Welcome to Better Read, an intermittent experiment at greg.org to transform art-related texts into handy, entertaining, and informative audio. This text is excerpts from a pamphlet essay by Frank Lloyd Wright, "In the Cause of Architecture: The "International Style" (Soft Cover), published by Taliesin Fellowship in February 1953. It would be the last of what were called the Taliesen Square Paper Series. The editorial was republished in the July 1953 issue of House Beautiful magazine with the title, "Frank Lloyd Wright Speaks Up." Wright was 85 years old at the time, and he hated hated the International Style.
I could not find print copies of either of these publications available anywhere. Library holdings of House Beautiful are spotty and incomplete. When I tried the authoritative-seeming, five-volume Frank Lloyd Wright Collected Writings, I also came up short. There are only five copies of Vol. 5 (1949-1959) listed in libraries in the US. How could this be? I ended up buying a used copy for a couple of bucks from Goodwill in Michigan, which turned out to have been deaccessioned by the library in a federal prison. Anyway, the text comes from there [pp. 66-69].
I wanted to find this text because it is the source of two popular zingers from Wright: the great opening line, "The 'International Style' is neither international, nor a style," and saying supporters of modern architecture are not only totalitarians, fascists, or communists, they "are not wholesome people." This line came up, for example, in a recent Atlas Obscura article about Hollin Hills, a nice but innocuous mid-century modernist subdivision near Washington DC.
I wanted to see the fuller context of Wright's criticisms, partly because one of the objects of his scorn, the MoMA-affiliated architect Philip Johnson, was actually a Nazi and an aspiring leader of US fascism at one point. [I've come to think Johnson recognized the disadvantages of political affiliation for his real interest: himself and his career, and that his devotion for the rest of his life to establishment power was quite sincere, but that's not the point right now.]
The main reason is because Wright's communist and anti-modernist bogeymen sounded familiar, like they might resonate with the conservative or rightist campaigns against everything modern, from abstraction to Brutalism to Post-Modernism, to Tilted Arc to the Culture Wars, Wojnarowicz, you name it. Wright's architecture has been generally assimilated into our historical narrative, but, I thought, it's come at the cost of our understanding of the political context in which he created it, and from which he attacked those who didn't ascribe to his own views, or pursue his particular agenda.
Anyway, Wright's text is after the jump, or you can listen to the text read by a robot.
better_read_frank_lloyd_wright_intl_style_20160505.mp3 [dropbox, 18mb mp3, 13min or so]