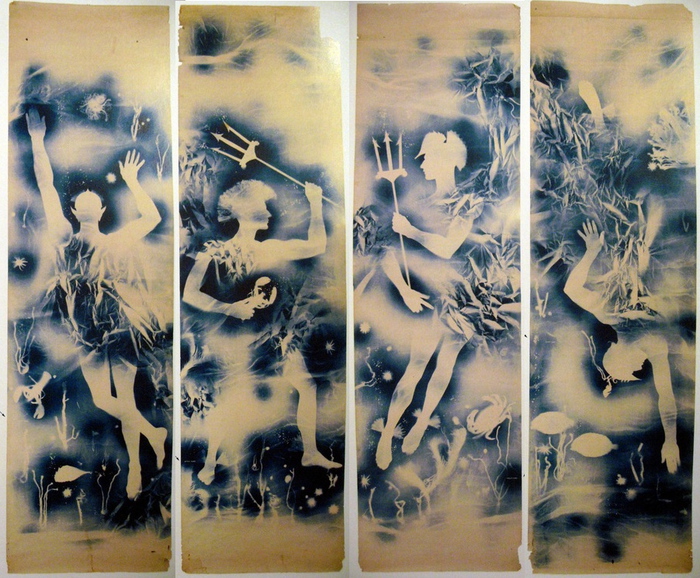 Jasper Johns Blue Ceiling, 1955, 12x10 feet [!], image: postermuseumblog
How did I miss this? Just a week after I posted about Matson Jones' hand-painted plaster melons and pomegranates, poster dealer Philip Williams revealed an incredible Matson Jones find: a set of cyanotype/photograms titled Jasper Johns Blue Ceiling.
Each of the four panels depicts an underwater scene featuring a male figure holding a trident, or with a Trojan-style helmet; the only figure not in profile has pointy, Sub-Mariner-style ears. They're all signed "Matson Jones" in the image, and apparently, the title, which is apparently a reference to Johns's bedroom, is written on the back in what Andy Warhol said was Robert Rauschenberg's handwriting. They surfaced in the 1980s from the office of Gene Moore, the guy who commissioned Matson Jones [the commercial pseudonym of Rauschenberg & Johns] to create window displays for Bonwit Teller. The prints were apparently a backdrop for a window made in 1955.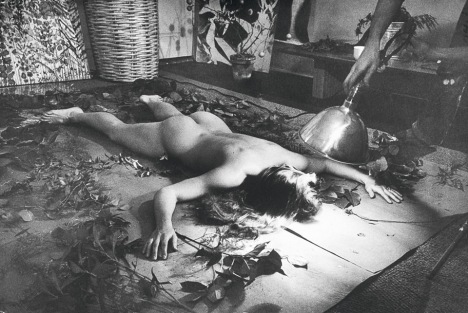 Rauschenberg & Weil making a blueprint photogram, 1951, LIFE Mag via tate
Rauschenberg, of course, had made and shown similar photograms with his wife Susan Weil. She [or a model] would lie on the photosensitive paper in a composition, and he'd swing a lamp around her, Pollock-style, to make the image. [MoMA has one.] Weil kept making photograms after their divorce, but I never realized they shared joint custody of the technique. Or that Rauschenberg would use it with his next model--and that's the question here, I guess: is that Johns?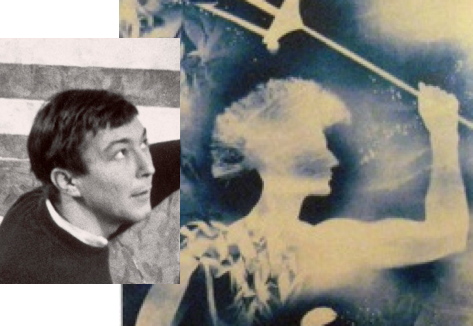 Who else could it be, right? And if it wasn't Johns in 1955, it certainly was in 1962. These 1-to-1 scale photograms make me think of Johns's Study for Skin drawings, which he made by pressing his oiled up face and hands against a sheet of drafting paper, then rubbing it out with charcoal. Richard Serra owns a full-body Johns Skin job from 1975, too, so it's not like he gave it up.

Jasper Johns, Study for Skin I, 1962, image via nga
There's also Rauschenberg's large-scale, 1968 print triptych Autobiography, and though it's a stretch across time, the shadows remind me of Johns's landmark Seasons paintings and prints of 1986-7, which all feature the artists' shadow.


Jasper Johns The Seasons print series from ULAE
Connecting Johns's imprint of the body to Rauschenberg's--and Weil's--photogram process would be interesting enough; but these photograms also connect Matson Jones' production more directly to the art practices of Johns and Rauschenberg.
It does not feel great to not be the first to make this connection. In a Feb. 1959 column in Arts Magazine that is a master class of insiderish gay-bashing, Hilton Kramer denigrated Johns and Rauschenberg as "visual publicists" working in the commercial art "gutter":
Rauschenberg, for example, is a very deft designer with a sensitive eye for the chic detail, but the range of his sensibility is very small -- namely, from good taste to "bad"...Frankly, I see no difference between his work and the decorative displays which often grace the windows of Bonwit Teller and Bloomingdale's. The latter aim to delight the eye with a bright smartness, and Rauschenberg's work differs from them only in 'risking' some nasty touches. Fundamentally, he shares the window dresser's aesthetic to tickle the eye, to arrest attention for a momentary dazzle...Jasper Johns too is a designer...Johns, like Rauschenberg, aims to please and confirm the decadent periphery of bourgeois taste.
There are a couple of other examples of gender-coded criticism early on in Johns and Rauschenberg's careers, but Kramer's knowing sneers link gayness with non-seriousness, taking a double swipe at the artists' rapidly growing reputations. Johns wrote an angry letter in response, saying "a kind of rottenness runs through the entire article."
Which is why Williams' post of what "may very well be the only known surviving Matson Jones work," is unsettling. It ends with this shoutout, "Today, Friday May 15th, is Jasper Johns' 84th birthday. From everyone here at Philip Williams Posters Happy Birthday Mr. Johns!" Almost as if they were inviting the artist--who has a penchant for destroying early work that doesn't necessarily fit his preferred narrative--to buy it back. Frankly, they belong in a museum. If there is a museum bold enough to take them.

Jasper Johns Blue Ceiling by Matson Jones [postermuseumblog]