Speaking of texts written in entirely unlikely places...
I really have no idea what to make of the kicker in Daniel Barnes' Artslant review of the Brittania St installation of Damien Hirst: The Complete Spot Paintings:
As to be expected with Hirst, there is yet more spectacle. A member of Gagosian staff tells me that the key paintings which correlate specific colours with letters of the alphabet are the start of a game: if you look at each painting carefully, a sequence of colours will reveal a hidden word, and if you get the word first you win a spot painting.
I mean, first, second, and third: W, T and F? [
Or in Morse Code, ⚈ - - - ⚈⚈-⚈?
]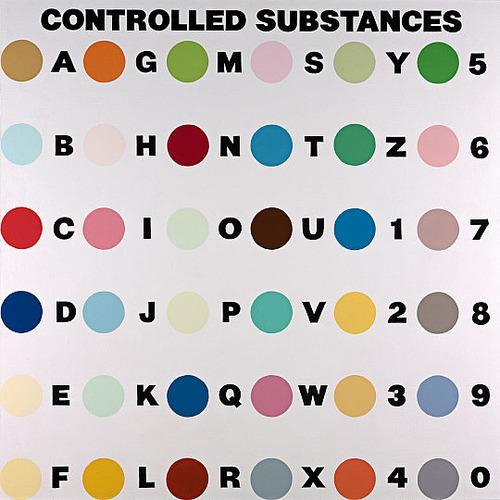 image via tate modern, © Damien Hirst. All rights reserved, DACS 2009
A secret word embedded in each painting? Is there one word repeated or 1,200 or 1,500 separate words? Is there one key for all of them, or one for each of them? Is there one free painting for each of them? If you crack the Hirst Code, do you become overnight the artist's single largest collector, the Mugrabis of Hirst? If so, doesn't Viktor Pinchuk already have a team of ex-KGB cryptographers working on this problem?
Entirely aside from the "win a painting" sweepstakes element--the Secret Hirst's Other Spot Challenge--what are the conceptual contours of a Hirst Code? Are the words encoded in The Complete Spot Paintings random, or a list, or do they constitute a single, secret text? Is it an essay, a manifesto? An epic poem or sacred text? Is it the first page of a great novel,, or did Hirst randomly encode a page from his pharmaceuticals catalogue--or from a Tesco mailing, or his cable bill, whatever he had lying around the studio? Or does it just say ARSE 1,500 times?