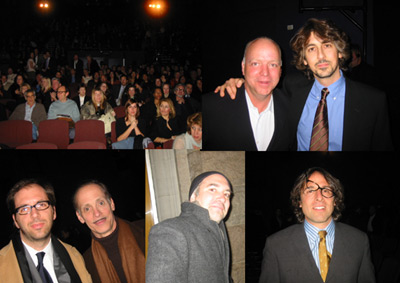 clockwise from top R: UA's Bingham Ray and honoree Alexander Payne
David O. Russell, last year's honoree, still in a euphoric daze
"special friend"/screenwriter Jim Taylor, freezing on way to afterparty
John Waters and sycophantic fan, photo: David Russell
crowd shot, which captured the supposedly elusive cracked-me-up international man of mystery
Last night at MoMA, Alexander Payne and Bingham Ray talked about Payne's career and films (including Citizen Ruth, Election, About Schmidt). The Museum's Film & Media Department gave Payne its Work In Progress Award, to honor filmmakers as they transition from "promising" to "proven." Ray, who's an independent film legend himself, and who heads United Artists (which picked up Pieces of April at Sundance), studio headed the conversation.
In my secret socialite life, I co-chaired the benefit. I'm working up my notes from Alexander's discussion (and will try to score some audio clips, too) and will post a page of pictures soon. In the mean time, here is a composite pic, and the highlights of my speech:

"Thanks to the creative family at Vanity Fair and W Hotels (the sponsors). They don't give traditional gift bags; they make them. Graydon Carter was up late writing poems for each of us."

"Smile! It's for my weblog."

I decided to cut the bit about the after-party being potluck ("Manhattan brings the entree; Brooklyn, a salad; Westchester, the mixers; LA, the herb..." Like last year, LA was the only one who brought what they were assigned.)