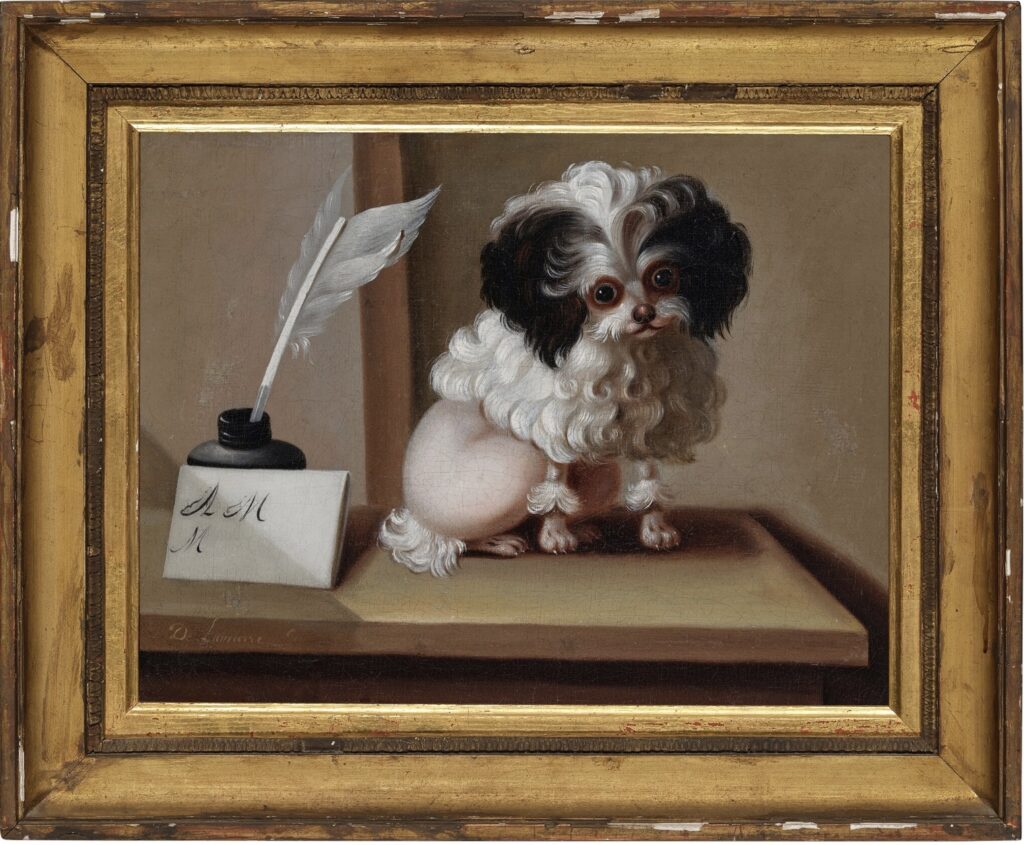 Please sit with this image of this painting by Jacques Barthélémy DeLamarre of Marie Antoinette's purported dog for a minute. It will be sold tomorrow at Sotheby's. There is no reserve, and the estimate is $3-5,000 US, so it will sell.
[Day after the sale Update: by now one of the most interesting things about this painting, for most people, anyway, is that it sold for $279,400, 50x its original estimate. There is no logical explanation for this. 15 bidders were reported, though by the time it got into six figures, I suspect only a couple remained. Please note the update from the day before the sale at the bottom of this post. It seems to indicate that when this painting sold at Bonham's in 1986, the narrative of Pompon and Marie-Antoinette was missing. So far, I haven't been able to find when it comes in, either. Whether this is just a moment of Pomponomania (as Michael Lobel calls it), or a wider spread Pompondemic remanins to be seen.]
From the minute this post goes live until the minute the painting sells, I will make a full-scale Facsmile Object of it available on this website for $300, 10% of the low estimate of the painting. It will include a handmade, full-scale Certificate of Authenticity, signed, numbered and stamped.
[Thursday Update: I misread the auction, which *started* today, and continues for eight days. I was pacing myself for a Pompon sprint, not a marathon, and I think we'll all be better off without a week of wheezing Pompon hype. The Facsimile Object is no longer available. Within hours there were 20 bids; the price now stands at $US 6,000 220,000. Holy smokes, this is where it ended, $279,400. Thank you for your engagement.]
There is absolutely no reason anyone should buy this Facsimile Object or, for that matter, this painting. Within the next 24 hours, someone will clearly do the latter, which should be folly enough. It is buck wild to me that in that same time frame, someone will also do the former. Because they will want to have the physical experience of sitting with this picture, and sitting with an image of it on a screen will not suffice. I absolutely get it. [Huge shoutout to artist Jeanette Hayes who says, understandably, "I have never loved a painting more."]
Continue reading

"Jacques Barthélémy Delamarre Facsimile Object [D1] 'Pompon'"