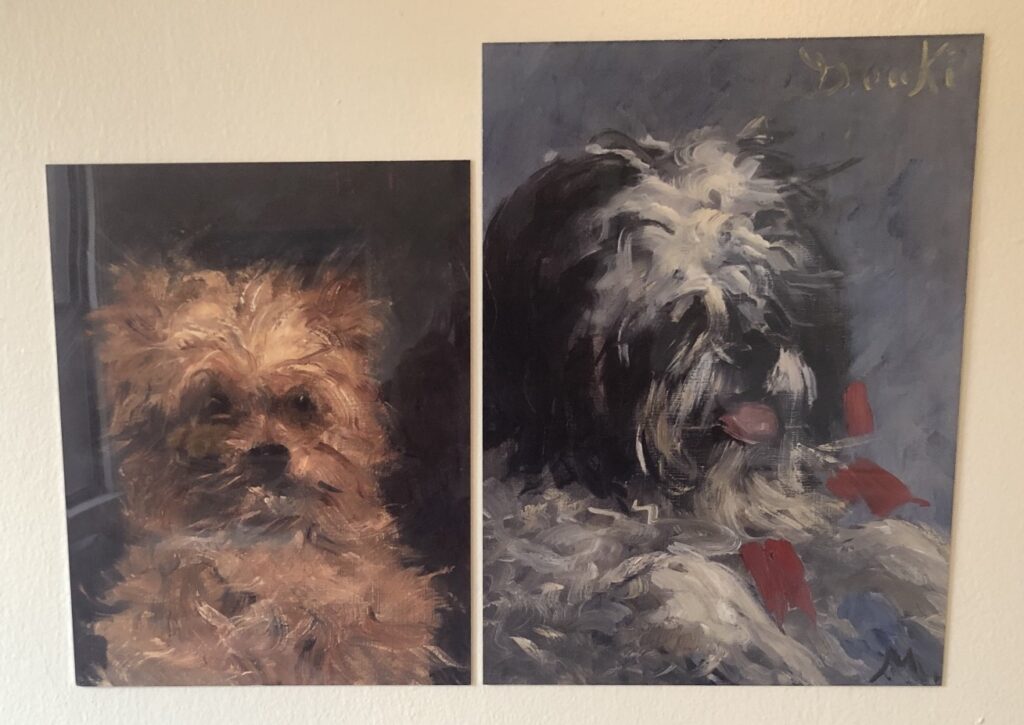 In times like these I turn to mangling words of Samuel Beckett. "Édouard tried. Édouard failed. No Manet. Try again. Fail again. Fail better."
[10/20 10/21 UPDATE: AND THE TIME TO FAIL AGAIN IS NOW. The link to purchase Manet Facsimile Objects (M2) & (M3) is was below.]
Last year, in the midst of anyone actually doing anything to slow the pandemic, Manet's greatest dog painting, Minnay, went on public view in a travel-restricted Paris for the first time ever. For two days and one hour, until it was sold, and disappeared.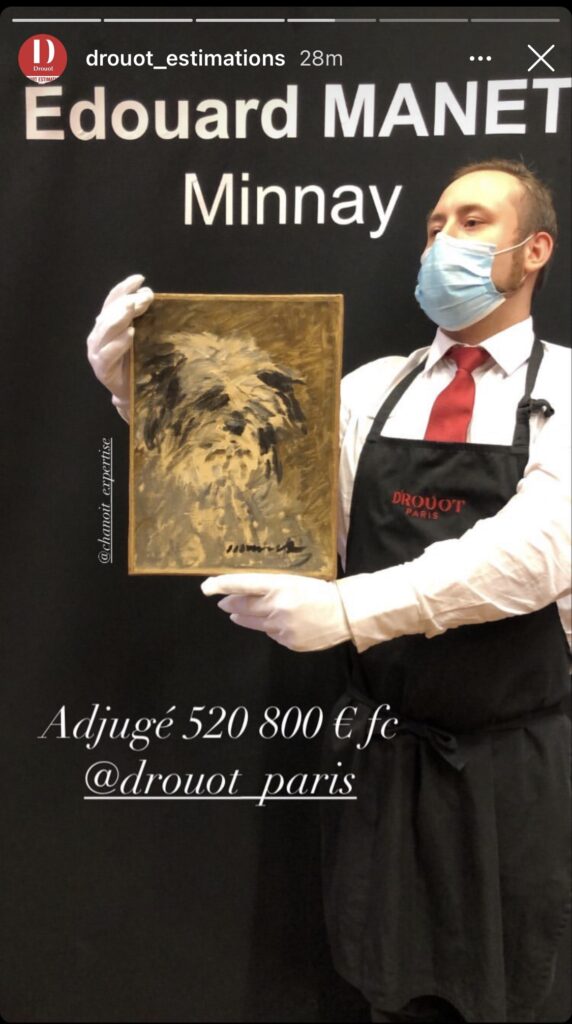 I created Édouard Manet Facsimile Object (M1), a full-scale faithful facsimile of the painting, which I offered (along with the certificate of authenticity, of course) to the painting's buyer in a one-for-one exchange. And while I like to think it's still too early to say it has failed, I must acknowledge that so far that offer has not succeeded.
I also sought to mitigate the experiential loss of not being able to see this painting in person. I was not alone in this; in fact, billions of people around the world were in the same situation. Facsimile Objects were delivered to literally several of them to help them cope, too. Did they work? Are they necessary anymore?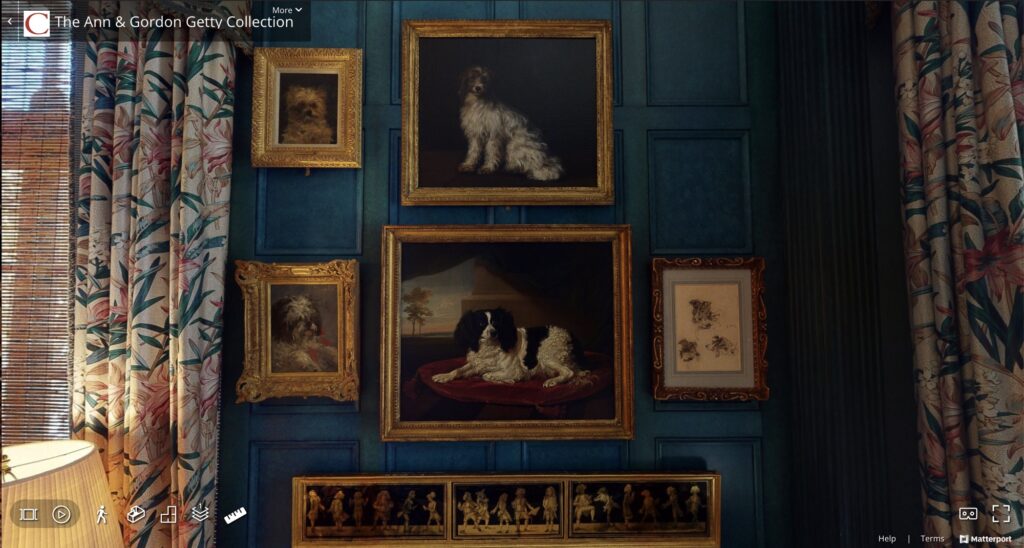 Even if the pandemic isn't ending, caring about it apparently has. So now there's no [sic] reason that everyone can't get themselves to Christie's New York this month to see the second and third greatest dog portraits Manet ever painted. Which, except for that one hasty loan of le chien "Bob" to the Getty, as a treat, have been entirely out of the public eye because, IYKYK, they were anchoring the dog wall in Ann Getty's Blue Parlour for forty years.
But soon they'll be on view for almost a week, from the 15th through the 20th of October. Which, unless you buy them on the 20th and 21st, could be your only chance to see them. And if you do, please know I stand ready to trade you some exquisite and authentic Manet Facsimile Objects for them. In case there are two separate buyers, I have set aside the first and second objects for each for each of you. For purposes of giving my Manet Facsimile Objects in exchange for your Manet painting, DAOs, corporations, and other collective entities count as one buyer. Anyway, just let me know.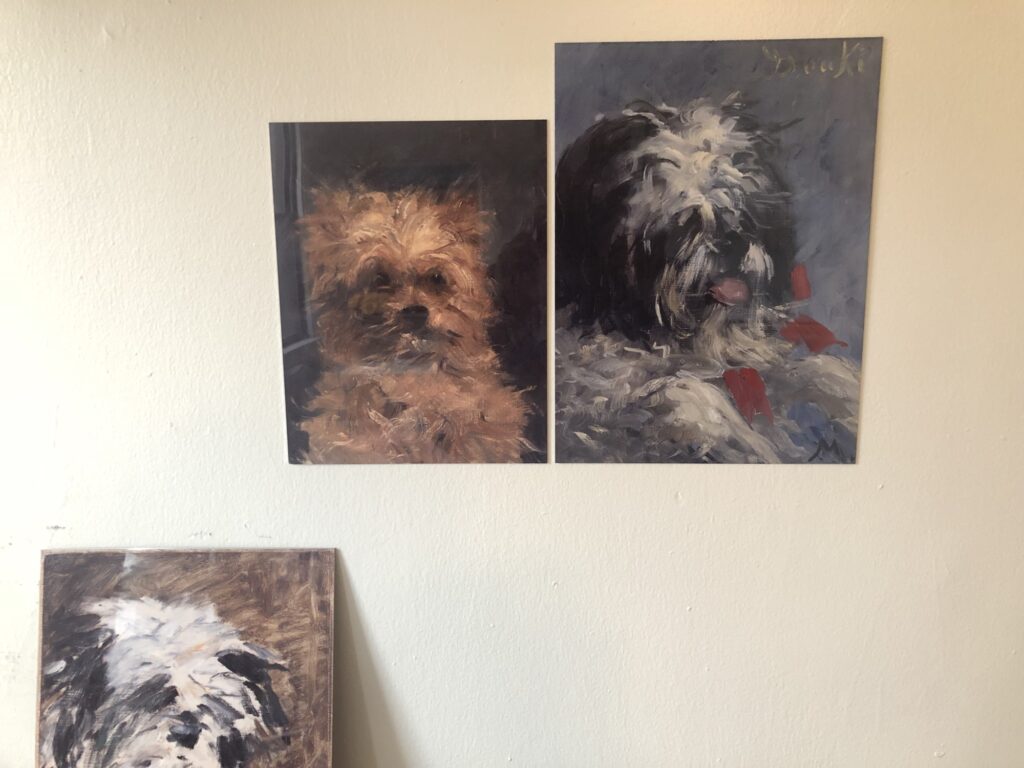 As for everyone else, I don't know why you'd need them, but these Édouard Manet Facsimile Objects (M2) "Bob" and (M3) "Souki", respectively, will be available only during the dogs' brief sojourn in the public realm. So from the moment they go on view on Saturday, October 15th at 11:00 AM EDT, until the moment "Donki" hammers in the day sale sometime in the late morning of Friday, the 21st.
they come
different and the same
with each it is different and the same
Like Manet Facsimile Object (M1), (M2) and (M3) will be full-scale, high-gloss dye sublimation inkjet prints fused to aluminum panels. And each will be accompanied by a full-scale certificate of authenticity, executed in India ink on handmade Arches, signed and stamped and numbered in sequence (beginning with no. 3). Facsimile Objects will ship in a custom, handmade portfolio. Like (M1), these Facsimile Objects will be priced at 0.1% of the assumed reserve price for the Manets which, including buyers' premium, is roughly the low estimate.
One difference: from the 15th until "Bob" sells on the evening of the 20th, (M2) and (M3) will only be available together, as a diptych. After the evening sale of "Bob" and until the day sale of "Donki," only (M3) will be available. Which means if you wait until you fail to get the paintings at auction, you'll fail at getting the Facsimile Objects, too, and in multiple ways.
[OCT 20 21 UPDATE: You know what, fine. "Bob" just sold for $1.38 million. If you want to buy the Manet Facsimile Object (M2) of "Bob" by itself, go right ahead. It's 0.1% of the Manet's sale price. If you want to buy the diptych, go for it. If you just want to buy (M3) "Souki", that one is still priced at its estimated reserve. OK, now we are done, and le chien "Donki" (sic) sold for just (sic) $378,000, slightly above the estimated reserve, but also more than a million dollars less than "Bob". I was frank about the quality hierarchy of these dog paintings from the beginning, but even with the wrong name, "Donki" is not 3x worse than "Bob". "Bob" has provenance, a brief but important recent exhibition history, and an undeniable kawaii factor. It is adorable and good. But it is not a better painting than Minnay, and every cent over EUR500,000 can be attributed to that belated recognition. Unless it's all the Getty aura, which would be depressing. In any case, Facsimile Objects are out there or on their way, doing their work. Thank you all for the engagement.]
If this seems pointlessly complicated, please remember that no one really needs these, and you're only buying these enticingly reflective faithful objects because you love using overdetermined conceptual frameworks as excuses to buy pictures of gorgeous and rare dog paintings.
Well, shall we go to midtown?
Yes, let's go.
[They do not move.]