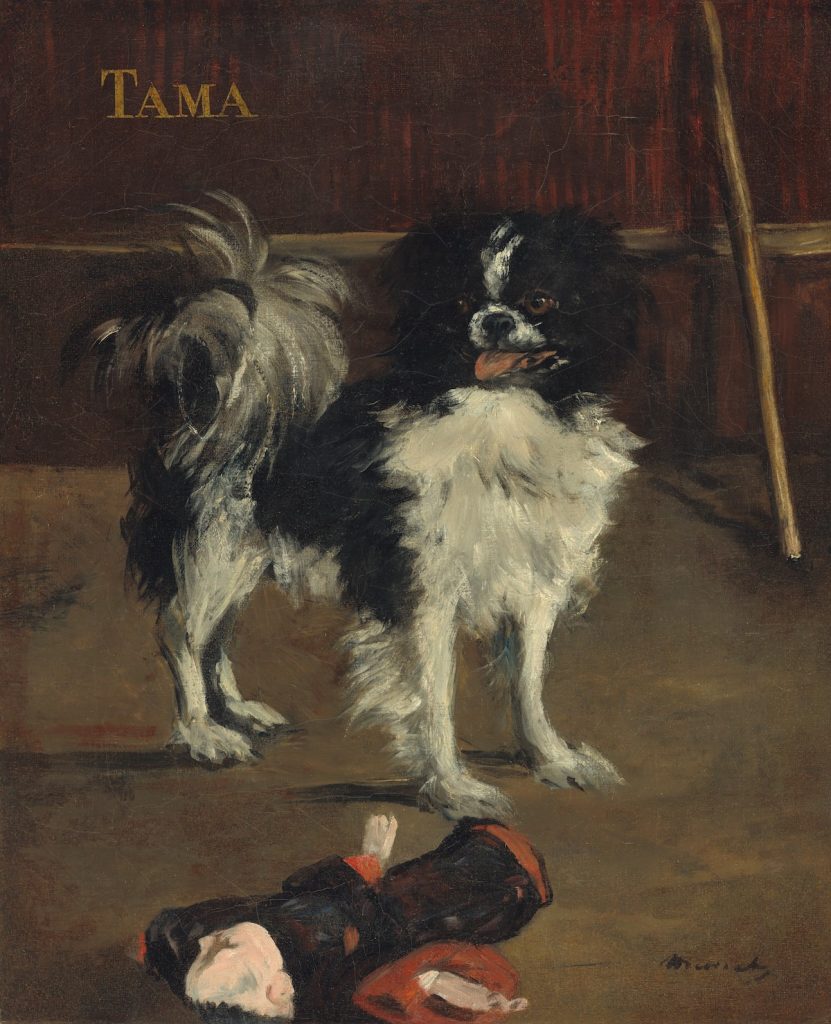 I visited the National Gallery as soon as it reopened because I could. On the last day before everything shut down in March, I debated rushing down to see this kind of minor-seeming show of European plein air painting, but I passed. Except for Degas, it was the only show open, so I saw it, and was buoyed by these small paintings, most of them basically sketches in oil, with a freedom and looseness that would come to be associated with the Impressionists only decades later. These were minor, low stakes paintings, mostly by minor, and sometimes even unknown artists, and they communicated the simplicity and directness of their making.
Which is all fine, but on the way to the exhibition, in a gallery most everyone was just passing through, there were small French paintings from the collection, including four Manets. After unexpectedly weeping in front of a late arrangement of flowers in a crystal vase, I turned to see the National Gallery has two Manet portraits of dogs. Two!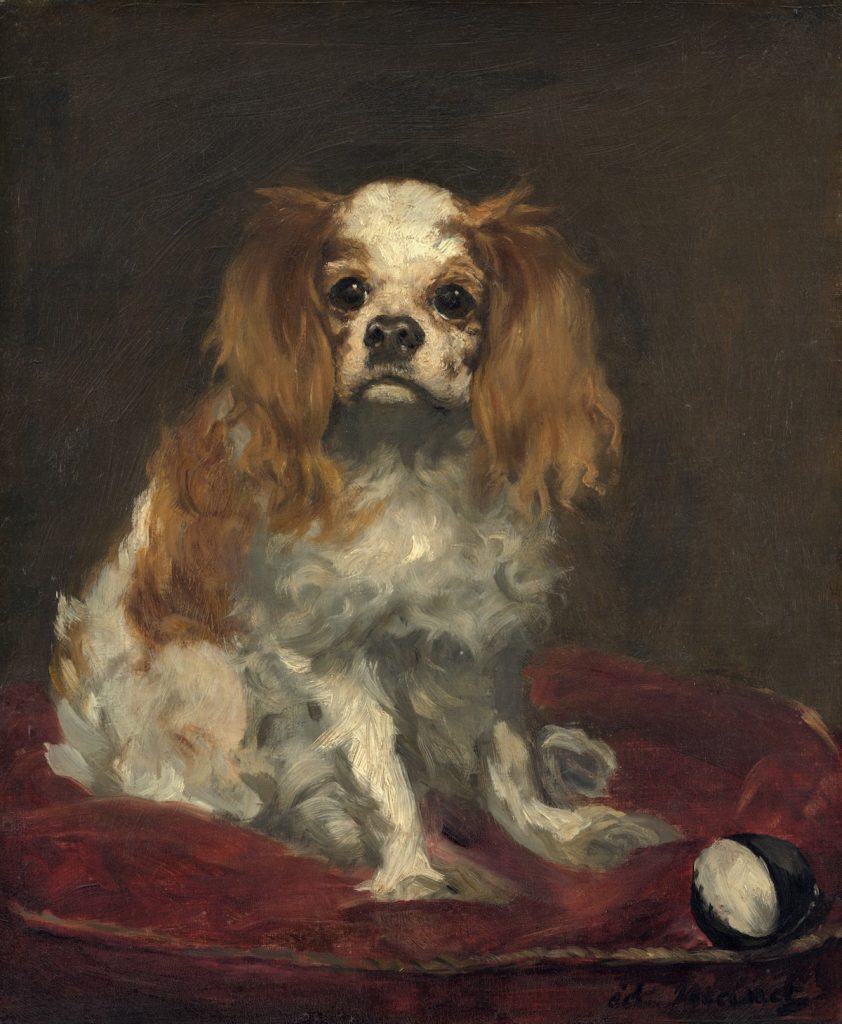 The National Gallery has seventeen Manet paintings, and two are of dogs. What's more remarkable, statistically, anyway, is that Manet only painted eight dog portraits, and the NGA has a full quarter of them. In the fifty years since Manet's catalogue raisonée was updated, only two others have been reproduced in color. Others don't appear to have been seen since at least 1932; some have no history at all beyond their original owner 140 years ago. Manet's dog portraits are not considered important; in fact, they're barely considered at all. But I am now fascinated with them.
Except for an outlier in each direction, Manet's dog portraits date from 1875 or 1876. The entry in the 1970 CR revised by Rouart & Wildenstein gives a date of 1875 for A King Charles Spaniel (RW 233), and then lists its first exhibition–in 1867. Some were commissions, but most appear to have been painted for friends. The painting of Follette, below, is inscribed, "A mon ami E. Cante, Manet." Cante was the chief of staff to Antonin Proust, the journalist turned minister of arts, and lifelong friend of Manet. In the 1880 Salon Manet showed a provocatively casual and seemingly improvised portrait of Proust which was purportedly painted in one afternoon sitting. [It was not.]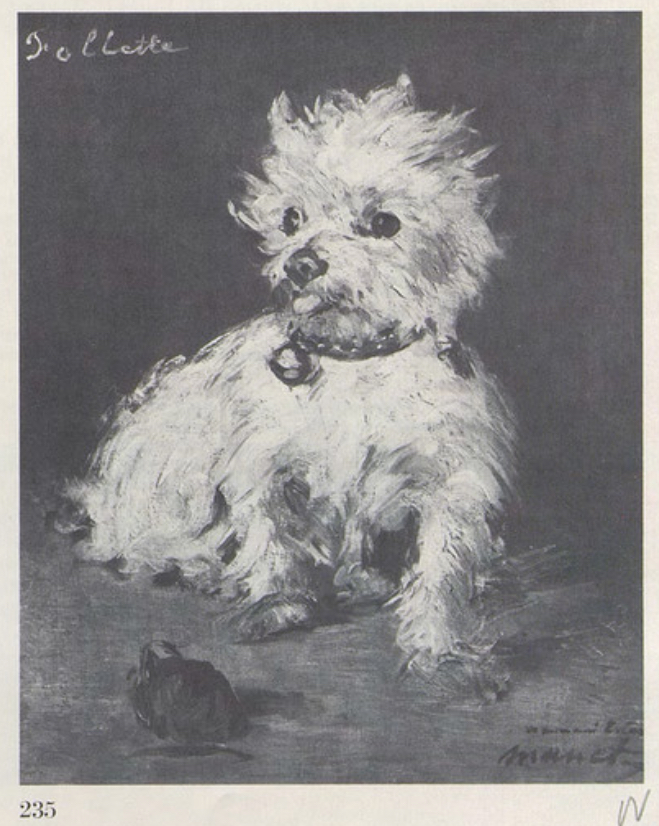 But the dog portraits Manet painted from 1876 on might have been. The earlier portraits all depict dogs with a toy, a cushion, or at least a shadow to show their full body existing in a space. The later dogs are half portraits or heads, with almost no anatomical modeling, which inhabit no space at all besides the picture plane. They are composed entirely of frenetic brushstrokes of fur, as if quivering paint had momentarily coalesced into a living thing, and was just as likely to disperse at any minute.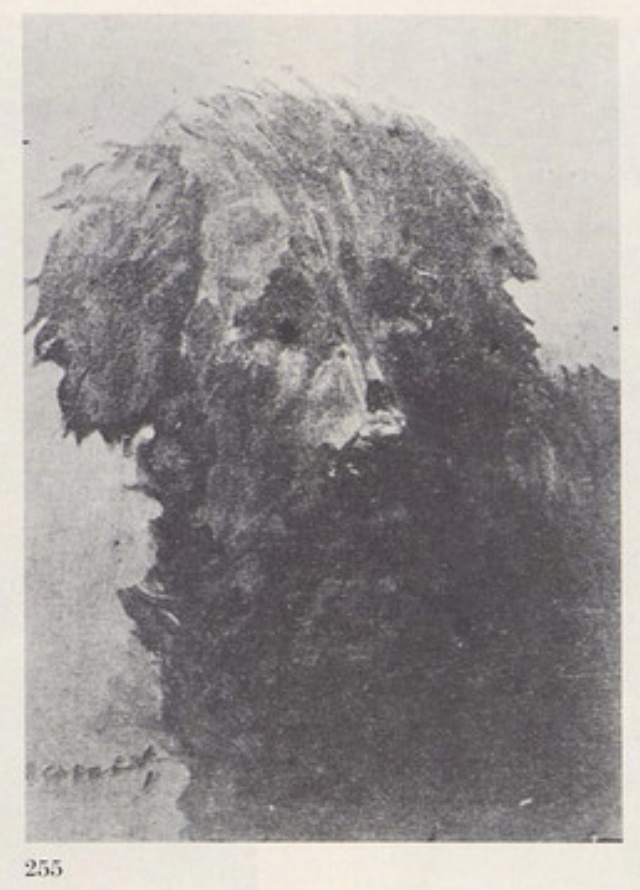 I mean, just look at that. It is wild. And this one. Both the 1932 and 1975 CR say this dog's name is Donki, which makes me think the authors never saw it IRL. The internet says it's Douki. I crosschecked Manet's letters and sketchbooks in Vol. 2, and I think it's Souki, with a two-stroke cursive capital S.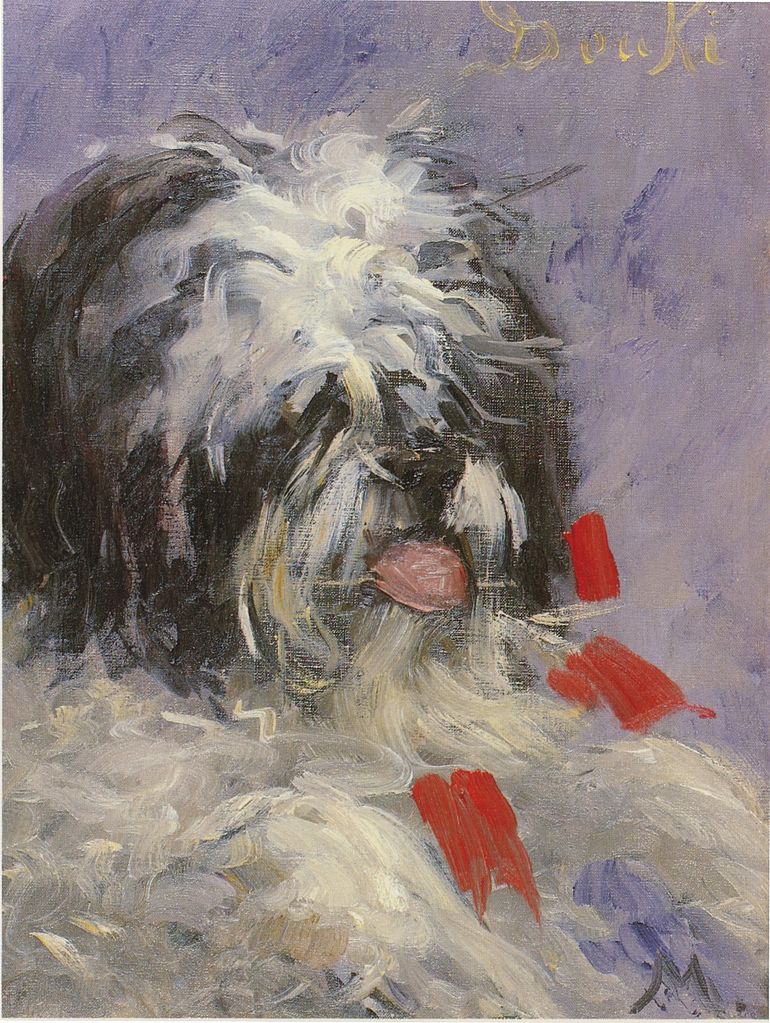 Le Chien "Bob" was a late addition to the Getty's late Manet exhibition, "Manet and Modern Beauty." According to a blog post–which I think constitutes the most extensive writing on Manet's dogs until now–"one of the curator's colleagues" let him know "Bob" is owned by Ann and Gordon Getty, and a loan was hastily arranged, but only after the catalogue had gone to print. Which tells me these dog paintings can be invisible even to a curator working on a late Manet show at a major museum–connected to the collector's family.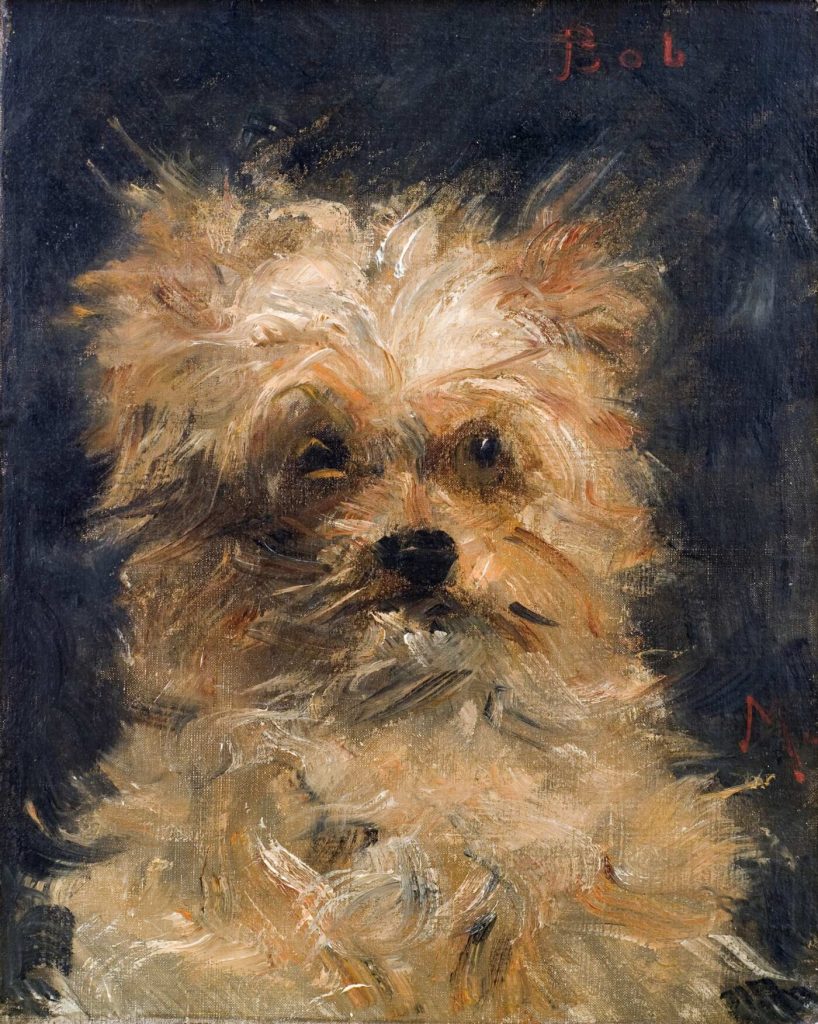 The Getty wondered how Manet painted Bob and his other dog subjects. Did they pose for him? The only known dog sketches are of Tama's head. The answer comes, I think, from the last Manet dog portrait, Le Chien "Minnay," (RW 293) from 1879.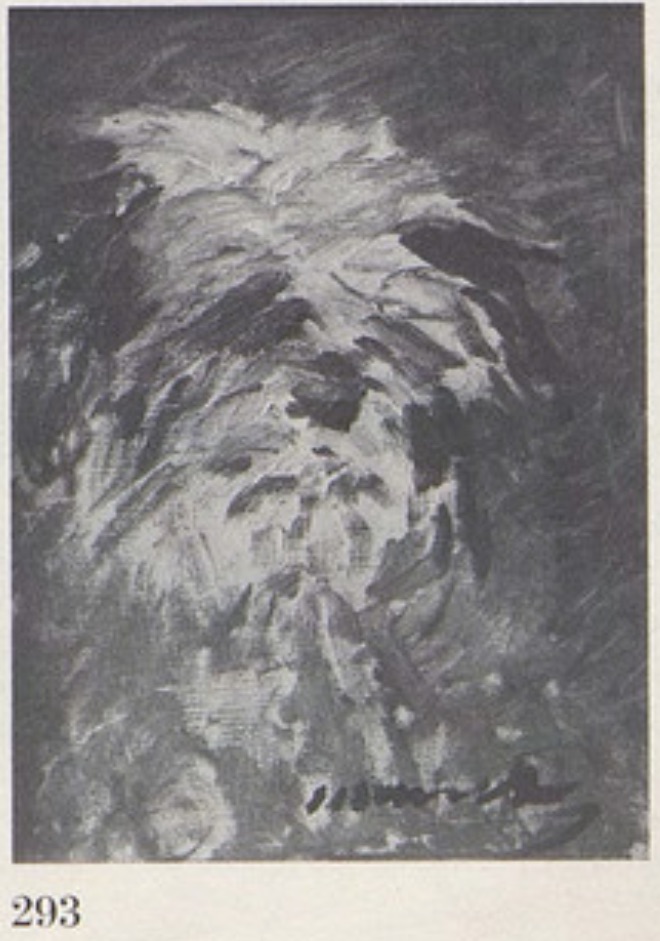 Minnay was the dog of Mlle Marguerite Gauthier-Lathuille, whose father owned le Père Lathuille, a fashionable restaurant which Manet depicted in the other painting he entered in the 1880 salon: Chez le Père Lathuille, en plein air. That painting features a young man–the owner's son Louis, and so Marguerite's brother–flirting with a famous model at a table while an incredulous waiter–actually, le père–looks on. Manet painted a portrait of Marguerite, and a portrait of her dog.
Getty curator Scott Allan quotes Proust on how his own portrait and this cafe scene, "represented two related obsessions of Manet's: 'to paint a plein air picture…in which the figures' features would dissolve, as he put it, into the vibrations of the atmosphere…and to paint a picture of me…in a single session.'"
The catalogue raisonnée says Manet painted Minnay's portrait in under twenty minutes. In other words, these tiny, low stakes paintings of yappy little dogs were made in exactly the rapid, improvised, bravura way that Manet was obsessed with achieving for his major works. And just look at it: is that dog not about to dissolve into the vibrations of the atmosphere? At a moment he was trying to, as Allan put it, "reaffirm his avant-garde credentials" in the midst of Impressionist ascendancy, Manet did to Minnay what Monet did to water lilies 35 years later.
But did he really get it? After her mother's death in 1931, Marguerite's daughter told Manet biographer Alphonse Tabarant that Louis had just begun painting Minnay, when Manet "surprised him," and, "seizing the young artist's palette and brushes, quickly brushed a sketch," to which he then added his "magistrale signature." "My son," Manet said, "you will have the honors of the Salon next year." Though this could have been a reference to the cafe scene Manet was envisioning, Tabarant's telling of Marguerite's unnamed daughter's account makes it sound like he meant the dog painting he just hijacked. Either way, it should be studied, but as far as I can tell, Minnay has never been seen in public.
Manet Catalogue Raisonnée (1975), Denis Rouart & Daniel Wildenstein [gpi.art]
Manet Catalogue Raisonnée (1932), Paul Jamot & Georges Wildenstein [gpi.art]
Manet paintings at the National Gallery [nga.gov]
Who is Bob the Dog and why did Manet paint his portrait? [getty.edu]
Buy the Manet and Modern Beauty exhibition catalogue [bookshop.org]