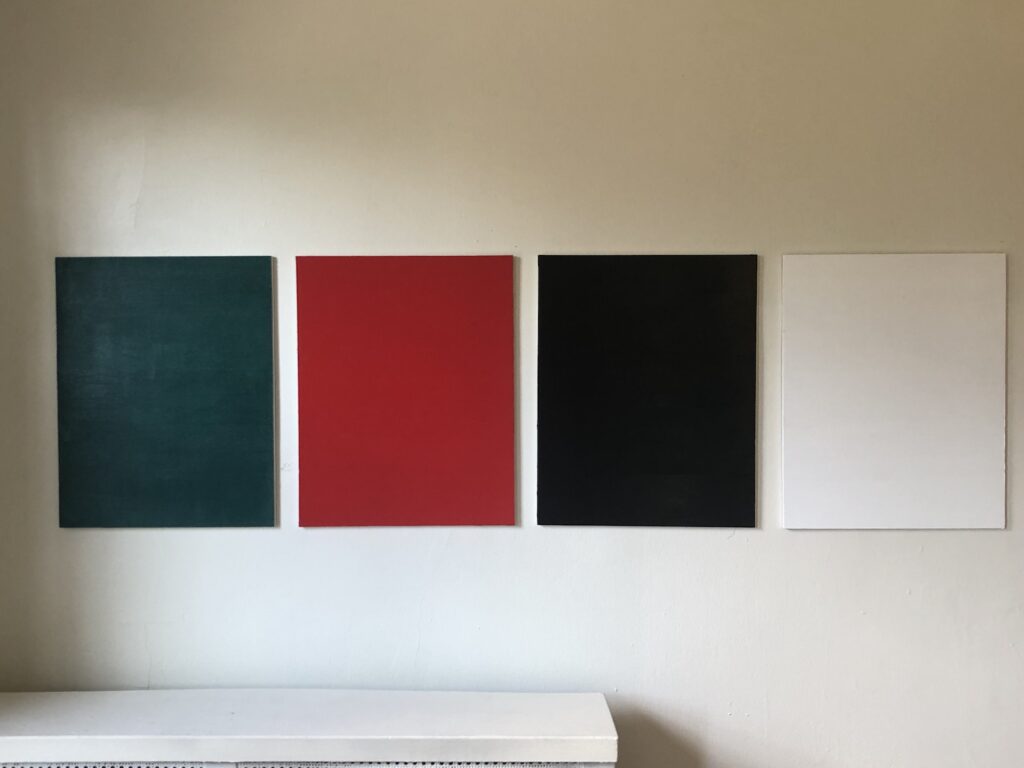 The Museum of Contemporary Art owns Felix Gonzalez-Torres' 1988 work, Forbidden Colors [not shown]. The work consists of four panels painted in the colors of the Palestinian flag. The title refers to an Israeli ban, ended in 1993, on any display of these colors in combination within the Palestinian occupied territories.
Forbidden Colors was first shown at The New Museum, then at White Columns. But after MOCA acquired it, they have only exhibited it a couple of times and loaned it once. [It has been shown twice since I first wrote about it in 2013, including at Noah Davis's Underground Museum in 2018.]
So far, no one at MOCA from Klaus on down has mentioned this important work in relation to the violence and oppression Palestinians are currently suffering at the hands of Israel, its military, police, and the settlers, who are executing a system of apartheid within Israel, Gaza and the Occupied West Bank.
Gonzalez-Torres Forbidden Colors (May 2021) is a repetition of Gonzalez-Torres' work, which I am making available for exhibition to any gallery, or museum, or other institution who wishes to show solidarity with the Palestinian people and support for their rights.
It is meant to stand in for the artwork it repeats whenever or wherever that work is needed, but is unavailable. If you want to exhaust your efforts to borrow the work from MOCA, that's fine, but it's not a prerequisite for getting this one. I'll provide as many as necessary, at cost, around $400 for materials and labor and (US) shipping. Or pay someone local make one for you; there are surely artists or painters among your staff who could do it. It took me about six hours to make one, but maybe your art handler already knows all the monochrome protips. Send a photo and credit info if you'd like it recorded. As Rauschenberg once wrote of other monochrome paintings, "It is completely irrelevant that I am making them–TODAY is their creator."
In its title Gonzalez-Torres Forbidden Colors pays homage to Sturtevant's repetitions of Gonzalez-Torres' light string and go-go dancing platform works.
In its execution and offering up as a stand-in at a moment of institutional timidity, it is related to an earlier work, Untitled (300×404), which I created in 2009 when MoMA and/or Gagosian wouldn't permit the use of a Richard Prince Cowboy photo in a Slate review of an exhibition.
When Felix Gonzalez-Torres presented Forbidden Colors he described it as "a solitary act of consciousness here in SoHo." Gonzalez-Torres Forbidden Colors (May 2021) is a shared act of consciousness with people all over the world.
Previously: Forbidden Colors, by Felix Gonzalez-Torres