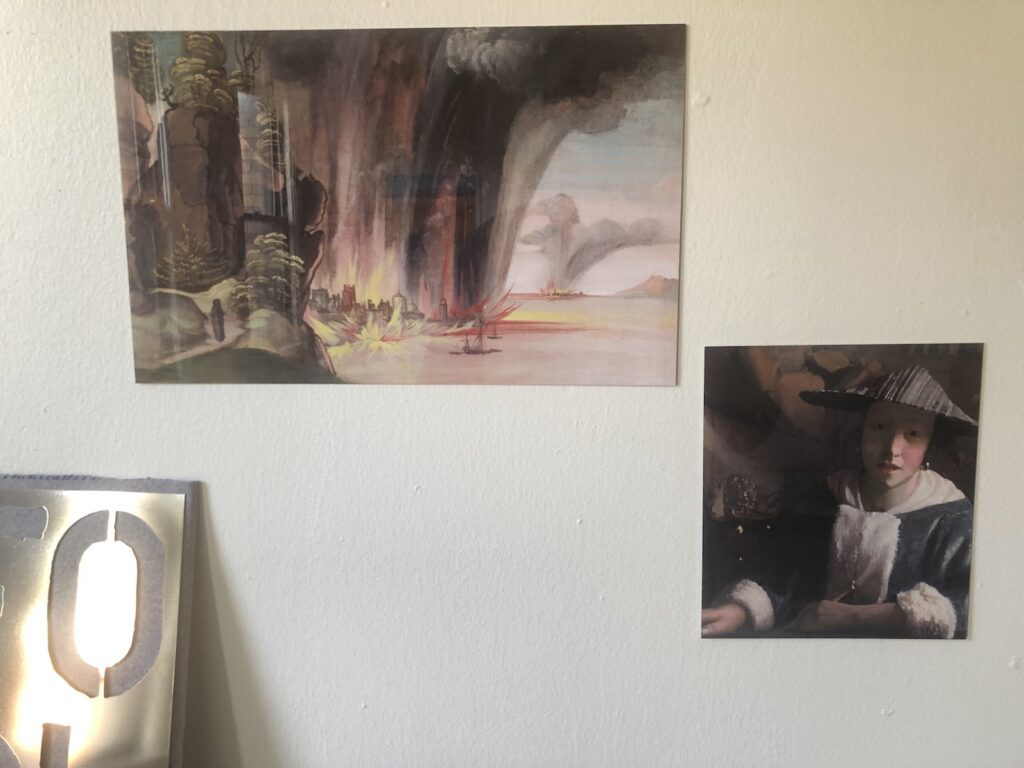 News from the Facsimile Objects front: barring any exceptional developments, the National Gallery in London will reopen on Monday (5/17), and so the Dürer there, the heavenly phenomenon on the back of the St. Jerome, will be visitable again. At that point, of course, the corresponding Facsimile Object (D1), will no longer be needed, and so will become unavailable. Get one while you can, I guess. The Karlsruhe agate-like painting on the back of Dürer's Sad Jesus will, sadly, still be available, while Germany's COVID numbers remain so high.
Recently I made a couple of Facsimile Objects related to works in the National Gallery in Washington, DC, which has been closed for several months. They will not be issued in any numbers, partly because the NGA just reopened. In fact, we were there yesterday, the first day back, when the shipment of test FOs arrived in the mail.
As you can see from the installation photo above, though, they look nice. Other than their uselessness, I'm pleased with how they turned out.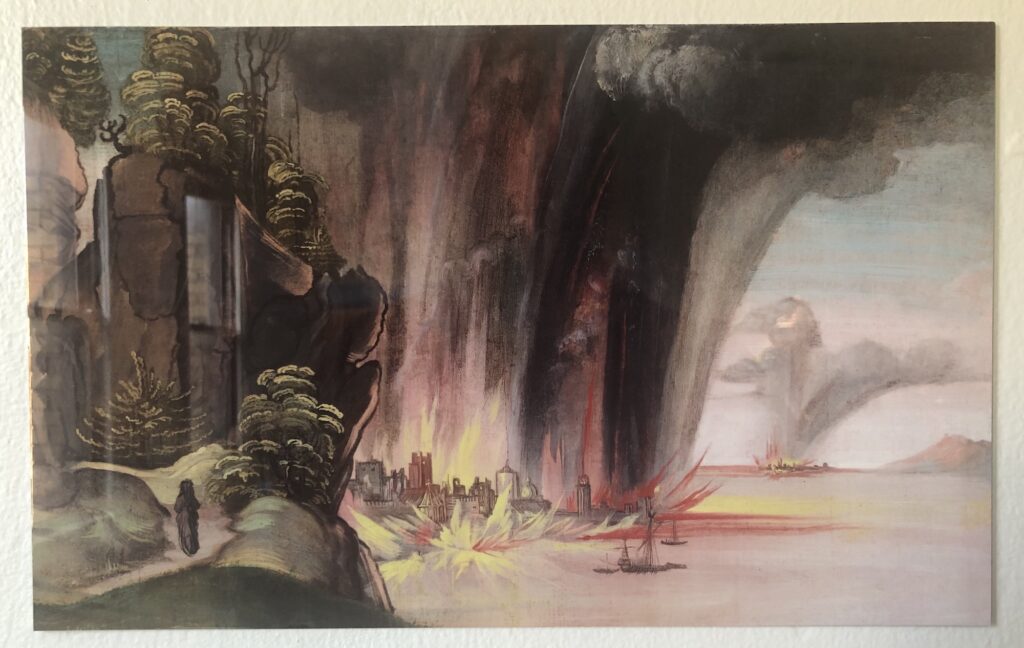 The large one is a crop from another double-sided Dürer devotional painting. Lot and His Daughters (1494/1499) is on the reverse side of a Madonna and Child. The two paintings are made differently; the provenance is odd, and only this side is signed, but it was all enough for Thyssen-Bornemisza, Knoedler and Kress. I still didn't really like the idea of these figures on a Facsimile Object, and the painting was already pretty big (20×16 or so), so I just cropped it to show the awesomely abstracted fire and brimstone, plus the tiny, sketched out sourpatch kid-looking form of Lot's wife. As much as I like how it turned out, I'm glad not to be in the business of selling Tasty Destruction of Sodom and Gomorrah pictures. Objects. So cropping may become a strategy.
Weirdly, when I unwrapped this, it felt bigger than the Dürer it depicted, which I had literally just seen irl less than an hour before. I've inexplicably screwed up the dimensions of Facsimile Objects in the past, so I was unsure. But I checked, and it is indeed the correct size. Facsimile Objects in your actual hand appear larger than they are, apparently. Not sure how that works.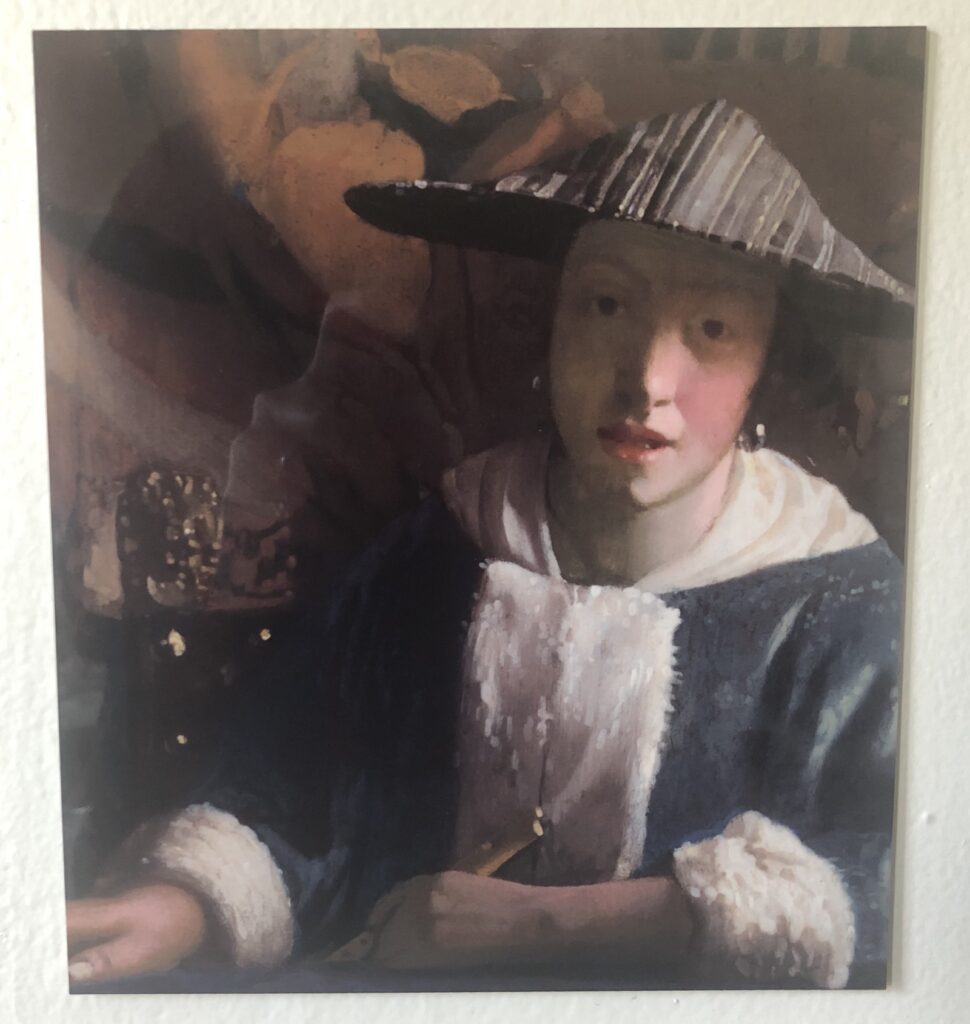 The other is a Vermeer (attributed, actually), Girl with a Flute (1665-75). Vermeer is always great, even grappling with the gift shop souvenir factor these Facsimile Objects are subject to. But the real reason I made this is because I posted a pic of this painting on Instagram the last time I went to the National Gallery on its first day reopening, and thanks to Wayne Bremser's comments, this is now Vermeer (attributed)'s Girl Unmuting for me. So it's a souvenir of the pandemic. Great grappling, everybody.