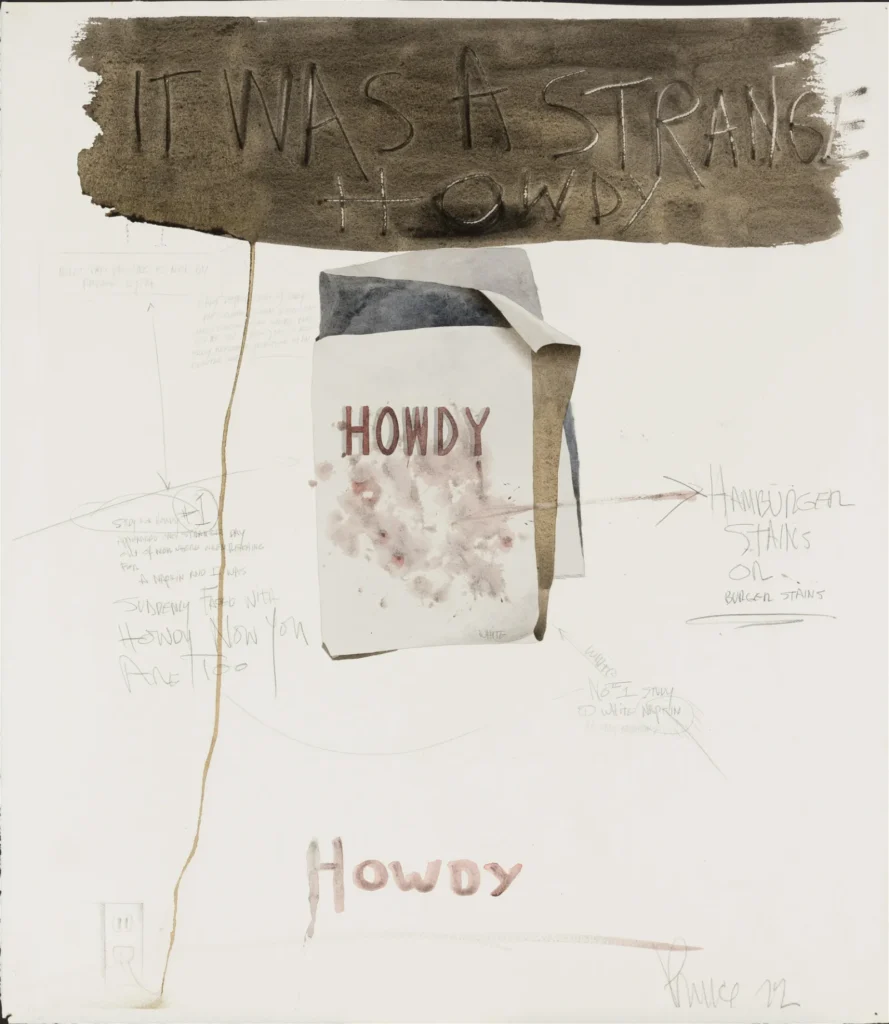 Art historian Michael Lobel spotted this unusually early Richard Prince work coming up for auction in Maine. It's not unusual for Lobel; he curated a whole show of Prince's early work, which was shown and collected, but which the artist has mostly tried to write out of his own history. Because of that, it's rarely seen, and almost never discussed. [Bruce Hainley did review the show for Artforum, though; and the catalogue is a work of conceptual art in itself.]
Howdy Burgers is constructed as a watercolor illustration of a stained napkin, annotated in pencil: "Study for HOWDY (#1)/ appeared one strange day/ out of nowhere when reaching/ for a napkin I was/ suddenly faced with/ HOWDY NOW YOU/ ARE TOO" is the most prominent text, surrounding the napkin along with "HAMBURGER STAINS OR Burger stains" and "White No. 1 Study/ (1) White napkin."
Under the IT WAS A STRANGE HOWDY banner are fainter texts with arrows, "NOTE: This printing is not/ by Andrew Wyth [sp]" and "Early reproduction of early/ pre-colonial sighn [sp] (notice the/ handy electric cord which runs/ down the page) this is also/ early American reproduction of an/ electric cord." And sure enough, the sinuous trail of brown paint ends in a penciled electric outlet.
So a lot is going on within the work, and with references beyond; it's certainly more complex than it seemed even a few minutes ago, before I started parsing it. To some extent, it looks a lot like another work Lobel called out, a 1993 melange of text and drawing on a smoky face that appears to be a drawing from 1975, which sold at Phillips in London last December.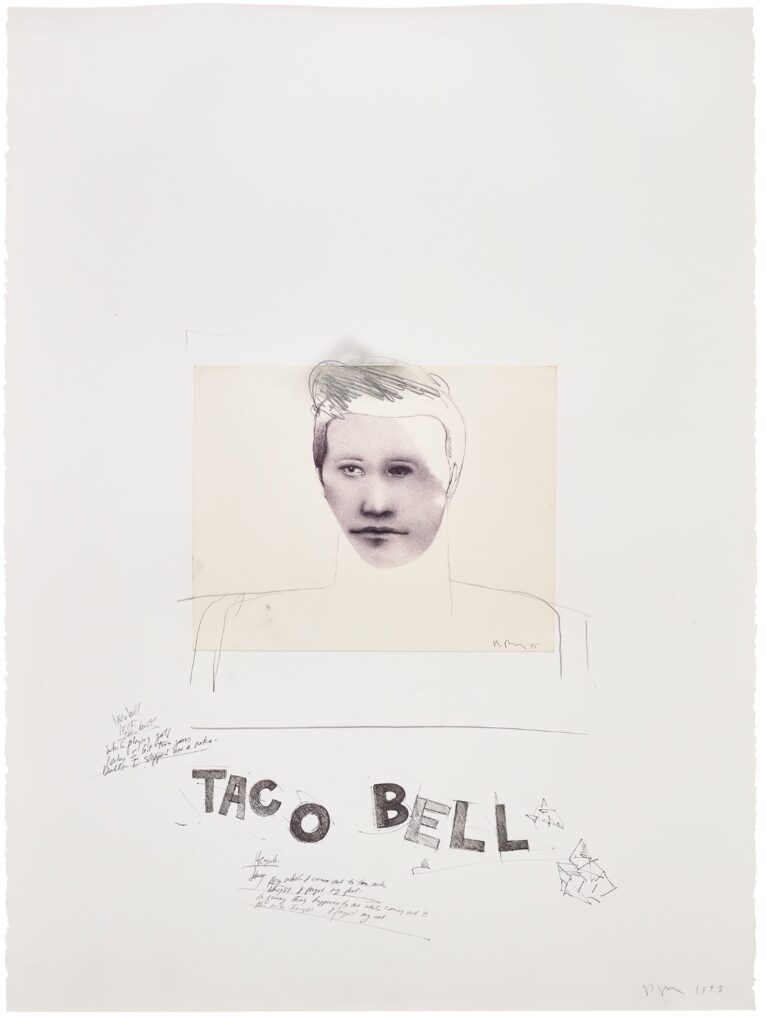 Untitled (Taco Bell)'s annotations turn out to be less captions and more Prince's joke works. One example: "A funny thing happened to me while coming out to/ the mike tonight. I forgot my act." Meanwhile, the moody, pointillist young face on a sheet signed "Prince 75" was augmented after it was affixed, with rudimentary hair, neck and shoulders. It's as if Prince was seeing his old work, and asking what he could make of it ["A brooch, a pteradactyl," etc.]
By 1993, he developed several significant bodies of work, this collaging and reworking of existing works feels of a piece with his larger practice. And it resonates with stuff he'd do later, too. But it's really interesting to see it in the light of this far earlier work, a drawing from the period it originated, the period Prince raided for parts.
Lobel reminded me that in 1993 Prince had just finished working with Lisa Phillips on his first big retrospective, at the Whitney, and so had an occasion himself to revisit his work, early and not. This is a rare chance for others to do the same.
Lot 10, April 1, 2023: Richard Prince, Howdy Burgers, 1972, est. $4-6,000 [update: sold for $5,000] [barridoff/liveauctioneers]
Fugitive Artist: The Early Work of Richard Prince: 1974-1977 [specificobject]
.