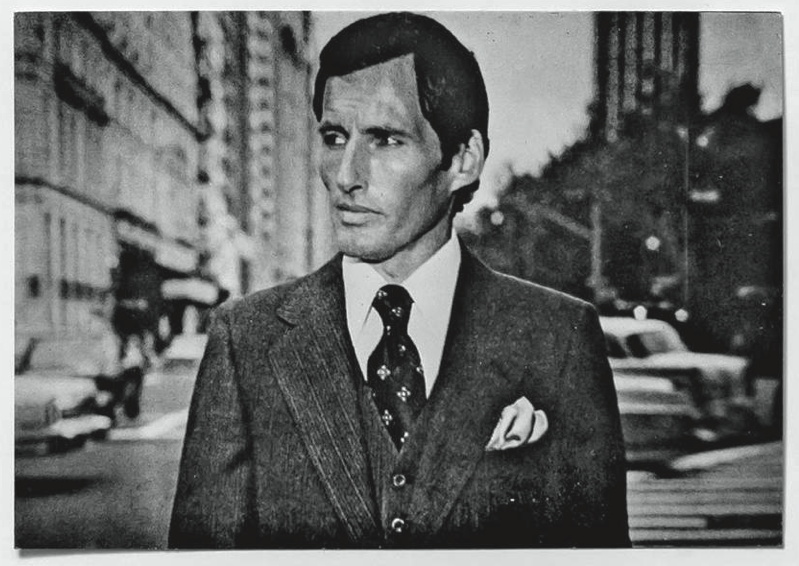 Exhibition announcement card for Richard Prince's window installation, "Single man looking to the right", 1979, at the original location of Three Lives & Company bookstore, New York, via the catalogue for Edward Cella's exhibition, "Richard Prince: The Douglas Blair Turnbaugh Collection, 1977-88"
This is starting to become a habit.
This edition of Better Read features "Single man looking to the right," a 1979 text by Richard Prince, for a window installation he made at Three Lives & Co., a now-legendary neighborhood bookstore in the West Village. It's included in a show Prince recently announced/denounced, a huge pile of early stuff saved by an early friend and supporter, the dance critic Doulas Blair Turnbaugh. The show is at Edward Cella in Los Angeles through July 2016.
My interest was piqued by the light this early work sheds on Prince's development of his practice, on his experimentation and the paths not taken, and less for the possible insights into Prince's psyche or autobiography. This text seems to me both in sync with and apart from Prince's Bird Talk texts, just as the rephotographed works Prince showed at Three Lives resonate with yet differ from what's now generally thought of as his standard operating procedure. If anything, it's freedom from an S.O.P. that tips the scale for these photos; they're evidence of Prince's experimentation.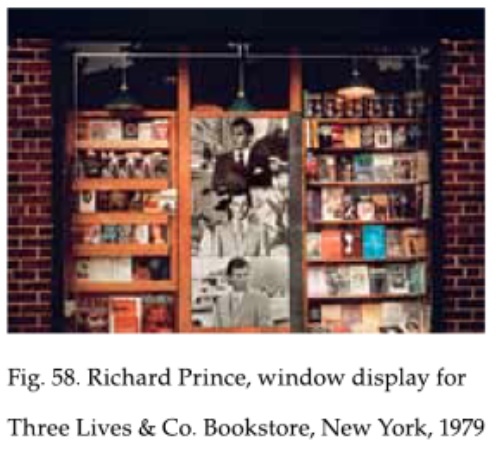 installation photo for Richard Prince's window at Three Lives & Company, 1979, from Doug Eklund's The Pictures Generation, p. 157
A small photo of the Three Lives installation in Doug Eklund's The Pictures Generation catalogue also makes me wonder about the fate of these large, black & white, and differently "ganged up" Single Men prints. They're not in Turnbaugh's collection/show, and I'm thinking if they're destroyed, they may have another life coming.
Download Better_Read_009_Single_Man_20160627.mp3 from Dropbox
greg.org [dropbox, mp3, 7.3mb, 4:57]
Previously:
Better Read #008: Death By Gun
Better Read #007: Spinoza's Ethica from Sturtevant's Vertical Monad
Better Read #006: The Jetty Foundation Presents, Send Me Your Money
Better Read #005: Frank Lloyd Wright Speaks Up
Better Read #004: Why We Should Talk About Cady Noland, a Zine by Brian Sholis
Better Read #003: Sincerely Yours, An Epic Scholarly Smackdown By Rosalind Krauss
Better Read #002: A Lively Interview With Ray Johnson, c.1968
the Ur-Better Read: W.H. Auden's The Shield Of Achilles, Read By A Machine
Podcast: Play in new window | Download
Subscribe: RSS