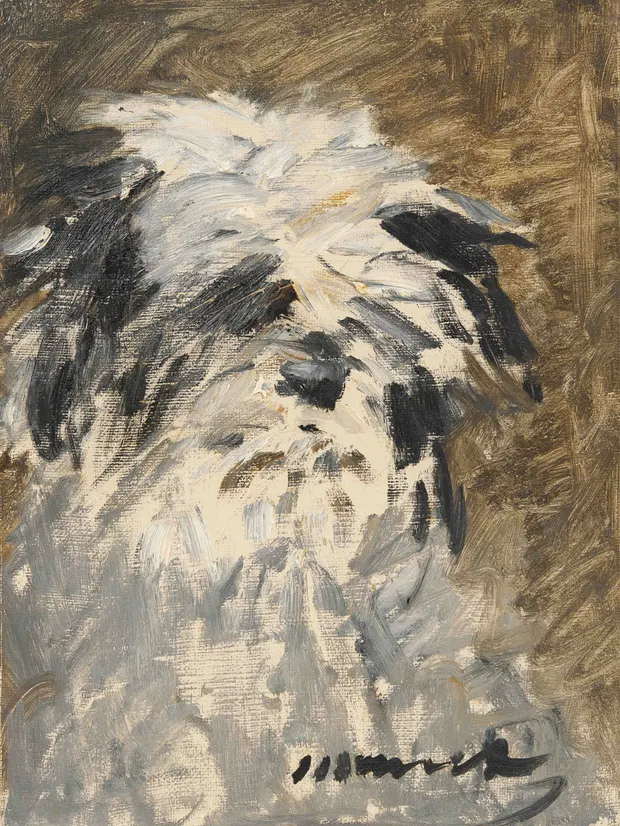 I want to go to Paris. I want to see this little Édouard Manet painting of a dog that has never been shown publicly, not once in 142 years. I want to go to Paris to see this Manet painting of a dog which, in just a couple of weeks, will be on view at Drouot for two days and an hour. I want to own this Manet painting. I want to stand in front of it whenever I want, and to watch the features of this dog, and the dashed off brushstrokes that conjure them, dissolve into the vibrations of the atmosphere.
As the world stands right now, the probability of my achieving any of this is low. But it will be at least theoretically possible until Friday the 26th of February, when the two-day exhibition closes, and the painting, Minnay, is sold in an auction starting at 2pm.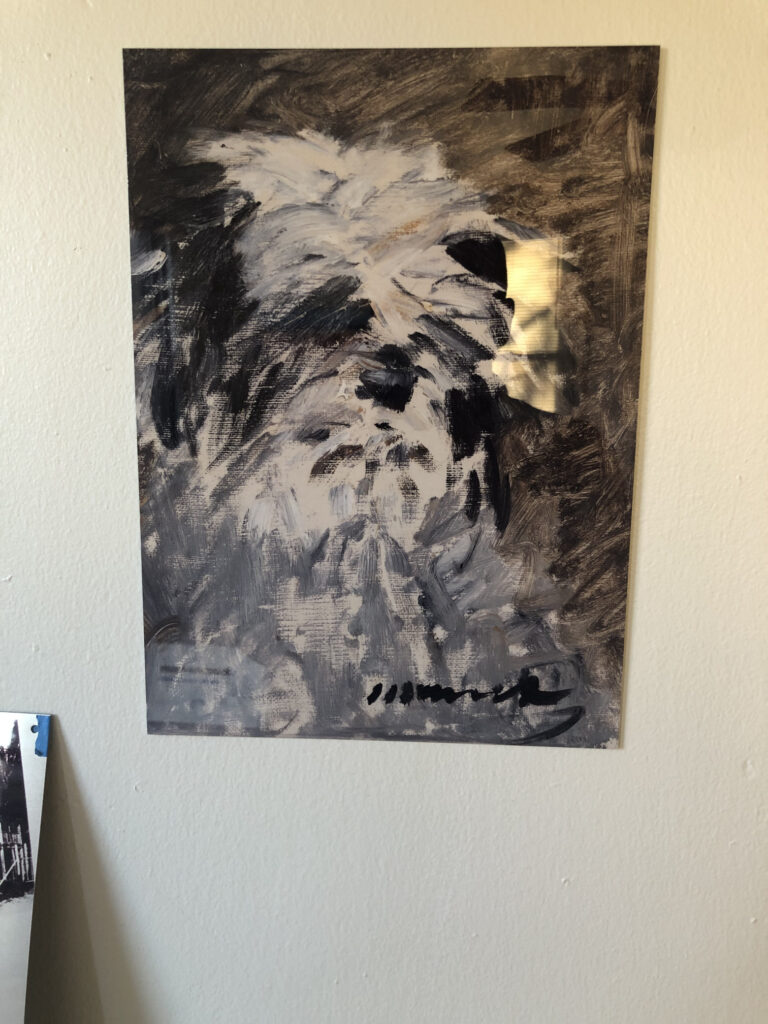 It is in this window of possibility that I propose the Édouard Manet Facsimile Object (M1) "Minnay" as a contingency, an experiential hedge. It is a full-scale image of Minnay, printed on a sheet of aluminum. It is high-resolution and high-gloss. I taped the proof to the wall, and it looks extremely authentic. How does it compare to seeing or owning the painting? LITERALLY ALMOST NO ONE CAN SAY, CERTAINLY NOT ME, NOT YET.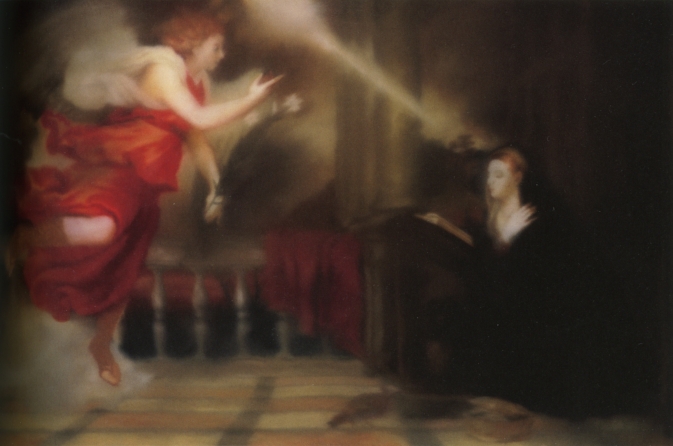 When first asked by an interviewer if he painted five versions of a postcard of Titian's Annunciation "to counteract the all-encompassing terror of reification," Gerhard Richter was like, llol, "Maybe [it was] because I wanted to own such a beautiful Titian." By making 53 full-scale facsimile objects of his Annunciation After Titian after it ended up in a museum, though, he managed to do both. These are the goals here, too. We will get or get through this.
In the event I do not get to Paris, and/or do not buy Minnay, but you do, I will offer this facsimile object to you in exchange for the painting. Then let us discourse on the differences, if indeed there are any.
In the mean time, everyone with a not-yet-zero-but-diminishing-daily probability of seeing or buying Minnay is invited to acquire their own facsimile object, to hedge their potential experiential loss. They will available from today until the moment the painting sells in Paris [tbc, but some point after 1400 CET on Feb. 26].
Each facsimile object will be accompanied by a hand-made certificate of authenticity, executed in watercolor on Arches at a scale identical to the facsimile object itself.
The COA will also bear the number of each facsimile object, based on the order orders are received. Without knowing the scale of our exposure, it feels important that the facsimile object be available to as many people who need it during These Trying Times, whether that number is 5 or 500 or 6,000 or zero. When the hammer drops in Paris, the facsimile object will become unavailable, and the number ordered, representing the full extent of our collective deprivations, will be known and executed.
The facsimile object is made using a dye sublimation process. Unless it is destroyed, it will last forever. But it will not look the same forever. Some dyes change when exposed to sunlight over a prolonged period of time. Let's all just strive, though, to live lives and create a world where the status, condition, or ownership of this facsimile object is not a source of stress or inter-generational conflict. It is meant to mitigate loss, not foment it.
Anyway, the facsimile object is available for order below. The price is set at 0.1% of the painting's probable reserve price. If you need a method other than paypal, let me know. If, after ordering one, you end up either seeing the painting IRL or buying it, also let me know. If you act in a timely manner, you can unwind your hedge, or keep the facsimile object as an historical document. Or, of course, we can exchange it for the painting and some discourse.
[2/26 update: the Manet was sold for EUR420,000, or EUR520,800 with premium, or USD$632,058, and so this offer is ended. For everyone except whoever bought it, of course. HMU]
Previously, related:
Show Me The Minnay
Manet Paints Dog
Gerhard Richter Facsimile Objects