Annunciation after Titian, CR 343-1, 1973, collection Hirshhorn Museum, image: gerhard-richter.com
I confess, I love Gerhard Richter in the 70s. Here are some of the best/funniest excerpts from a interview he did with art historian/curator Gislind Nabakowski that was first published in Heute Kunst in 1974. The subject was Annunciation after Titian, a series Richter painted in 1973, after visiting Venice in 1972 for the Biennale.
The first in the series, above, is in the Hirshhorn's collection. The series has not been shown together since it was first exhibited in 1973 at the Galleria la Bertesca in Milan.
GN:What made you choose a fifteenth-century painting as a model and create a sequence based on Titian's Annunciation?
GR: Because there's something about this painting, or any painting, that grabs me if they're good–irrespective of the impact they had at the time, why they were made, the story behind them. I don't know what motivated the artists, which means that the paintings have an intrinsic quality. I think Goethe called it the "essential dimension", the thing that makes great works of art great.
I beg your pardon?!
Something that is, or something that actively affects [sic] people, something in its essence. A dimension that, of course, lies beyond the mere choice of forms and colours, something that pertains to every detail…I don't know how to explain it right now. Perhaps I wanted to solve this riddle by painting, or by copying through painting.
And were you able to solve the riddle?
No.
…
Why did you paint over Titian's motif and dissolve it?
Oh, I'm sure I didn't initially plan it that way; I wanted to trace him as precisely as possible, maybe because I wanted to own such a beautiful Titian… [laughs].
That can't be true. Not even the very first painting is a copy; you intended something else.
Sure. I only copied it from a postcard and not from the original as such. Although I must say that it is indeed possible to reproduce a painting from a postcard that is almost as beautiful as the original. Those few little details that would have been different really don't matter–but that's another issue.
By painting over and dissolving the motif, did you want to extinguish a figure of thought?
What's that?
It's made up of several conventions. To my mind, the Annunciation motif is an act of sexual domination. It's evident throughout its hackneyed language of symbols.
I didn't even notice that, because in order to notice something like that you have to be educated in a certain way.
…
By blurring the image, do you intend to give something with a fixed meaning the chance to be ambiguous again? Is it true that you try to use your motifs to counteract the all-encompassing terror of reification?
Yes, okay.
Do you also want to disrupt the pattern by which art is seen in a reified, separating, ideological manner?
Lovely–you've put it very well.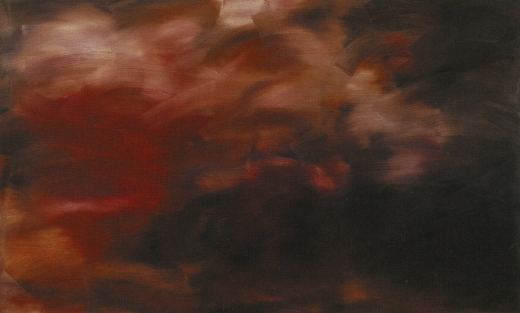 Annunciation after Titian, CR 343-3, 1973gerhard-richter.com
So, given this context, what can be said about that last painting? [above]
I like it. But I can also say that it's very exciting for me because there's plenty left to be done with it.
…
I assume that, because we belong to a privileged class, we don't experience religious terror directly. But it still exists, of course!
Since we let the picture rest in its historical context rather than bringing it up to date, we don't see an equivalent to this 400-year-old convention. Maybe Bertolt Brecht had similar grounds for commenting that a person "who is highly educated, politically, can even enjoy antisocial works of art". But to claim that the woman "is given some sort of commandment", or that without any reflection, one is only aware of the idyllic nature of the painting, not of the social violence inherent in it, seems to me to be a little blinkered: that's part of the array of masculine "arguments". Such alienation from one's own history is what we call "consumerism". Were you perhaps engaging in a trial of strength with Titian when you painted that picture?
No, it has nothing to do with a trial of strength. But perhaps we should ask a psychiatrist. Maybe he could tell me why I wanted to do the painting.
…
Do you know what motivates collectors to buy your works?
Sometimes…
There was a period, roughly between 1962 and 1967, when a lot of people were fascinated by art. They visited artists' studios, marvelled at what they saw, and deceived themselves. I think they're all a bit disappointed now because the sensation didn't last. That's a healthy development. After all, what's so special about someone knocking nails into a board (at the time my studio was next to [Gunther] Uecker's), or someone painting family photos in oils?
Excerpts from Gerhard Richter: Writings 1961 – 2007, pp. 85-90.
It's surprisingly less findable info than I imagined, so I'll mention that Titian's Annunciation (1530-35) is at the Scuola Grande di San Rocco. Which is almost comical, because San Rocco is known for its grand rooms with walls and ceilings covered by 60 fantastic and monumental canvases by Tintoretto.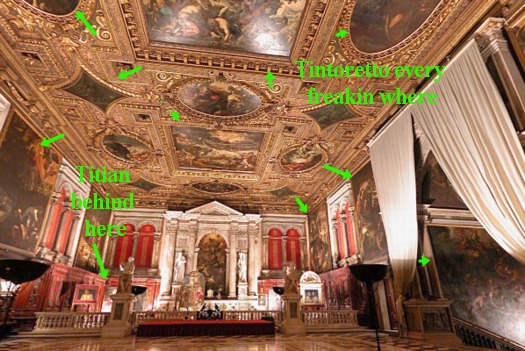 Titian's small painting–166 x 266cm, roughly the size of Richter's– belonged to a lawyer Melio Cortona, who left it to the Scuola in 1557, where it was installed in a stairway. It was subsequently moved to an easel in the bonkers, Tintoretto-filled Upper Hall [above]. I wonder if this context for painting–and this painting in particular–has ever been discussed in regard to Richter's series.