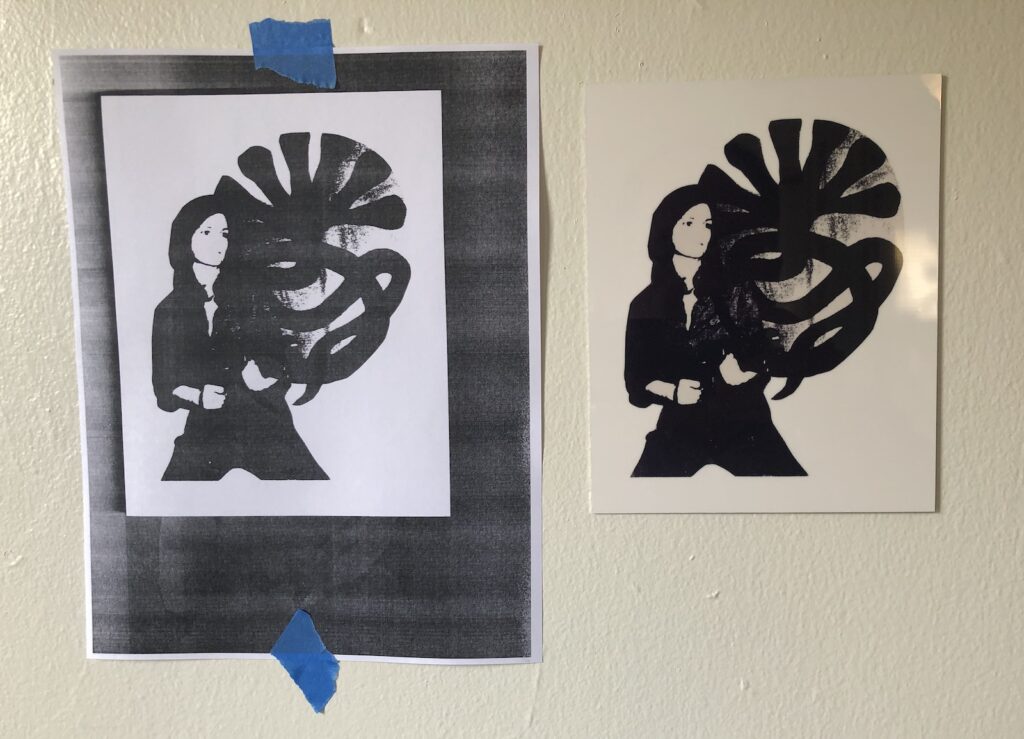 On April 3, 1974, a photograph of kidnapped heiress Patricia Hearst posing with a machine gun, a beret, and the seven-headed snake logo of the Symbionese Liberation Army was delivered, along with a cassette tape of the fourth recorded message from Hearst, to KSAN Jive 95, a counterculture radio station in San Francisco. The recording said Hearst now called herself Tania, a name taken from a comrade of Che Guevara, and she reiterated the SLA's revolutionary demands for her release.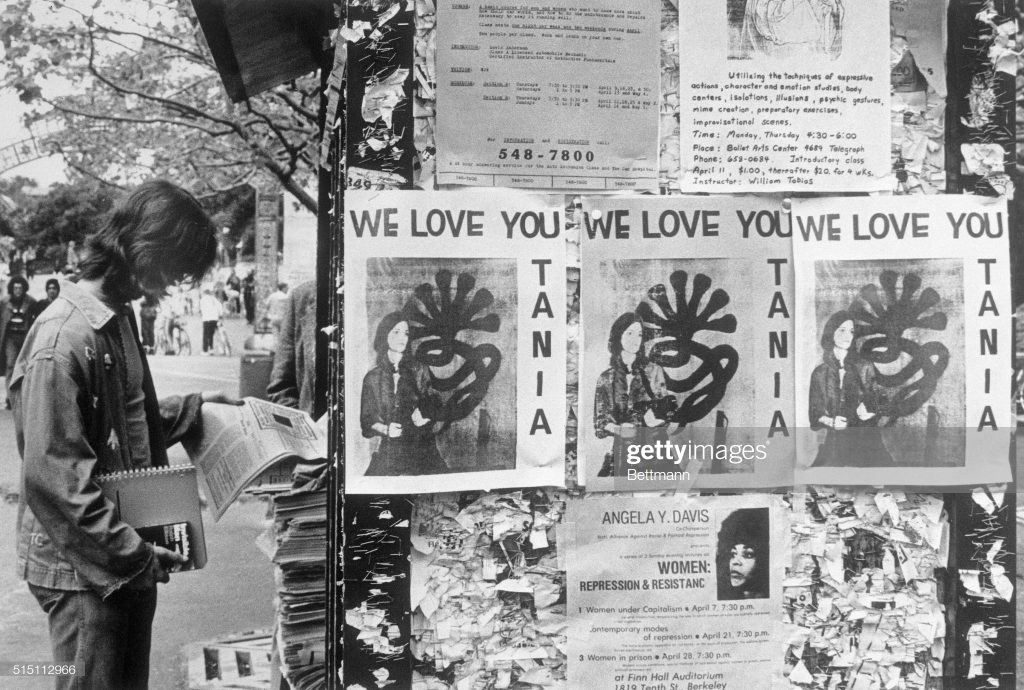 Wire services reproduced the photo, which appeared on the front pages of newspapers around the world the next day, Thursday, April 4th. On Kawara clipped his copy of it out of the Washington Post. By the weekend, and presumably before Hearst was identified as one of the armed SLA members who robbed a bank on April 15th, WE LOVE YOU TANIA flyers appeared on the campus of UC Berkeley, from whence she'd been kidnapped.
These may now be considered the first Tania Facsimile Objects.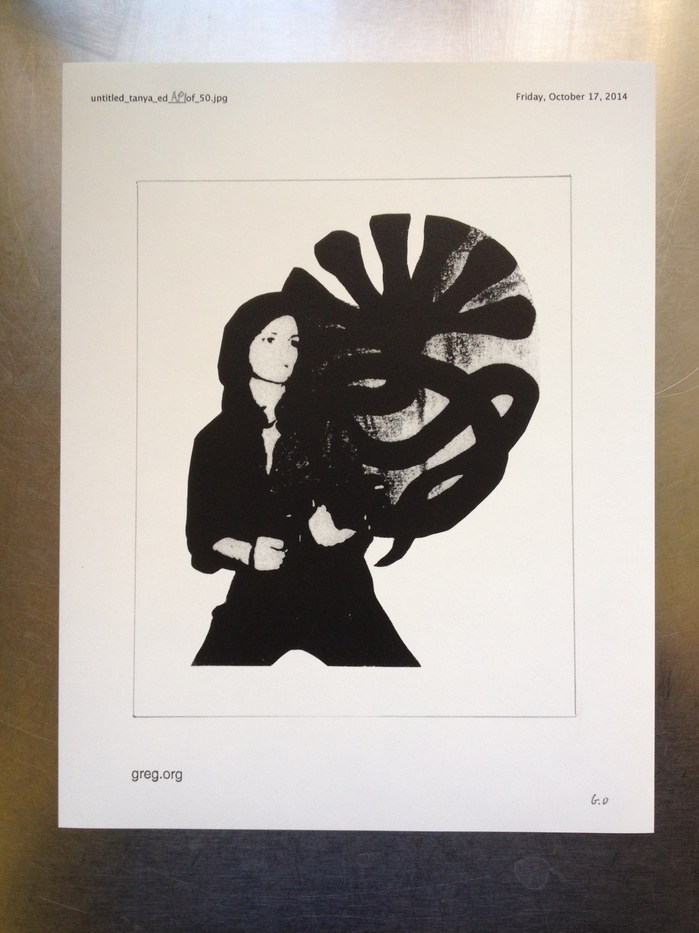 In 1989, presumably in relation to her large-scale, silkscreen on aluminum sculpture Tanya as Bandit, now in the collection of the Museum of Modern Art, artist Cady Noland created a work on paper titled Tanya. The cropped photocopy, a generation or more removed from the Tanya as Bandit source image, was put up for sale at Christie's in London during Frieze Week 2014. In anticipation, the sale was pre-commemorated on this website by an edition, Untitled (Tanya).
In addition to an impulsive celebration through commerce of an exceptional object's appearance at auction, in Untitled (Tanya) can be found some of the impulses of the Facsimile Object project. The edition indicates the possibility of realizing a perfect [sic] copy of Noland's work, but only by cutting away the elements of designation and authentication–title, number, date, stamp, signature–thereby destroying the edition itself. An authentic but nearly worthless work is displaced by an equally worthless but iconic copy of another work. Their fate is in the collectors' hands.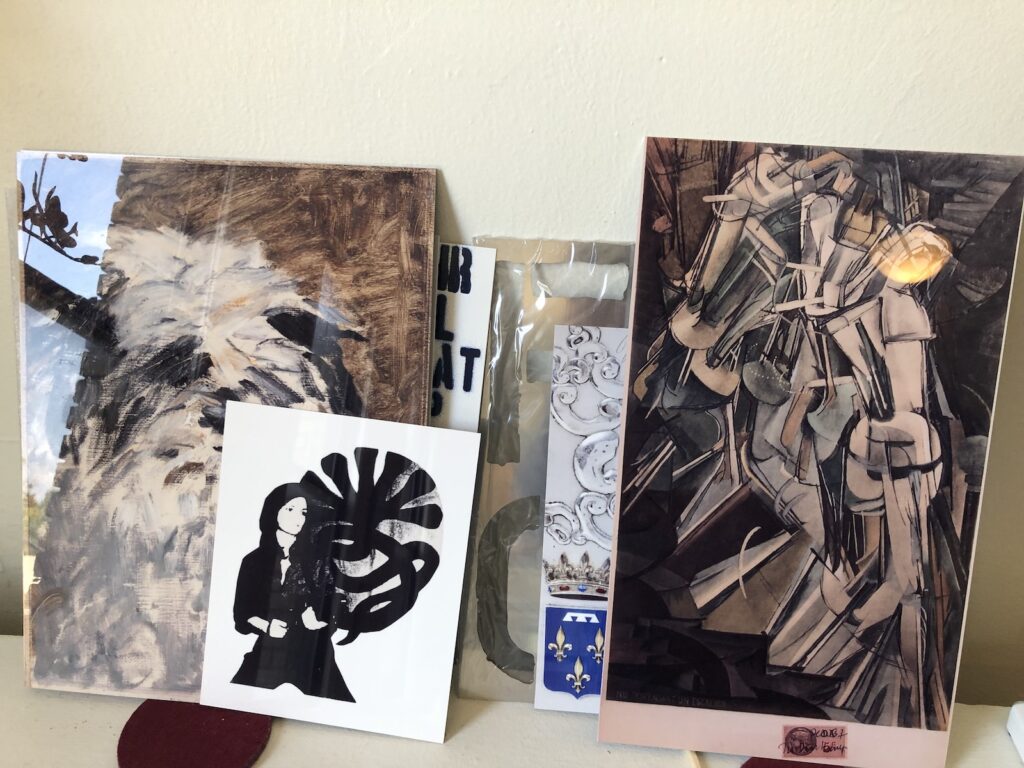 Tania Facsimile Object (N1), 2021, drops into this visual lineage, paying homage to the original, ad hoc WE LOVE YOU TANIA flyers of 1974, as well as Noland's later appropriation. At 7.5×6 inches, Tania Facsimile Object (N1) shares the dimensions and cropped composition of Tanya (1989), while utterly transforming the object's material characteristics. The high-gloss, dye sublimation print on aluminum is an exploration of how far the Facsimile Object format can diverge from referent works, how big a gap can be created, while still maintaining that facsimilated, auratic glow. Or maybe it's just the light reflecting from the window.
Each Tania Facsimile Object is accompanied by a full-size, certificate of authenticity, handmade, signed and numbered on Arches. It will include, of course, a disclaimer to affirm to everyone that Ms. Noland was neither involved in nor consulted on the realization of this Facsimile Object, which will be available until September 11th, 2021. [update: Though Noland's show was extended without announcement until September 18th, availability of this Facsimile Object ended September 13th. Thank you for your engagement.]
Previously, related: Wouldn't You Like To Be A Tania, Too?
Untitled (Tanya), 2014
Cady Noland Photocopy
An Anthology of Cady Noland Disclaimers