UPDATE: Wool's BLUE FOOL sold on Nov. 17 for $950,000 before fees. FOOL Facsimile Object is no longer available, thank you all for your engagement.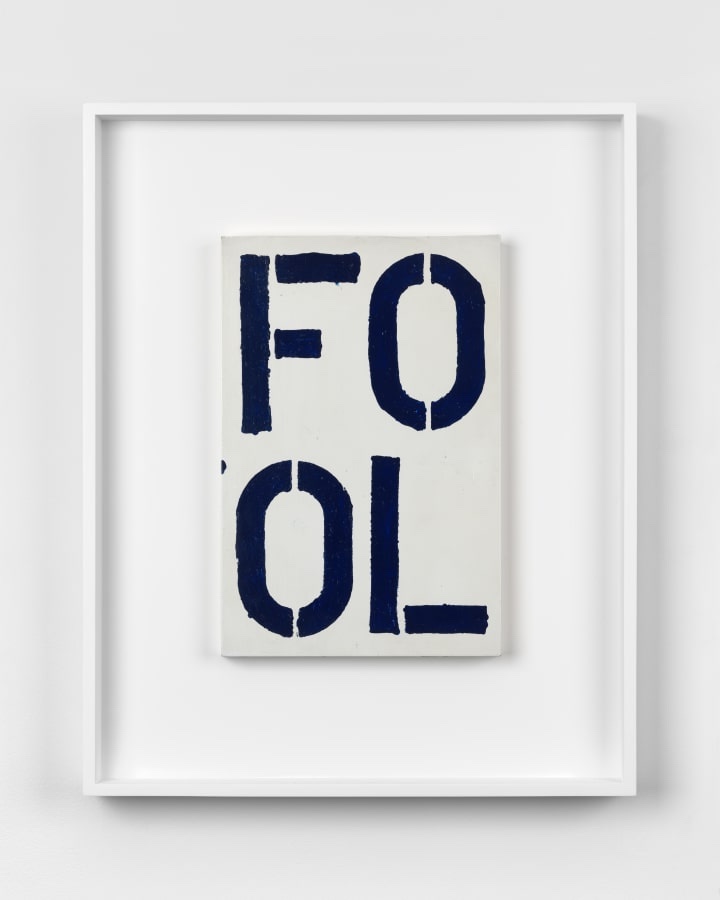 Kenny Schachter is selling a sweet little Christopher Wool painting [update: it's now at Phillips] that once belonged to Glenn O'Brien. It was a gift from the artist. The way Die Zeit heard O'Brien describe it in a 2014 puff piece, it was the priceless first prototype of Wool's most famous body of work.
What O'Brien probably said was that it was a study for the giant four-letter enamel on panel paintings Wool made in 1990. Because he'd been making stencil-style text paintings since around 1987, when he'd famously said he was inspired by seeing
SEX
LUV
freshly stenciled on a white panel truck by a graffiti artist in the East Village.
The way Kenny tells the story, is that he was reminded of FOOL–which he bought from O'Brien in 2015–when he saw a similarly tiny text-on-aluminum Wool painting in a backroom at Miami Basel. It was $900,000, but was actually worth more like $2.5 million; a bargain even for Wool, who apparently bought it back.
If you are in the market for that piece–and you'd be a FOOL not to be; it is at once important, fantastic, and adorable–then you need read no further. You are set. You are good to go, and godspeed you. Despite his recent NFT hijinks, Kenny still loves that fiat money, and has surely earned this deal the hard way, on those mean Miami streets. Go cash him out. From here the discussion turns away from mad money and toward Facsimile Objects.
Continue reading

"FOOL Facsimile Object"