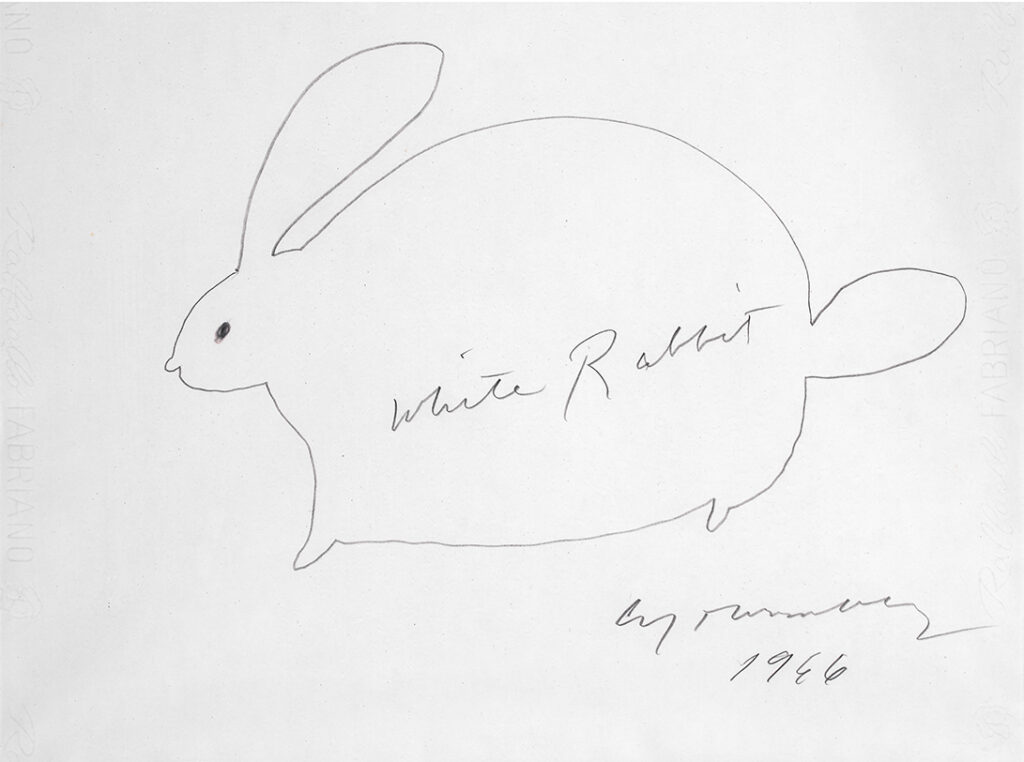 A Cy Twombly drawing of a white rabbit would be interesting enough on its own. But you're saying a Cy Twombly white rabbit drawing is at Sotheby's Milano with this disclaimer? What does it MEAN?
"This work is registered in the Cy Twombly Foundation, Rome, in the 'Memorabilia' department. 'Memorabilia' are drawings or small works by the artist that the Foundation plans to publish in a specific catalogue."
THE MEMORABILIA DEPARTMENT. IS PUBLISHING A CATALOGUE.
Heisenberg's Rabbit Update: Perhaps noticing the blogger staring in awe through the screen, Sotheby's has updated the text about the organizational and taxonomical structure of the Fondazione:
"This work is registered in the Cy Twombly Foundation, Rome, in the 'Memorabilia' section. In the memorabilia section are gathered all the works, as quick sketches or pieces whose subjects are not typical of the artist's work."
Artists make things. Artists draw things. Artists sign things. This is not new. But what does it mean to create a category–and a department, though, tbh, I don't think this is really a thing–of things the artist made, that are yet not works? And then to publish them under this rubric when categories like "drawings" or "small works" exist? How many Memorabilia are there? Obviously, enough to fill a book. [UPDATE: But will they? Mention of a publication has since been removed from the Sotheby's listing.]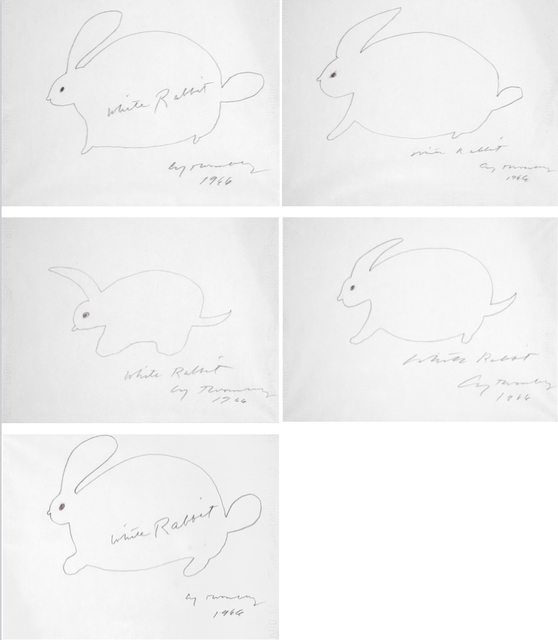 For starters, there are at least four more White Rabbit drawings. Even as Sotheby's opens bidding on this drawing, supposedly titled White Rabbit, the Restelli Gallery in Rome is still offering a "suite of 5 drawings" of White Rabbit. And with the same Department of Memorabilia verbiage. [UPDATE: Before Sotheby's changed theirs, ofc] The asking price for all five on Artsy is/was EUR295,000.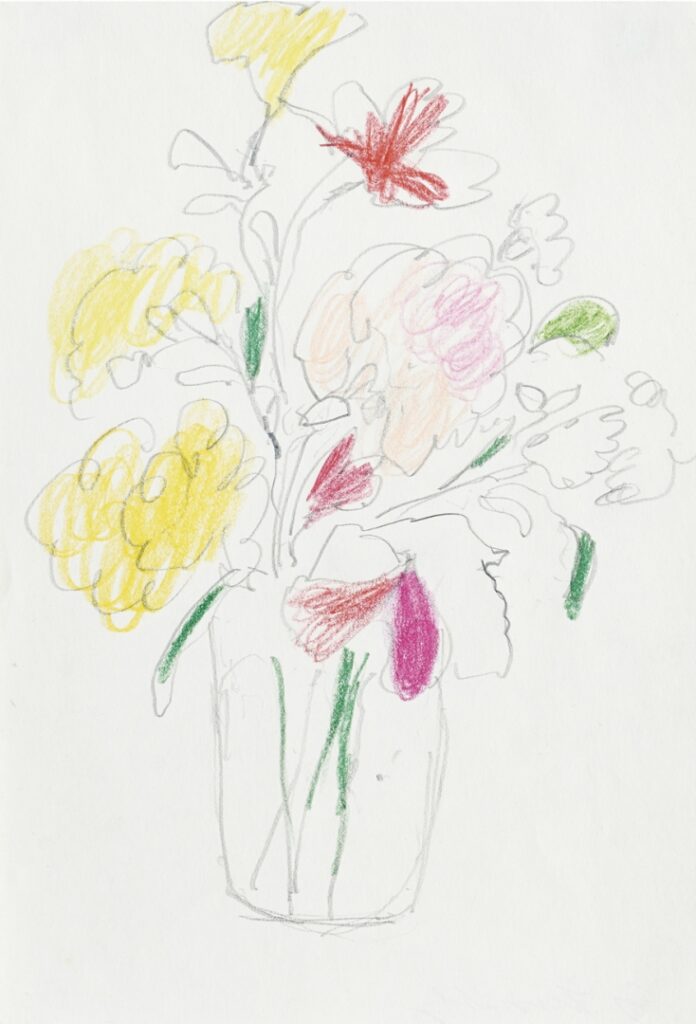 Perhaps that price was based on the recent performance of a Twombly Memoriabilium, a Vase of Flowers from the 1960s, which sold at Bonham's in March for GBP39,000.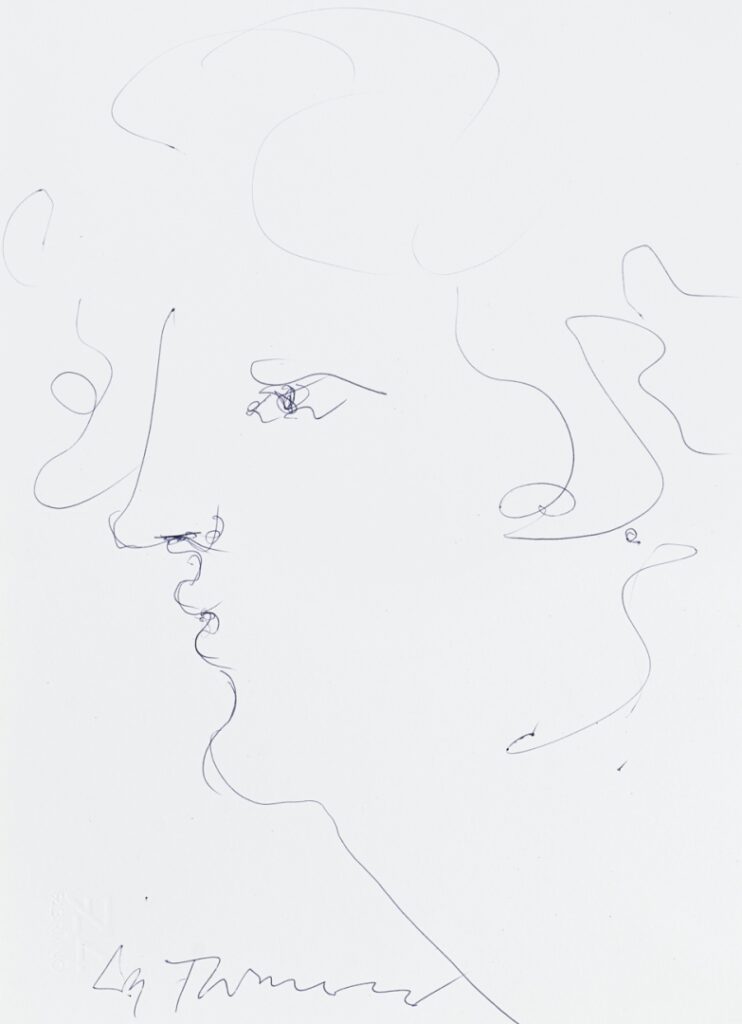 That drawing originally surfaced in 2017 at a local auction in Torino, alongside two other Twomblys: another Vaso di Fiori and, unusually, a portrait, a profile of a young man. All were from a Roman collection. All sold for basically one bid, at EUR5000-5500 apiece. The one from Bonhams also appeared on Restelli's site, maybe around 2019, so I'm assuming they flipped it. All are also simply described as "Work registered at the Fondazione Cy Twombly," with no mention of Memorabilia. Whether the category didn't exist in 2017, or the Torinesi hadn't gotten the memo, is unclear.
A Twombly portrait is not as paradoxical as it might seem. Twombly sometimes called his abstract works portraits of various people, including himself. But as Joshua Rivkin discussed in his 2018 Twombly biography, Chalk, the artist also made portraits in the mid-1960s of collectors and friends visiting Rome, and relatives, including various members of his wife Tatia Franchetti's aristocratic family. They are of varying degrees of representationality.
And so, as the story goes, we must follow the White Rabbit, the provenance for which consists of one name: Anne Lippens, of Rome. Anne was the daughter of a Belgian count who in 1964 married Giorgio Franchetti, the son of an Italian baron, and a close friend and patron of Twombly, who set the artist up with his younger sister. [Many sources describe Twombly's Giorgio as a baron, but this is incorrect, and probably caused by his sharing the same name as his art collecting baron grandfather. Giorgio and Tatia's older brother Mario inherited the title when their father Carlo died in 1955. Why they call Twombly's wife a baroness, I have no idea.]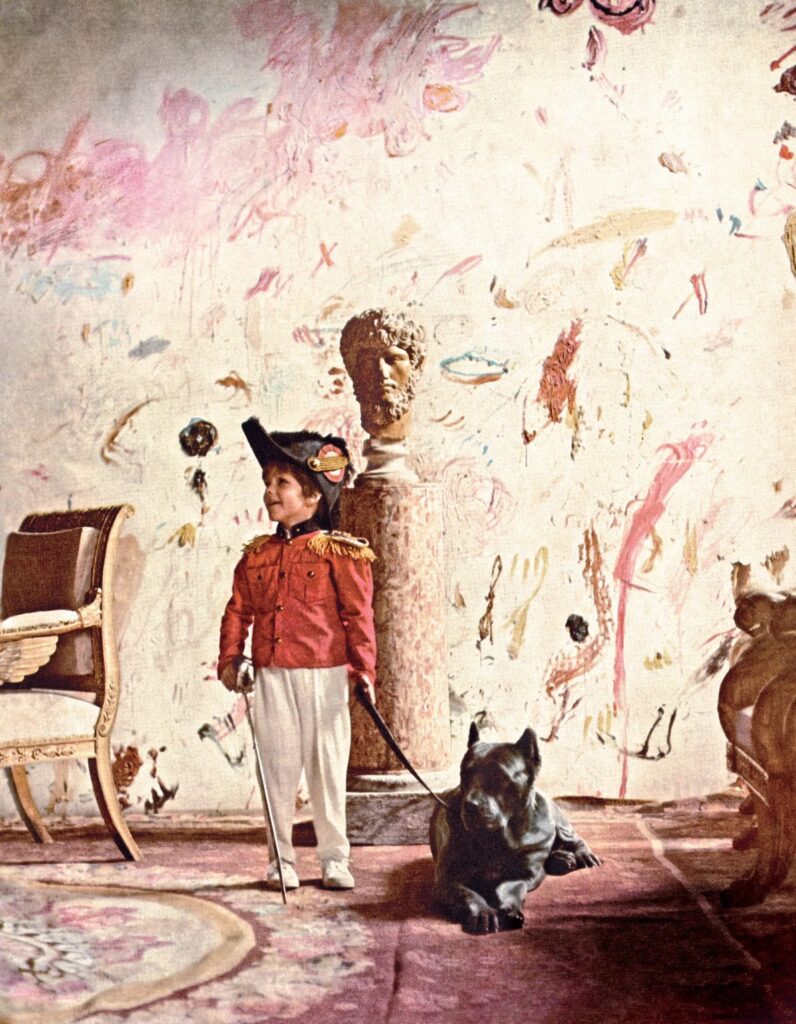 Look at the line of the rabbits, and compare it to the line of the portrait, and tell me you really think it's the same hand? Because I am not sure. Of all the Twomblys in all the world, these look most like the marks of an actual child. In 1966, Mario Franchetti's kids were teenagers, and Giorgio and Anne's kids weren't born yet, but Twombly and Tatia's son Alessandro was six, prime bunny age. Were these rabbits made for him? Or by him? Or with him?
In any case, this category of Memorabilia starts to take shape, as the works Twombly made in private, not closed off in a studio, but as part of his daily life. They were the gifts, the house guest thank yous, the repayments of loans, the souvenirs, the projects with kids. They were the art made for exchange, not for money, but as social currency. A different daily practice of drawing.
In his biography, which was ultimately stonewalled by Nicola del Roscio, Joshua Rivkin documents how Twombly's longtime assistant-turned-companion-turned Foundation director and flame keeper has edited the Franchettis and others out of various official chronologies and catalogues raisonées. While inaccurate, this reflects an understanding of an artist who preferred to be alone in the studio and undisturbed more than anywhere else. It's also understandable why Del Roscio, basically the only other person in the studio with Twombly, would seek to distinguish the objects and pictures made there, from those made outside of it. Because he figures Twombly did, too. I cannot wait to see what The Department of Memorabilia puts out.
13 JULY ONLY: To commemorate the sale of this drawing for EUR37,800, I am making silkscreened t-shirts, black on white, available only today. MIDNIGHT UPDATE: They are no longer available. But if you are the buyer of the Twombly Bunny drawing, I have reserved two shirts for you, if you'd like to trade. HMU!
Also holy smokes, they added more pix of the work; bunny's raw doggin' it in a frame from Il Targetto.
13 July 2021, Lot 61: Cy Twombly White Rabbit, est EUR8-12,000, sale ends July 13 2021 [sothebys, h/t guru matt]