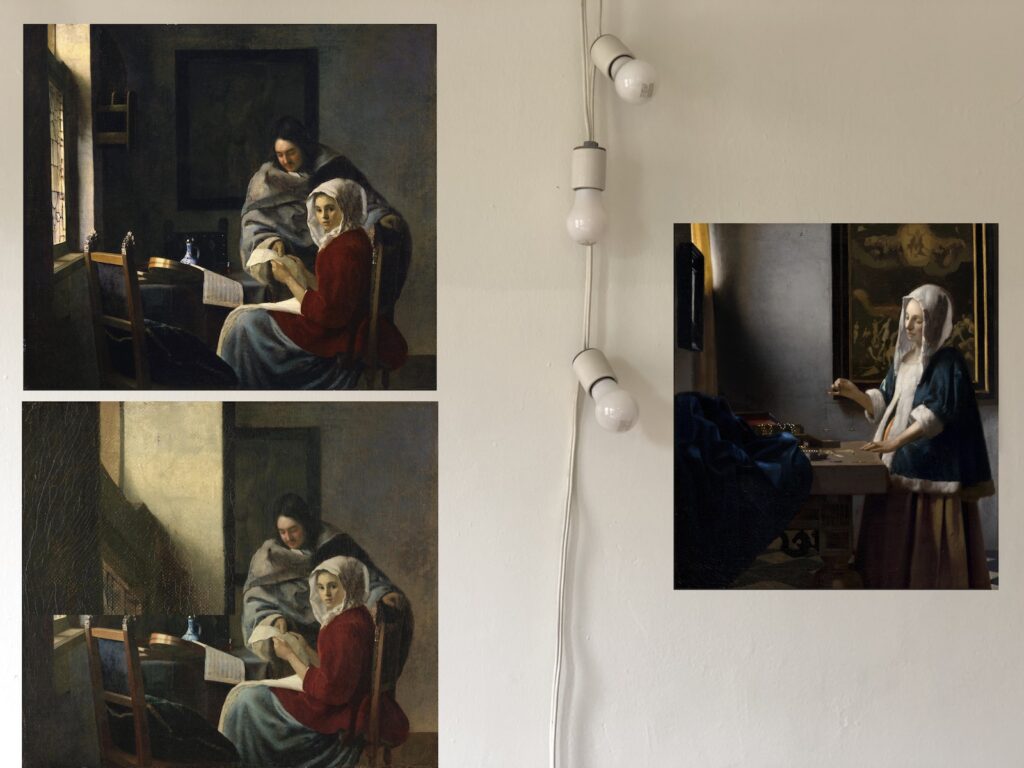 I did not want us to need Vermeer Facsimile Objects, but here we are, at least through December 12. [DECEMBER 12 UPDATE: Staatliche Kunstammlungen Dresden has extended the closure of the Gemäldegalerie Alte Meister, and thus the Vermeer exhibition, through the 9th of January. But the Vermeer show has a hard stop on Jan. 2nd, and so will not reopen? I realized this only in the course of writing this update. Vermeer Facsimile Objects will be available only through tonight, 12/12. Sorry you can't see the show in Germany, but thank you all for your engagement.]
This morning I checked whether rising COVID case rates in Germany might close the Kunsthalle in Karlsruhe and necessitate the reactivation of Dürer Facsimile Object (D2). They do not, but only because the kunsthalle is closed for renovations. Literally minutes later, I found The Art Newspaper's report that a fourth wave [!] of COVID-19 has prompted health authorities in Saxony to close Christmas markets and public facilities until at least December 12. That includes the Gemäldegalerie Alte Meister in Dresden, which recently/finally opened an exhibition of ten of Johannes Vermeer's 35 known paintings.
The Vermeer exhibition in particular is a tough blow for a couple of reasons: because of loan obligations next year, the show cannot be extended beyond January 2nd, so every day lost is lost. Also, the show includes Girl Interrupted at Her Music (above), one of three Vermeers in the Frick Collection. The Frick never loans, so it is only during this brief window afforded by their building renovation that this painting is viewable outside New York at all.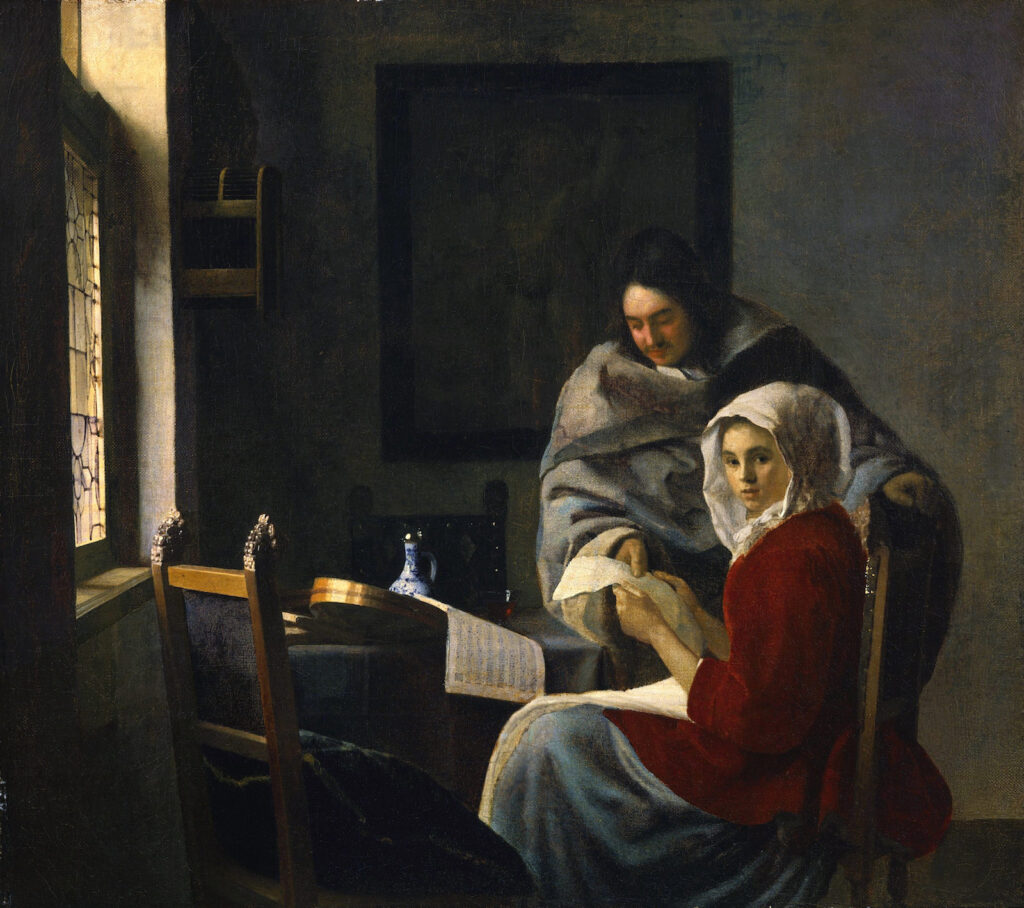 As someone who lived through two shutdowns of two once-in-a-lifetime Vermeer shows at the National Gallery in Washington, DC, this feels acutely familiar. As someone who started this year thinking that pandemic-related constraints on seeing artworks were soon going to be relegated to an historical footnote, it's starting to feel exhausting.
I also really thought Facsimile Objects would serve their vital, proxy purpose for a brief window, and then they'd be done. I thought, "Oh, just look at the paintings online." And when I did, the Frick's viewer threw up this awesome glitch, where one tile, the window frame, would go to the maximum zoom and fill like half the painting with light, shadow & craquelure. The result: an awesome, accidental image, and a realization that Facsimile Objects are still frustratingly relevant as ever.
So here they are.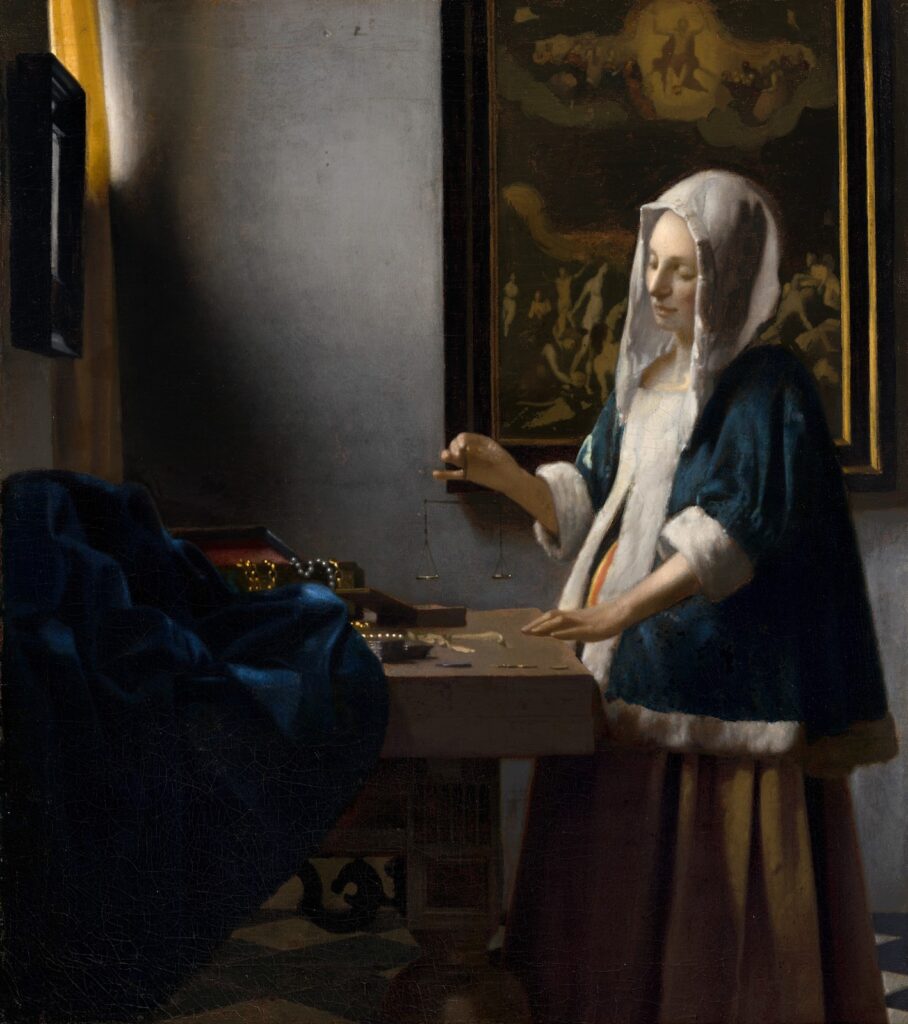 Vermeer Facsimile Object (V2) – Interrupted, will serve as an experiential stand-in for the Frick's painting. Vermeer Facsimile Object (V3) – Balance will do the same for the National Gallery of Art's loan to the Dresden show, Woman Holding A Balance (1664) (above).
At 15.5 x 17.5 inches and 15.6 x 14 inches respectively, these are the largest Facsimile Objects created to date. Each is accompanied by a full-scale, handmade certificate of authenticity, and will be numbered in order of receipt. They are available together or separately until the Vermeer show reopens in Dresden, so at least through December 12th, or at a later date determined by Saxon health officials.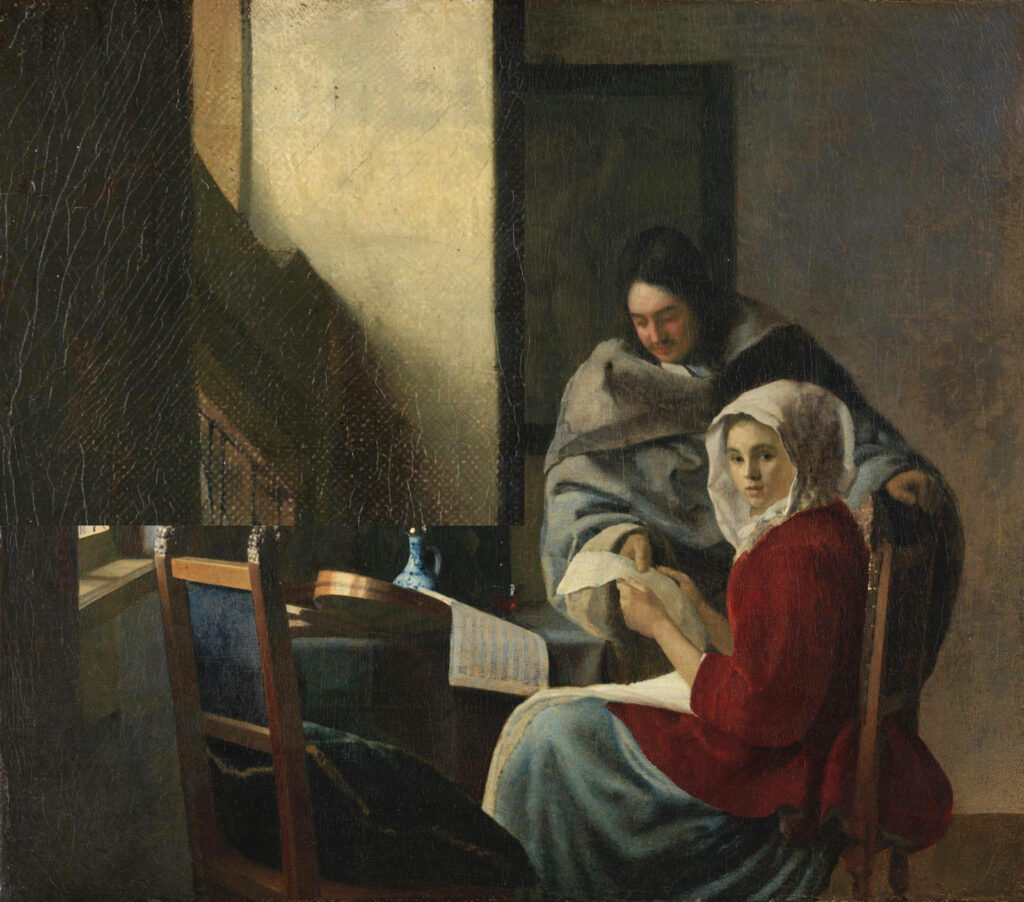 Vermeer Facsimile Object (V2.1) – Glitch, meanwhile, will be available as a Facsimile Object only as long as it takes the Frick to fix their viewer software. [Or until the Dresden show reopens, whichever is sooner; I don't want to be beholden to the Frick's IT workflow.]
While these would indeed make exquisite Christmas gifts, the vagaries of shipping make it inadvisable to expect them to arrive on a set date. But hey, order early and shoot your shot, and I'll make every effort.
Wait, who am I kidding? These would be preposterous gifts. "Here you go, a little Vermeer you can't see to remind you you're still locked up in a plague!"
UPDATE: Because getting these Vermeer Facsimile Objects into the presence of those who need them is more important than my breaking even, they are available with special VIP pricing through the end of Art Basel Miami, Dec. 4th.
12/13 UPDATE: Thank you to all who engaged this project, which was intended to fill a COVID-induced visiting gap. With the premature and permanent closure of the Dresden exhibition, Vermeer Facsimile Objects are no longer available.