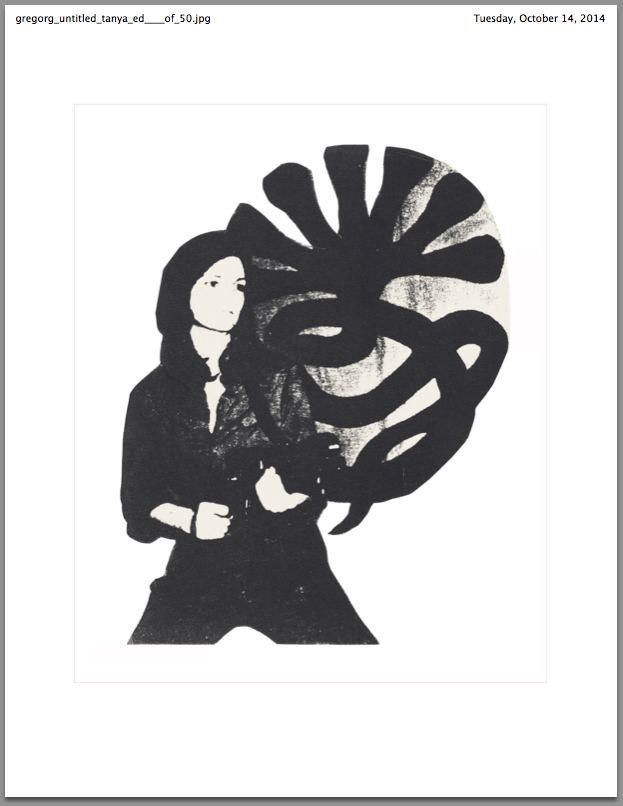 Study for Untitled (Tanya), 2014, lasercopy and graphite on white paper, 11×8.5 in., ed. 50
In honor of Frieze London, and all the awesome sales going down this week, I have created a special edition.
Untitled (Tanya) is a drawing on black & white lasercopy printed on 11 x 8.5 in. paper. It is titled, dated, stamped, and numbered in an edition of 50. Untitled (Tanya) depicts at actual size Tanya, the photocopy work of Cady Noland, which is being sold at Christie's contemporary day sale Thursday Friday morning. The graphite marks of this work reference the dimensions of that work (7 5/8 x 6 1/8 in.).
Untitled (Tanya) will be available only during Frieze London week for $US10 each, shipped. [Update: Wow, nice, thanks. Definitely get a couple if you like, but please leave some prints for others, too.]
[UPDATE UPDATE: Unless it sells out beforehand, Untitled (Tanya) will only be available up until Cady Noland's Tanya sells at Christie's in London, around 2:30 UTC. So don't underbid on Cady's and then come slinking around here looking for photocopied consolation when you lose. Cuz you won't get any.]
10/17 update: the edition is no longer available for purchase. thanks though.
Thanks again, all the prints are on the way. Unless they are cut down, this is what they look like: