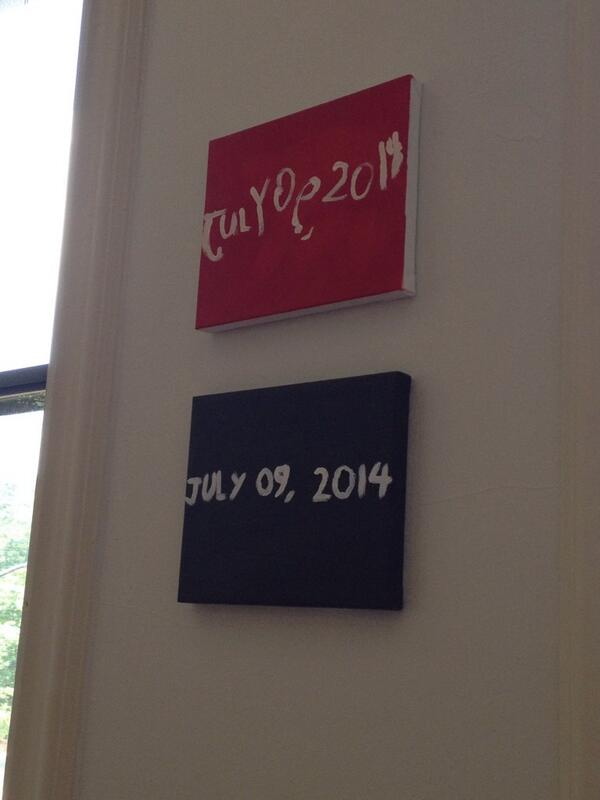 News came today of On Kawara's death, and I'm finding it difficult to articulate much of my own reaction. It's a sense of profound loss, coupled with naturalness, a frustrating mix of the inevitable and the unexpected.
The kids and I just painted new Today series paintings yesterday, to update the ones they painted for me in 2012 as preparation for RO/LU's Today series project at the Walker Art Center. So we've had On on our minds.
And of course, the Guggenheim just announced that the artist was collaborating with curator Jeffrey Weiss on a full-scale retrospective set to open in February. And I fired off some exuberant tweets about getting my turn in the booth to read for the One Million Years project.
And my recent foray onto tumblr had reminded me that I have to reinstall fromnowon.us, the project we announced during RO/LU's Walker residency, of commissioning Chinese Paint Mill to continue the Today series, first to fill in the days when Kawara himself didn't complete a painting, and then to open the project up to everyone when eventually, some day, far in the future…
This idea had struck me during Kawara's huge 2012 show at Zwirner's, which had Today paintings from four decades and dozens of cities. The newest painting was Jan. 3, 2012, just three days before the opening. And other paintings appeared during the show's run, though the artist himself, of course, did not. But Lei Yamabe wrote in the catalogue that on those days when Kawara did not complete a painting, he was like Schrodinger's Cat, "shut in the closed room of time, simultaneously alive and dead." And, most alarmingly, and unexpectedly, at least for me, that "the series will be complete when Kawara's body ceases to exist."
Damien Hirst had just floated the possibility that his spot paintings could continue into infinity, and frankly, the idea that Hirst would persist and Kawara would not felt devastatingly wrong. Thus, fromnowon.us. But I think the project only gelled because I really didn't imagine Kawara not continuing himself. Yet now here we are, and now here he is not.
On Kawara's 2012 Zwirner show was the only exhibition I've ever had to walk out of due to overwhelming existential dread.

— Rachel Wetzler (@rwetzler) July 10, 2014
Rachel's tweet shows, not everyone was as impervious as I, was but reading back a bit today, I see the shadows of non-existence throughout Kawara's entire practice, which I either ignored or relegated to an abstraction before. In 1991 Henning Weidemann wrote that "the picture of a past date becomes a memorial," and the very title "lead[s] us to suppose that for the spectator it will always be a question of a "Yesterday"-series."
Even when using the speediest means of communication available to him in 1970, the telegram, Kawara's I am still alive was fraught with contradiction:
In a certain sense the phrase "I am still alive" can never be sent as it cannot be received by the addressee instantaneously…It is only valid at the very instant that it is being written, and in the very next second it no longer is a certainty. If the addressee receives the telegram a few hours or days later and reads it, he merely knows that the sender was alive at the very instant the telegram was sent. But when he is reading the telegram, he is totally uncertain if the content of the text is still relevant or if it is still valid The difference, the small displacement between sending and receiving, is that particular unseizable glimpse of the presence of the artist. Likewise, it is a sentence of self-reassurance…"I am still alive." The activity of telling oneself and the world "I am still alive."
Now the uncertainty is removed, and that difference, that once-small displacement, will stretch into history. In fact, it's already bigger than we first thought. I've heard from a couple of folks that know that Kawara actually passed away as far back as two weeks ago, after some period of difficulty, but that the artist's family had requested his passing not be made public before now. [update: according to this calculation, Kawara's 29,771th and last day was June 29, 2014.]
And so our paintings, my exuberance about the Guggenheim announcement, my continued procrastination, it all went down when I [we] only thought Kawara was still alive, when in fact, he was not.
For some as-yet unknown time, all but Kawara's close friends and family thought he was still possibly/probably alive, shut in that closed room of time, but he was not. This specific moment, this window, this condition, of knowing something that turns out no longer to be true, feels significant in ways I cannot pin down right now. I'll think about it every time I see my kids' paintings, which are now not prescient memorials of Kawara's own last full day, but which instead mark the last day of our thinking he was still alive.
But it also highlights an important distinction that's so often lost, especially here, between the artist and his practice, the human being and his work. Just a couple of weeks ago I wondered if Kawara's family or lover or the deli guy was included in I Met, or was it just his work contacts.
Kawara had a wife, and at least two children. He lived on a street in SoHo. He had neighbors. Kawara didn't give interviews or talk about his work, but when Nick Paumgarten called about a young Leo Koenig crashing at the Kawaharas' loft, On answered the phone and gave a quote. Kawara's work marked one man's passage through time, space and society, and the end of that project which has inspired me for so long makes me sad. But these were "the traces left on paper and canvas," as Yamabe wrote, "the shadows that Kawara cast." For others who shared Kawara's life, he was a husband, a father, a friend. 謹んでお悔やみ、申し上げます。
2016 update: as time passed, I thought about this project more and decided not to pursue it. after a couple of years, I have taken the unusual (for me) step of letting the domain name expire. I still think about Kawara's work often, and it is possible that a related project responding to it might arise in the future. But not right now.
Previous Kawara on greg.org:
On Kawara Data
On's Location
Setting: Fredericianum, Documenta 11 | The voice of a woman reading from within a freestanding glass booth echoes