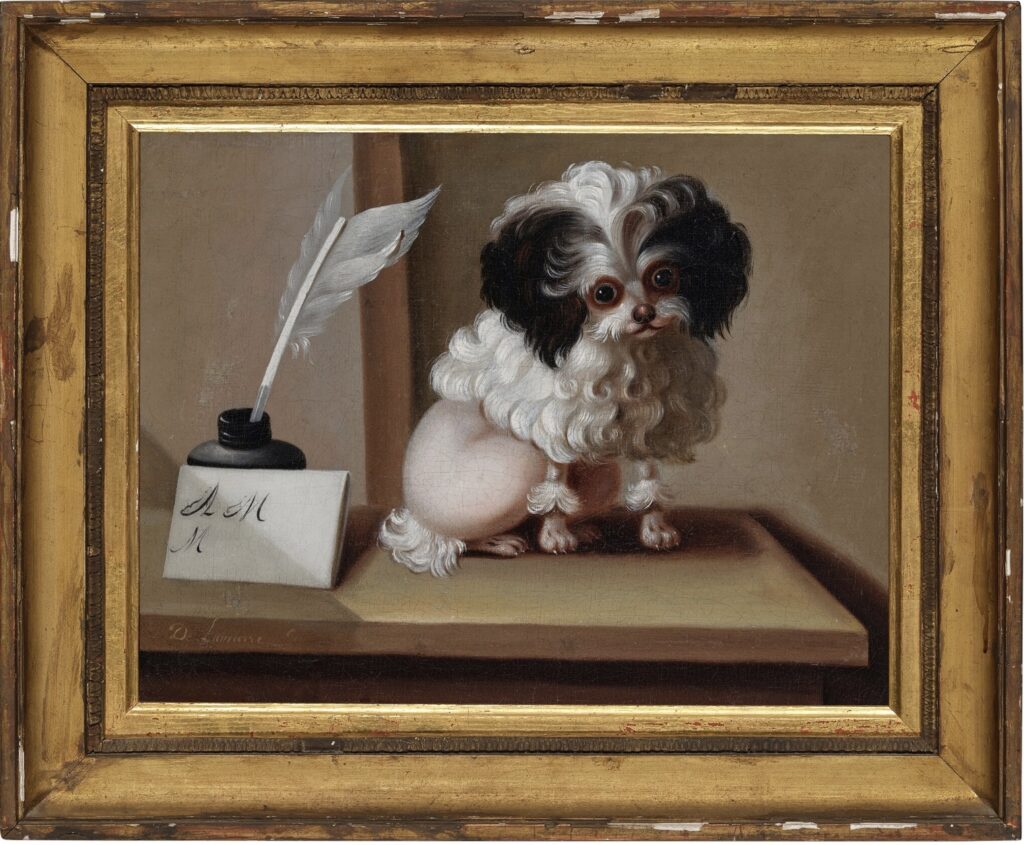 Please sit with this image of this painting by Jacques Barthélémy DeLamarre of Marie Antoinette's purported dog for a minute. It will be sold tomorrow at Sotheby's. There is no reserve, and the estimate is $3-5,000 US, so it will sell.
[Day after the sale Update: by now one of the most interesting things about this painting, for most people, anyway, is that it sold for $279,400, 50x its original estimate. There is no logical explanation for this. 15 bidders were reported, though by the time it got into six figures, I suspect only a couple remained. Please note the update from the day before the sale at the bottom of this post. It seems to indicate that when this painting sold at Bonham's in 1986, the narrative of Pompon and Marie-Antoinette was missing. So far, I haven't been able to find when it comes in, either. Whether this is just a moment of Pomponomania (as Michael Lobel calls it), or a wider spread Pompondemic remanins to be seen.]
From the minute this post goes live until the minute the painting sells, I will make a full-scale Facsmile Object of it available on this website for $300, 10% of the low estimate of the painting. It will include a handmade, full-scale Certificate of Authenticity, signed, numbered and stamped.
[Thursday Update: I misread the auction, which *started* today, and continues for eight days. I was pacing myself for a Pompon sprint, not a marathon, and I think we'll all be better off without a week of wheezing Pompon hype. The Facsimile Object is no longer available. Within hours there were 20 bids; the price now stands at $US 6,000 220,000. Holy smokes, this is where it ended, $279,400. Thank you for your engagement.]
There is absolutely no reason anyone should buy this Facsimile Object or, for that matter, this painting. Within the next 24 hours, someone will clearly do the latter, which should be folly enough. It is buck wild to me that in that same time frame, someone will also do the former. Because they will want to have the physical experience of sitting with this picture, and sitting with an image of it on a screen will not suffice. I absolutely get it. [Huge shoutout to artist Jeanette Hayes who says, understandably, "I have never loved a painting more."]
And so, for that matter, did DeLamarre. There are many, many paintings of this dog, which vary in some minor details, but which all have the same, shaved ass right out there hairstyle, and which almost always include the purported association with Marie-Antoinette's Pompon.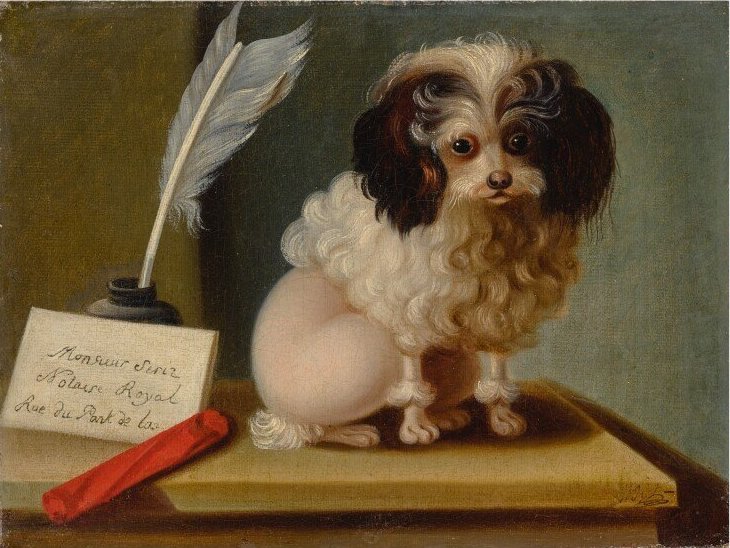 I mean, Sotheby's has sold two since the pandemic started. Though one, above, from the estate of decorator Mario Buatta, was listed as in the "manner of" Delamarre. They also mis-transcribed the letter addressed to the "Notaire Royal," but let's remember this idea of Pompon as a genre.
There's something about the way we don't *know* this was Pompon, or Marie-Antoinette's dog, or her favorite dog. Some people in the les Chiens de Marie-Antoinette thread on le Boudoir de Marie-Antoinette, a leading messageboard for Marie-Antoinette fans, even speculate Pompon was a breed created just for their queen, and that perhaps the various portraits were of different dogs, all named Pompon.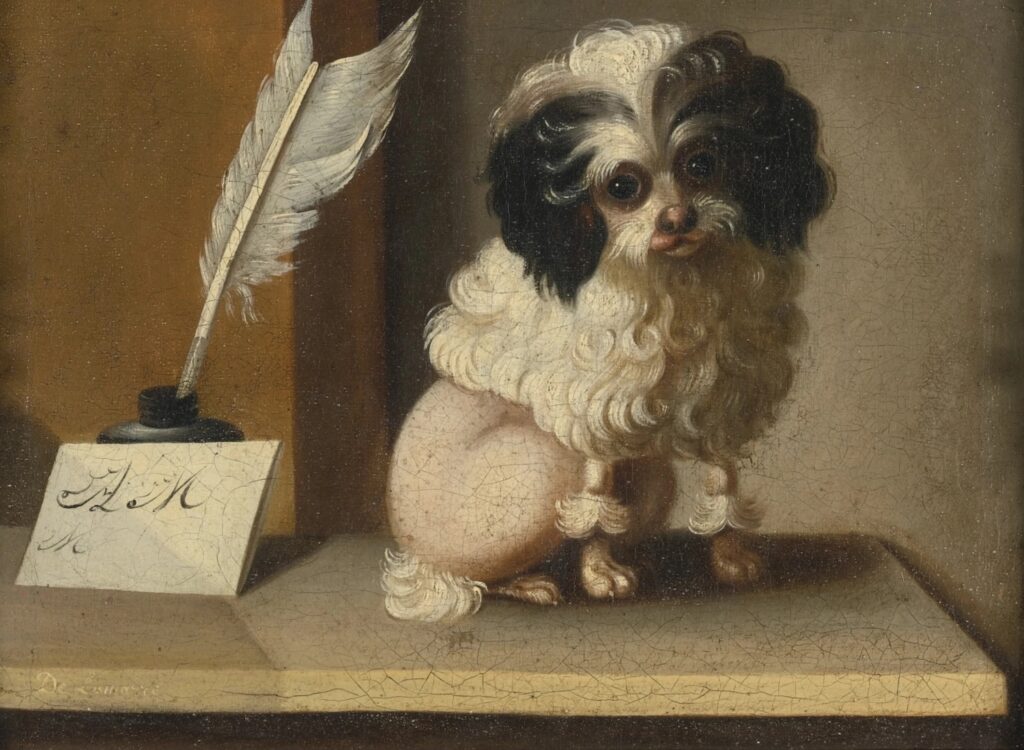 Back to Buatta, who did Brooke Astor's apartment, so of course she had one, and with a clear signature. It sold at Sotheby's in 2012, along with a hilarious painting of a poodle on a chair, for $23,750.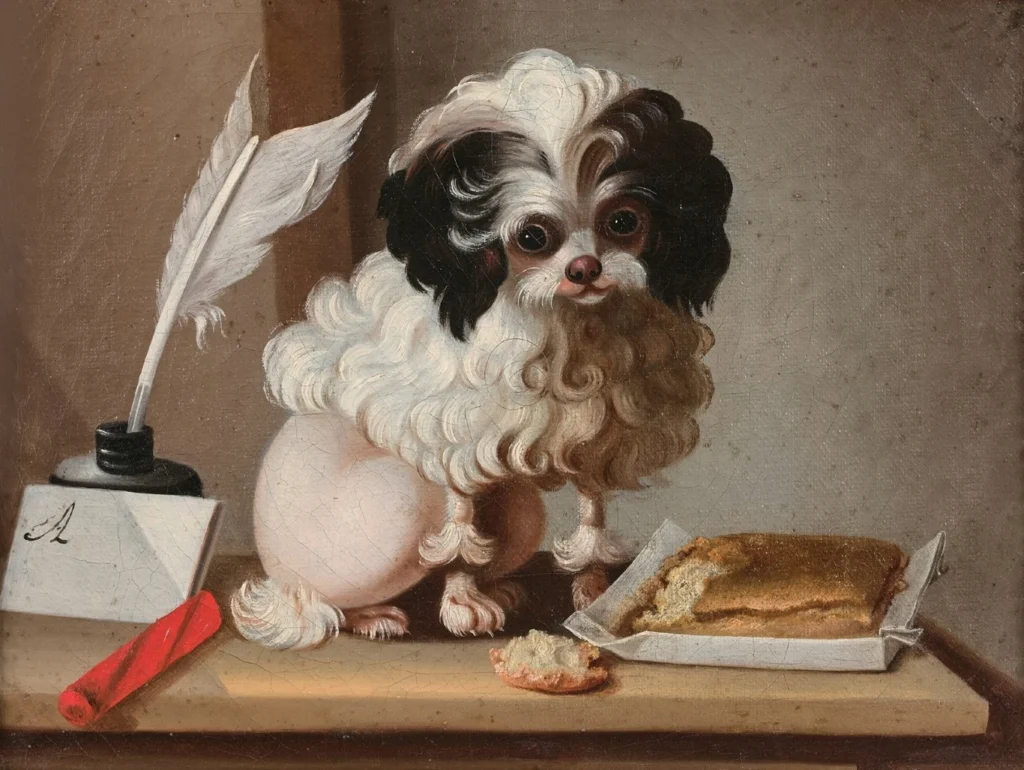 This painting, where they let Pompon eat cake, sold, probably at Drouot, on 09 June 2020.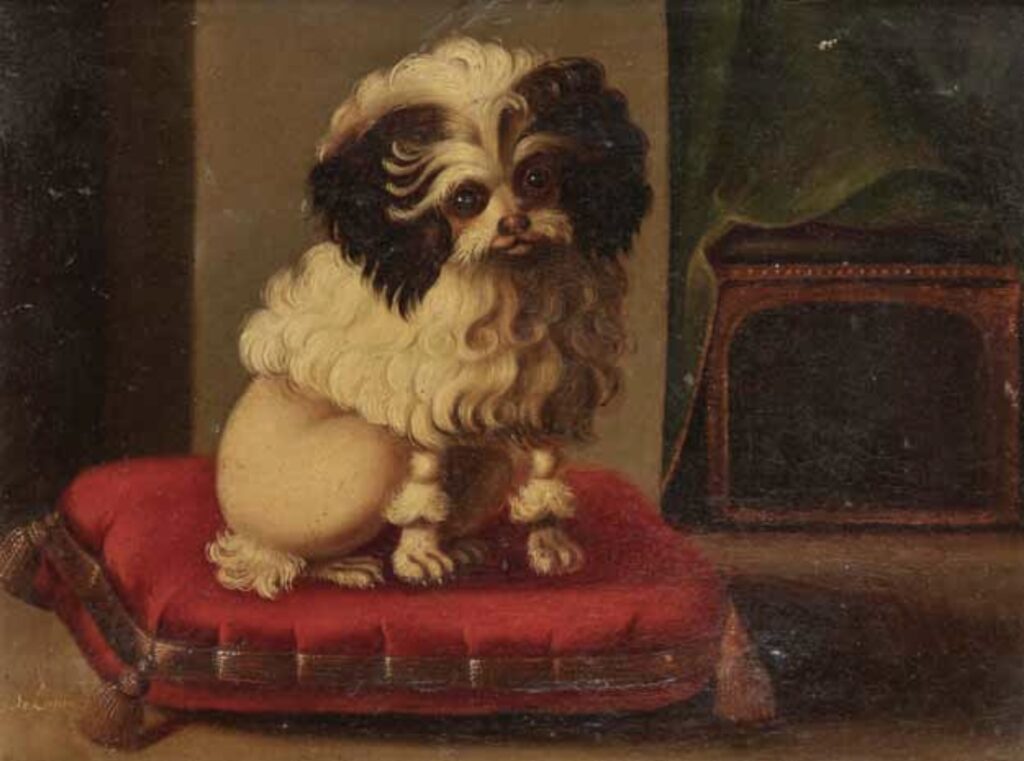 The "parfois dit «Pompon»" above, sold at Delon-Hoebanx in 2021 [paired with a Delamarre painting of an angry angora cat], is not the same painting being offered by Galerie Charles Vatinel, below.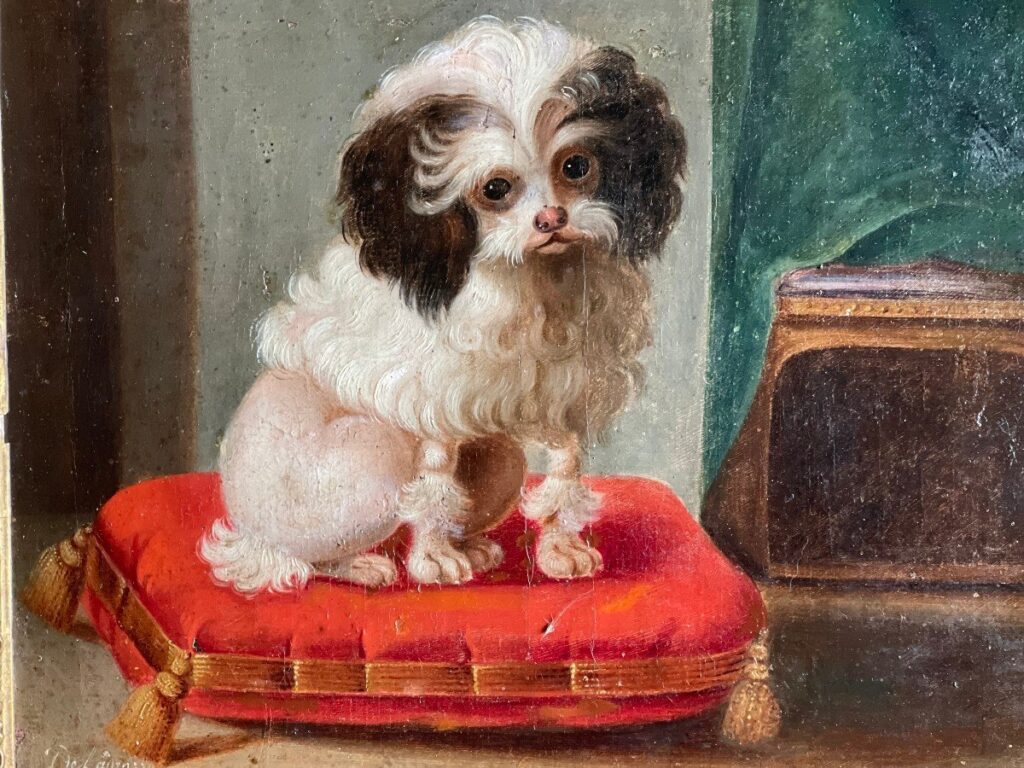 They do share Delamarre's other favorite format: of the dog sometimes called Pompon on a red and gold tassled cushion, with a niche de chien, a covered dog bed, poking out from under a draped textile.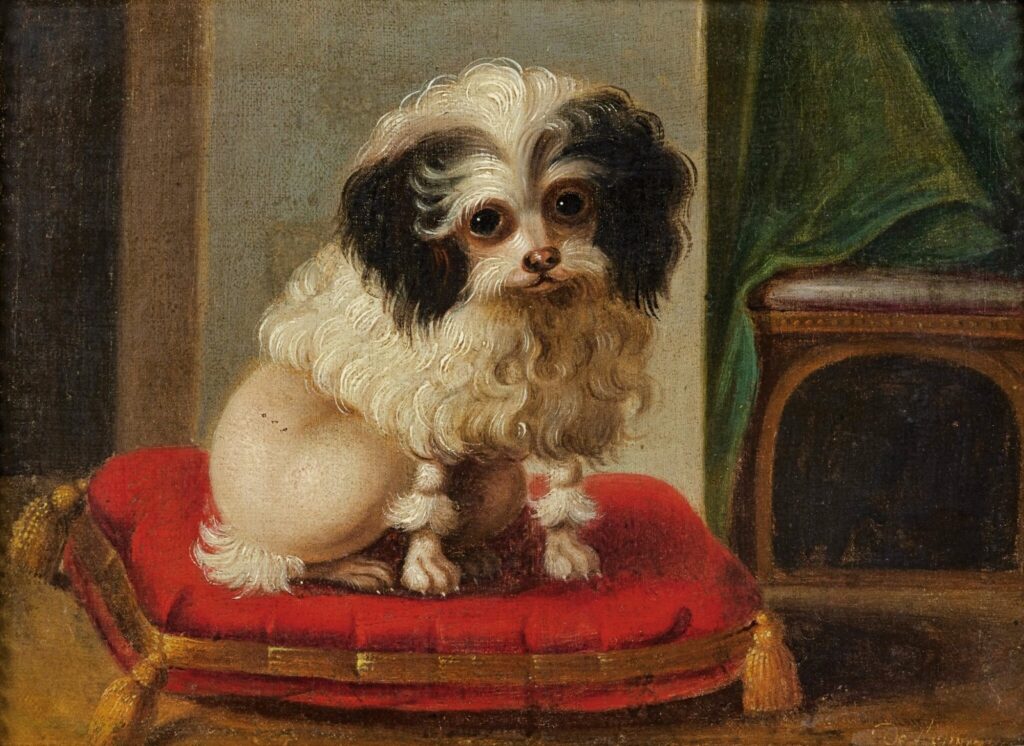 Vatinel notes that Pompon exhibits a grooming style, popular at the court of Versailles, that mimics a lion. Also, that a portrait of similar form is to be found in the collection of the Château de Vendeuvre.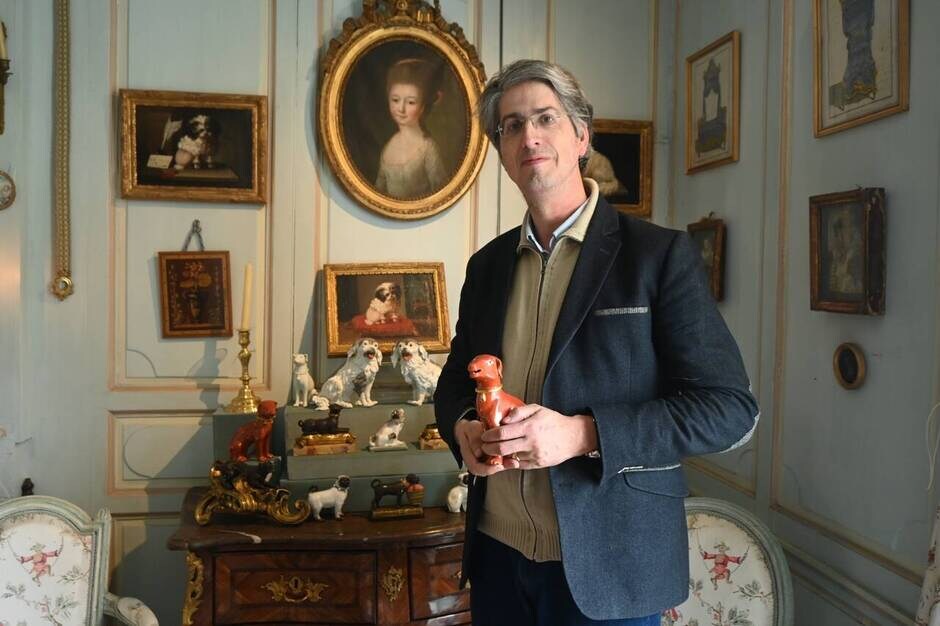 Indeed, we learn from the journal Ouest-France that le comte Alexandre de Vendeuvre has just reopened the Château for public tours. In addition to extensive collections, assembled by his late mother, of silver toothpick holders in the shapes of animals and niches de chiens, we see that the Vendeuvres have at least two paintings of parfois dit «Pompon», one in each style.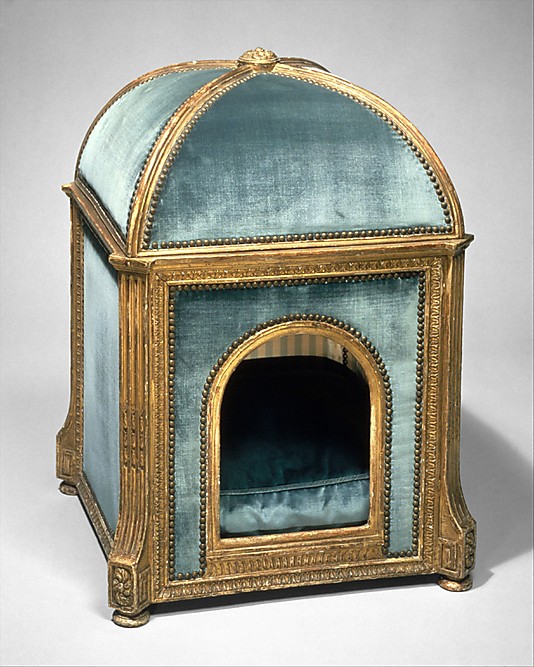 This is literally the moment where I realized I've written about Marie Antoinette's dog house, almost nine years ago. The provenance and attribution of this and other niches de chien donated to the Metropolitan Museum by one of their most illustrious patrons, Jayne Wrightsman, turns out to be unclear, if not problematic. Versailles itself could not hold all the niches de chiens that have been sold as coming from the queen's collection.
Both during her life and after, there have been people who are attracted to things associated with Marie-Antoinette. Every painting besides the one being sold tomorrow and being turned into a Facsimile Object today is listed as from the 18th century. Only on this one, Sotheby's notes that Delamarre was "active 1800 – 1824." In dog years, that's 49 years after Marie-Antoinette's demise.
Except for an affiliation with the Académie Saint-Luc in 1777, nothing is known of Delamarre's life. [And an association with the Académie de Saint-Luc in 1777? That is when it was dissolved in the wake of the king's liberalization of the arts, which freed painters from the monopolies of guilds—while leaving only the Royal Academy intact. NEXT DAY UPDATE: thanks to Bryan Hilley for finding DeLamarre in the Archives de l'art francais. This 1915 publication combined all the St-Luc sources into one list. DeLamarre appears in one of the six surviving annual directories of the AdS-L, in 1786, saying he was admitted in 1777. So whatever else, it seems he was active as a painter for at least these nine years before the Revolution. And I would like Sotheby's to show their sources.]
Which, assuming he was active in the 18th century—and he'd have to be, to have belonged to the Académie before it disappeared—Delamarre did not paint all these tiny, life-sized paintings of the queen's tiny dog for the queen. These were for the Marie-Antoinette fandom, whether in or outside the court, before or after the Revolution. Whatever the impetus, Delamarre made these paintings for people who wanted to sit for a minute with a picture of the Queen's lapdog, and they have provided that experience ever since.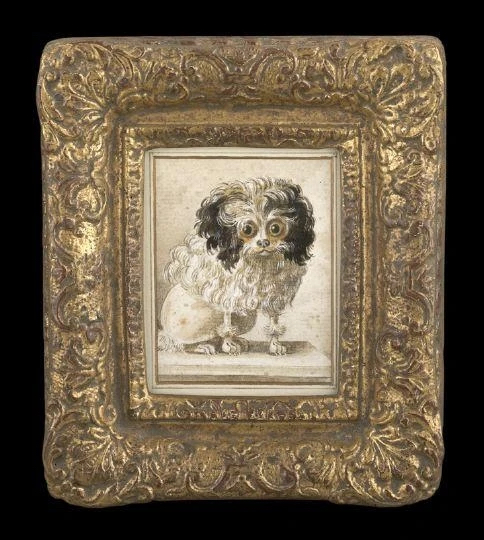 In an hour I've found at least a dozen Delamarre paintings of "parfois dit Pompon," all identical in size and formats. Is it possible that these little paintings were souvenirs, like Martin Johnson Heade's flowers, sold outside the gates of a liberated Versailles? Were they made before the Revolution, as intimate signs of allegiance to the Queen? Was there an original picture—either painted by DeLamarre or found by him—that started a Pompon trend? Were they made during the Bourbon Restoration, or in wistful longing for one, a sign of IYKYK aristocratic nostalgia? Did Marie-Antoinette herself even engender such posthumous admiration?
Tomorrow a purported painting of Pompon will change hands, and in the mean time, some Facsimile Objects may, too. But the desire to be close to Queen's best friend and/or to sit in the presence of this deadpan, shaved-butt dog will continue.
[May 25, day before the sale update: how did I miss the photo of the back of the Sotheby's painting, which includes a clipping from Art & Antiques, Feb. 1987, marveling at the mystery of a fourth identical painting turning up at auction of a Löwchen (German for little lion dog) by a "virtually unknown" artist named Delamarre? I've been trying to find historical sources for Pompon, and now I wonder if this is all the concoction of a cabal of antique dealers in the 80s who thought some cookie cutter dog paintings would sell better with a royal backstory? The mind reels.]