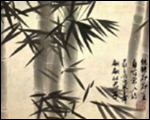 Strange Attractors is a showcase of short films by 12 Victoria (Australia) animation artists sponsored by the Australian Broadcasting Corp. It looks very promising, in that "utter absence of commercial pressure=trippier than normal animation" kind of way.
Surfing through the offerings, bios and highly particular technical/instructional articles, the first film I decided to watch was Qing Huang's The Way.
The Way is a beautiful 3-d cgi transformation of traditional Chinese painting that explores the Taoist's view of art and nature. Although it's all done in Maya, not actual stop action animation, it reminds me of the best aspects of William Kentridge's work (i.e., the unification of technique and aesthetic, drawing/erasing and brushstroke, not the heavy-handed political melodrama.)
Watch it before reading Qing's meticulously conceived philosophical approach to the project, if only to realize how, unlike so many of Kentrige's works, the Big Message doesn't overwhelm the film's expert, enjoyable lyricism.
Strange Attractor [lo-band entry, easier than flash, via MeFi]
Painterly Effects in Maya, by Qing Huang [Strange Attractor, ABC]