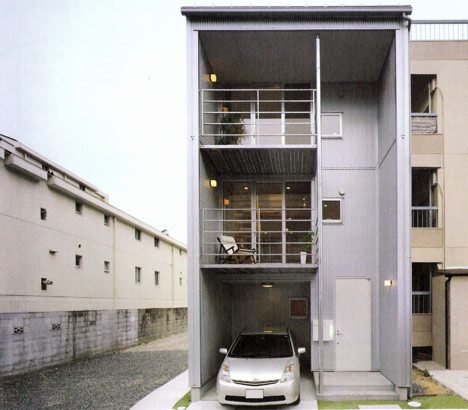 While New Yorkers still can't believe they finally have three Muji stores, Japan last year got its third model of Muji House.
Last spring, the company introduced Ki no Ie 3-kai-date, a vertically oriented, 3-story variation of their 2-story Wood House. [The other model is Mado no Ie, Window House.] The 3-story model home was unveiled in April 2008 in Toyonaka, the Osaka metro city where Kansai Airport is located.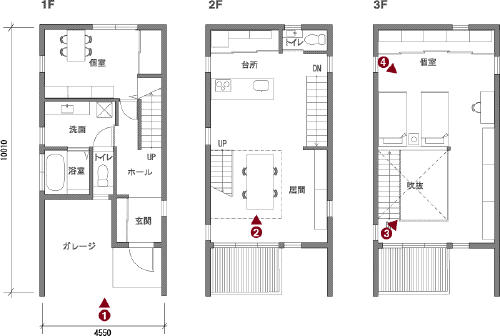 Holy smokes, it's tiny. Less than 100 sq. m inside, 130 sqm including the carport, porch and balconies. Still, the interior feels pretty spacious, if only because it is; the third floor bedroom opens onto the living/kitchen below. If you need a second bedroom, there's an office/storeroom on the ground floor.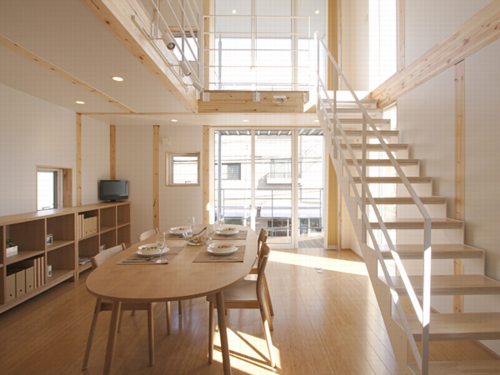 Muji Houses aren't prefab; they're manufactured, and assembled onsite. Ki no Ie is pretty spartan, and it uses a post & beam construction system of engineered wood which, as you can see, you can see. I couldn't find price info for the 3-sty, but the 2-story Ki no Ie sells for about 108,000 yen/sq meter, or about $110/sf.
Muji Ie: Toyonaka Model House [muji.net/ie, in japanese. via mocoloco and jean snow]
Muji Ie - Muji House, main page [muji.net/ie, no mention of the 3-story model]
Muji House Blog - Toyonaka [ie.muji.net, their web presence is pretty damn complicated for such a pared down company]