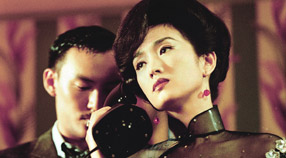 Speaking of Wong Kar Wai... Eros is a compilation of three great directors' short films on the subject of, well, eros, love, and sex.
Early reports from Toronto say that Wong's is the only segment that's right. The others, by Steven Soderbergh and Michelangelo Antonioni, sound like a $5 handjob at the Port Authority and that 15 minutes window before the Spectravision hits your hotel room bill, respectively.
Apparently, the only reason to not leave after WKW's short is the haunting Caetano Veloso song, "Michelangelo Antonioni," which bridges the last two films. It's a wonderful song, to be sure; I'd contemplated using it in the opening scene of my first short, but it was too heavy. I first replaced it with the Pink Floyd bongos from the opening of Antonioni's Zabriskie Point.
I mention this because of the deep, meaningful connections between Soderbergh's, Antonioni's and my own work.
Wong Kar-Wai dominates uneven Eros [Peter Brunette, Indiewire]
According to the Italian producer's site, the whole thing was producer Stephane Tchal Gadjieff and Antonioni's trophy wife Enrica's idea. [Fandango, no, not that Fandango]