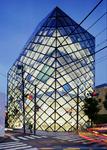 1. Barney's, men's side, main floor
Coming down the escalator into the underwear/robe department, there's an unbearable funk that's been there since the store opened ten years ago. Drives me crazy.

2. Prada Store, Aoyama, Tokyo [see left]
Leave it to a sissy to make fun of how people talk. In his retrograde column in the NY Observer, Simon Doonan reports, "As rumored, this store is bedeviled by a mysterious and unfortunate all-pervading odor of cat urine."
My Tour de Tokyo [NYO]
Slide show of Herzog & de Meuron's Tokyo Prada store, which opened in 2003 [dezain.net]