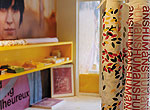 Is it a Hollywood perk trend, or just a by-product of working at The Directors Bureau? Whichever, director/artist Mike Mills is the latest auteur to attain that most incongruous of filmmaking achievements: his own blindingly trendy store in Tokyo.
Humans by Mike Mills, located in Harajuku, right by the massive Roppongi Hills comples, is actually a "store cum gallery" [eww. there goes my Net Nanny rating...] and "more a conceptual experience than a shopping trip," according to Casa BRUTUS, one of a million Paper-like magazines in Japan.
From the limited Japanese writeups I'm finding, that means t-shirts, cd's, and window installations by the likes of Susan Cianciolo and her Japanese doppelgangers.
From Mills's Humans Manifesto: "I don't trust people who are very articulate. The only way to be sane is to embrace your insanity. When you feel guilty about being sad, remember Walt Disney was a manic depressive. Everything I said could be totally wrong."
Yep, sounds great, now get back to work.
Humans by Mike Mills near-empty official site, Casa BRUTUS mention, and 06/2004 launch week info (in Japanese)
The Directors Bureau
Coincidence? Fellow TDB'er Sofia Coppola's Japanese fashion line, Milk Fed
Related Mike Mills posts on greg.org