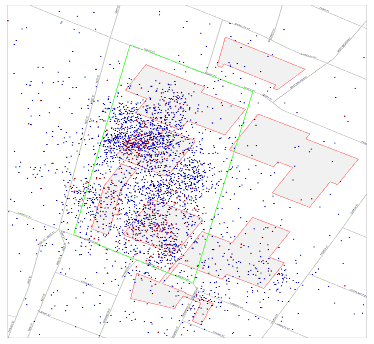 Partly because an International Freedom Center founded by George Bush's old friend and business partner wasn't a reassuringly hagiographic enough puppet, but mostly because it was personally expedient for them to do so, George Pataki and a dogpile of other sanctimonious politicians suddenly decided to defend the "hallowed ground" of the WTC site's "memorial quadrant" by banning the IFC altogether.
"Memorial quadrant"?? If only the limits of this farce were as clearly delineated. How is that quadrant any more "hallowed" than the other eight-plus acres of the site? It seems like only yesterday that the "footprints" were the sacred squares that had to be defended at all costs.
How and by whom was this quadrant defined? By the MTA, who cordoned it off in an effort to keep its sacred revenue stream as more than just a memory. And to whom are the MTA and its proxy, the LMDC, beholden? To the governor who just undid their three year's work on the IFC and the master plan "in a stroke."
Are we done, then? Is this enough hallow now? The last three years' of machinations around the WTC site have reduced hallowedness to a negotiable, political commodity, apparently measured in square feet. Everyone involved in this process, from Pataki to Burlingame to Clinton to the slew of unions, has dishonored and demeaned the memories of the people attacked--and the people killed--on September 11th.
Pataki Bars Museum From World Trade Center Memorial Site [nyt]
[update: now that THAT's out of the way, the Port Authority has announced it will develop the first 500,000 square feet of retail on the completely unhallowed sections of the WTC site. This section, called the "Mall Quadrant," is across the to-be-extended (and equally unhallowed) Greenwich St. from the "Memorial Quadrant."]
Officials Reveal Retail Plan for World Trade Center Site [nyt]