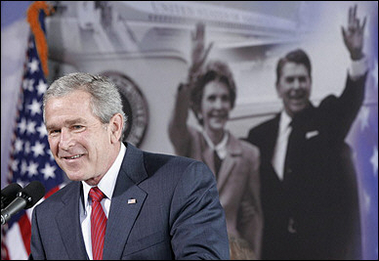 In his efforts to duplicate Ronald Reagan's political career, he forgot one crucial lesson: watch your back around Nancy.
Here's a paragraph from Elizabeth Bumiller's NYT story, "At California Ceremony, Bush Reaches for Reagan Mantle":
Laura Bush and Nancy Reagan were at the president's side for the dedication. In brief remarks before he spoke, Mrs. Reagan recalled that on her husband's last flight on Air Force One, home to California, his staff poured Champagne and shouted, "Mission accomplished, Mr. President!" On Friday those words seemed an echo of Mr. Bush's own "mission accomplished" moment, now regretted by his aides, in which a banner with that message hung above him on the aircraft carrier Abraham Lincoln when, in May 2003, he declared major military operations in Iraq at an end.
Suddenly, the Bush banner takes on a whole new dimension which I've never seen discussed anywhere. [This, I think, would be the time to confess I've never read Reagan's autobiography.]
Reagan chose his "Mission accomplished" anecdote as the cinematic ending for his book, for which he clearly envisioned a sequel: "Finally, champagne was poured and glasses were raised. 'Mission accomplished, Mr. President,' someone called out, 'mission accomplished.' Not yet, I thought to myself, not yet. ..." The Reagan faithful would've recognized Bush's 2003 banner as a direct reponse--a "now, at last"--to their Great Leader's call. To which Nancy replies, "I don't think so."
Previously: Sforzian Backstabbing