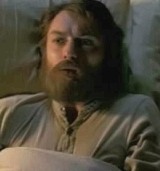 "It's a nice masculine aesthetic," said Robert Tagliapietra, who with his similarly bearded partner, Jeffrey Costello, designs a collection of pretty silk jersey dresses under the Costello Tagliapietra label.
Also, Ulysses S. Grant does not actually appear in
Cold Mountain
. So which one did the guy from Vice Magazine not want to admit was his real inspiration: the $50 bill or the bearded Jude Law?