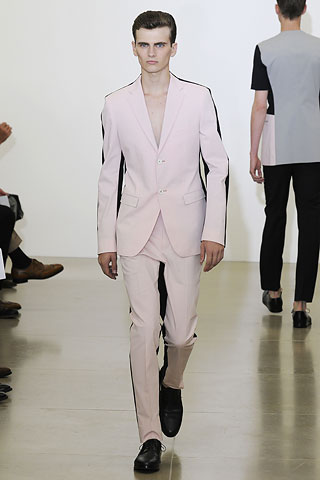 I haven't bought any yet, but since Jil Sander was sold to Change Capital Partners a couple of years ago and Raf Simons began designing it, the label has mostly moved out of the way of my grudge against Prada for ruining it. I only hope the sale price [EUR50 million] and the reported losses are real, so that in the end, the whole deal cost Prada a shitload of money.
Which is all unnecessary rationalization for my saying I like Simons' work for Sander.
But what I like most about this suit is the photographic dissonance of it. As Marcio Madera's runway photo shows, the black-in-back makes the model look like part of a collage of magazine cut-outs, or a rough cut-n-paste job with Photoshop's lasso tool.
Like those t-shirts with pre-pixelated logos or the sunglasses shaped like black censor bars, the suit transposes the photo-mediated consumption of fashion into real space.
At least that's what it does from head-on. From the side, you'd probably look like a total dork.
image: Spring 2009 Jil Sander collection [men.style.com]