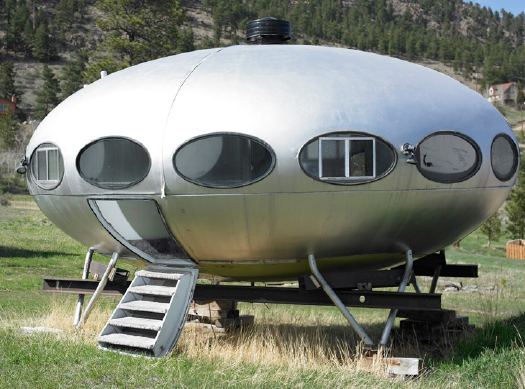 Bring your architect! Uh, on second thought, you'd probably be better off bringing your boatwright.
Wright20 is auctioning off one of Finnish architect Matti Suuronen's 1968 Futuro Houses on June 2.
After creating the first fiberglass and polyurethane modular structure as a ski cabin for a friend, Suuronen began producing and delivering Futuro Houses in 1969 Around 100 were built, maybe 60 survive, and up to 18 of them are supposedly in the US. There's one on Hatteras in North Carolina. Another is used as the VIP room atop a strip club in Tampa.
Futuro expert Richard Pisani, who starred in a 2005 NY Times article about the Futuro revival, has a global registry going at futuro-house.net. What, was futurohouse.com taken? Yes, yes it was. And the competing saucer directory has tracked the current Wright20 house--last known location, Bailey, Colorado--from its 2002 sale on eBay to its 2006 return to the market.
No matter how awesome Suuronen and his design might be, it's kind of a freakshow, and most of the Futuro House owners seem like weirdos for whom a Fuller-style geodesic dome home was just too conventional.
So whether you go by the architecture-as-collectible standard of a Prouve prefab, or the modernist real estate standard, a portable saucer house in need of a gut restoration is going to be a tough sell at $50,000-70,000.
Lot 138: Futuro House, Matti Suuronen, est $50-70,000 [wright20.com]
lots of Futuro House photos on flickr, including a family lounging in a vintage brochure and an abandoned saucer in Texas [flickr]