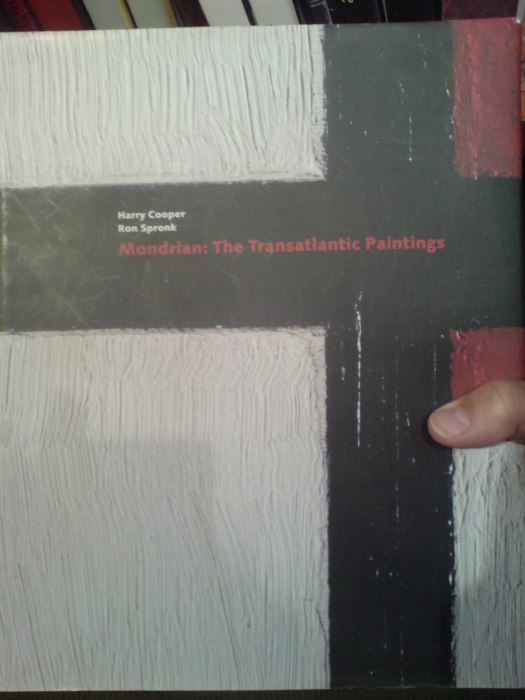 Anyone with an interest in Piet Mondrian's painting technique probably already has Mondrian: The Transatlantic Paintings, published by the Harvard Art Museums in 2001. It's a fascinating, in-depth, and not-at-all boring look at a unique body of Mondrian's work, based on the scholarship of art historian Harry Cooper and forensic painting scientist Ron Spronk.
They examine a group of 17 paintings which Mondrian took with him to New York when he fled Paris just before the outbreak of WWII. Mondrian had already shown some of the paintings, but he reworked them so significantly after his arrival in the US, that he gave them all two dates. [The Phillips Collection's Painting No. 9, for example is dated 1939-1942.]
Cooper and Spronk get deep into the layers of paint to reveal how Mondrian constructed and executed his paintings, and then how he altered them. It's great, geeky stuff, and the book is filled with weird, interesting photos of details--like 40x zooms on brushstrokes, and the messy backs and reshaped stretchers--that people who don't own Mondrians never get to see. And there's X-ray photos and spectral analysis that you usually only see used on Old Masters, rarely on modern art. These images, these paintings, are objects, after all, and they were made by someone. It's a basic reality that is somehow easy to forget.
Buy Mondrian: The Transatlantic Paintings for like $40, a third off the $60 cover price [amazon]