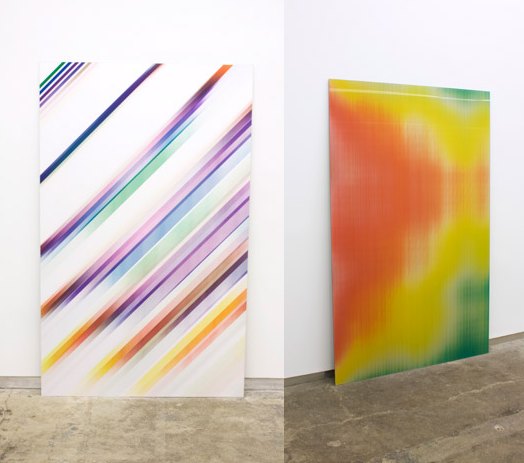 Gareth Long's giant lenticular prints based on the iconic-yet-anachronous 1991 cover designs for JD Salinger's books are freaking me out right now.
They're like Noland or Morris Louis canvases, reanimated through some immediately dated, retrofuturistic technology. Something an aesthete in an early Star Trek movie might have had hanging on his wall. Jeremy Blakes that still work in a blackout.
Which is why they freak me out so much. A Color Field painting hangs unobtrusively, even decoratively, on the wall. A Blake requires turning it on and watching it. You can't work with those things on in the background, any more than you could sleep with the Flavin on.
Long's lenticulars thwart all that passive/active viewing negotiation by always being on. If they're in the room with you, you can't not look at them.
Go ahead, try it. They're on view through next weekend at Kate Werble Gallery on Vandam St.
Above: Untitled (Seymour) is the most Salinger cover-esque, while Untitled (Zooey) is the most unabashedly psychedelic. Both images are from Long's site, where he also offers video clips of the pieces.
Colby Chamberlain ties this "restless" aspect to Salinger in his Artforum review [artforum]
Untitled (Stories) [garethlong.net]